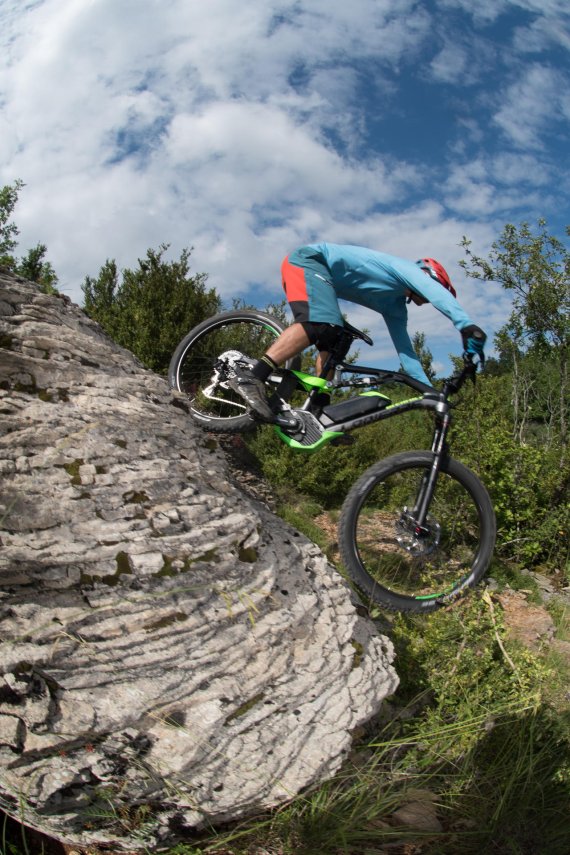 Past traffic with the city e-bike
People who buy a city e-bike want to bypass courses more quickly in their day-to-day. Whether it's shopping, going to work, or towing the kids to kindergarden. What's important is convenient equipment with a kickstand, splashguards, luggage racks (where the battery is often built in), a solid gearshift, and roadworthy lighting.

Lots of bikes also have a comfortable, deep access. For the most part, disc brakes are built in or hydraulic brakes are used; classic V-brakes are found only rarely. This is why several city e-bikes have a suspension fork for more riding comfort. Cost point: Starting at roughly 2,000 euros and up.
"Lifestyle e-bikes" can also be classified in the city e-bike category. Retailers had a ton of them at E Bike Days, especially. No surprise, but the conspicuous design is in the forefront.
For this reason, the buyer needs to do without luggage racks and/or kickstands in many models. Lighting systems are sometimes reduced to the bare necessities. To achieve the minimalistic look and feel, for example, there are models with the battery integrated in a small saddlebag.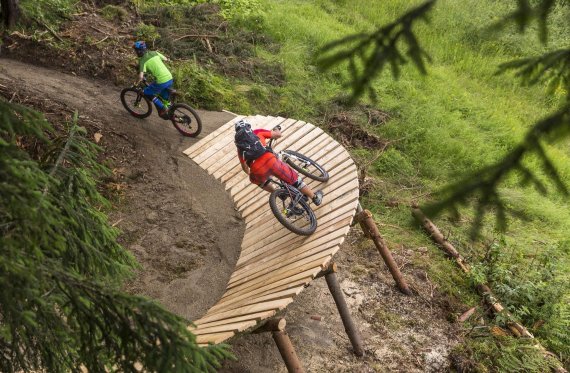 By now, the term "commuter" is often associated with certain (e-)bikes. These are mostly fashionable, high-performance bikes, many of them (S-)Pedelecs.
Sporty trekking e-bike

Trekking e-bikes are also termed touring e-bikes. The sitting position on the bike is more stretched out compared to the city e-bike, the splashguards and luggage racks are more lightweight, but less convenient.
The bicycle has – for overland drives, for example – very strong lighting. E-bike-specific differences to the city version are the higher efficiency motor, the larger battery capacity, and the often differentiated battery display - that plays an important role, especially over land and on big tours. Cost point: Starting at 2,300 euros and up.
E-MTB is uphill fun
Those who want to have fun going down the trail need to struggle going uphill; this equation is quashed with E-MTBs. E-mountain bikes, like conventional mountain bikes, do away with splashguards, roadworthy lighting, etc. This is why a lot of importance is placed on a good suspension.
Several experts, like E-MTB pro Stefan Schlie, absolutely recommend investing in a fully and not a hardtail, due to the substantially higher comfort. At the same time, Schlie is convinced that E-MTBs have the potential to become the new status symbol, since it can be comfortably ridden in the city, as well.

There are also manufacturers getting started in the market with E-MTBs, since the field of use for E-MTBs is fittingly large. Costs: 2,900 euros and up.
"The E-MTB will replace the mountain bike," says Stefan Schlie. Click here for the interview >>>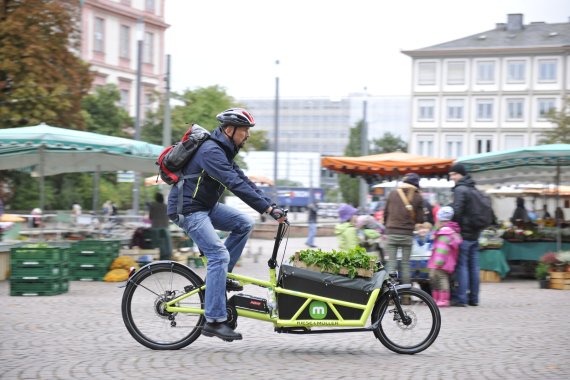 E-carrier bike instead of a car                            
Whether it's called a cargo bike, transport bike, or carrier bike – there are more and more models with electric drives, in this segment especially. One major benefit for many carrier bikes: The setting range for the saddle and stem is very large, which means people both big and small can share a bike. It can be seen that the market is responding to customer wishes, especially with the (e-)carrier bike.

An incredible amount of accessories were offered at the E Bike Days: By now the standard is extra child seats, infant carriers, special extra pillows, and bad weather protection. Costs: 1,500 euros and up.
S-Pedelec for commuters

Caution! Those who ride an S-Pedelec will, legally speaking, be leaving the bicycle area. In contrast to the Pedelec, the Speed Pedelec motor supports the rider up to a speed of 45 km/h. S-Pedelec riders must therefore
ride on the street when in town,
wear a helmet,
be at least 16 years old,
apply for a certificate of insurance,
have a Class AM driver's license
and an operating license or an approval for specific use from the manufacturer. 
All major suppliers also have S-Pedelecs in their product range, most with highly sporty geometry and equipment. This is because these e-bikes, with their high speeds, are only worthwhile for experienced cyclists, commuters, and riders who don't mind not being able to ride on bike paths in town.

Child transporters are not allowed to be attached to S-Pedelecs. The higher performance also makes itself felt in the price: Costs: 3,000 euros and up. 
Electrically retrofit your own bike
Those who still want to keep using their old bike can have it retrofitted into an e-bike. The ISPO BRANDNEW finalist Pendix also offers a system for this purpose. Nearly every conventional bike can be retrofitted. 
VIDEO: ISPO OPEN INNOVATION at ISPO MUNICH 2017