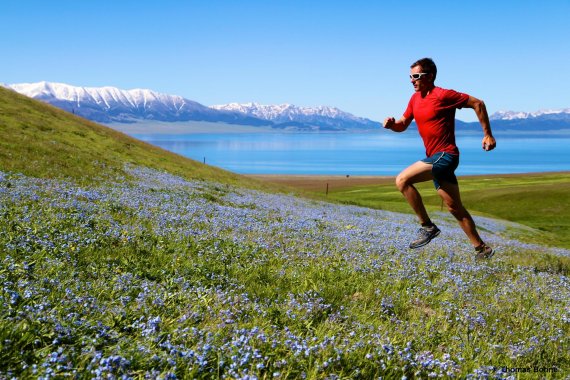 250 kilometers in seven days – and in the most extreme regions on Earth. The 4Deserts Race is one of the hardest trail running race series on the planet.
Thomas Bohne is the man who comes up with the hard slogs through the deserts of this earth. The 33-year-old is a course designer and routes chief, and in mid-June will once more be responsible for the "Gobi March" 4Deserts race in China.
The educated computer scientists spoke with ISPO.com about his passion, development in China, and extreme experiences.
ISPO.com: Mr. Bohne, the topic of running is getting more and more attention in China; the number of marathons has been increasing for years. How is it with trail running, is there a similar trend there?
Thomas Bohne: I already have the feeling that more and more people in China are out on the trail. The numbers of participants and inquiries about the race are climbing, too. The number of street runners – and it's the same in Europe – is admittedly larger, but a real trail running scene is slowly starting to establish itself. More and more people want to get back to nature, and don't want to have asphalt under their feet anymore.
But there might already be a large, pent-up demand in the concrete jungle of the Chinese megacities, right?
Not just there. When I visited Hangzhou Trail for a race, I had to acknowledge that the large routes were completely covered in concrete – 20, 30 kilometers. The complete mountain trail, all the up to the summit. It's probably just well-intentioned, to make the trail safer, but still not really in our sense. That's why we always have to look for new trails.
What makes trail running in China so special?
Nature is beautiful everywhere, but in China we actually move into areas where Europeans still have to tread. Camping under the open sky in untouched wilderness, the starry sky untarnished by the city, and the howling of wolves. It's beyond description.
"Trail running still an upper-class sport"
What are your thoughts on the trail running heart of China?
It's there, definitely in the cities. Trail running is currently still more of an upper-class sport. Really you don't need much more for running than a t-shirt, short, and sports shoes; that way pretty much anyone can afford it. But when you add a rucksack, jacket, and headlamp, it can add up to 400 euros quickly. And if you want to go especially light and with the best products, equipment on the trails quickly runs up to values of over €1,000. The average income in China is about 640 euros per month.
Which companies control the trail running market in China?
Buyers are heavily guided by the major brands of the West. Salomon, Arcteryx, The North Face, and Patagonia are commonly worn, lots of Chinese have the best outfitting.
What measures could be used to familiarize the Chinese with trail running even more?
What works very well in Germany, for example, are guided trail runs with local guides. Participants are given a completely informal and free understanding of the best routes in a region. I can easily imagine that those kinds of running groups would work in China as well. Principally, I would like it if running were to become not so extremely segmented. Mountain running, trail running, marathons, and so on – that's just nonsense. It's about being in nature, experiencing adventures, and enjoying the exercise. Even the economy can help boost the sport, but the events can't become unnecessarily pompous. For example, there were plans to stage trail running on artificial routes in event halls. But for me that has nothing to do with the sport.
You're not just an active trail runner, you're also the course designer for the 4Deserts Race Series. How do you get a job like that?
I came upon the desert runs years ago and initially worked there as a volunteer, since I simply couldn't afford the entry fee (Ed. note: entry fee=3,700 dollars). The first time, I was there in the Atacama Desert. As a sweeper, I gathered all the route markers behind the field, so I also ran the entire 250 kilometers. My one problem was that I had much fewer provisions with me in comparison to the participants, which is why the other volunteers had to feed me pooled food at night.
"Come across a fair amount of understanding and willingness to help"
What happened next?
Two weeks after I was back in Germany came the call from the running organization, asking if I might have time and interest to go back. This time for the Gobi March in the Gobi Desert. From this point I collaborated with the French course designer Pierre Beguin, who was also responsible for the Raid Gauloises series. That's how I gradually became course chief, and then course designer for running around the world.
So where all over the planet have you already planned and carried out runs?
The most recent project is a race on Namibia's Skeleton Coast, which is being organized as part of the 4Deserts series by Racing The Planet. In China, I've already planned a race in Hangzhou in addition to the Gobi March. I've already explored the region in Guilin.
How difficult is it cooperating with the Chinese authorities?
We usually come across a fair amount of understanding and willingness to help, which is maybe due to the fact that we primarily plan races in remote parts of China. To that effect, the tourism offices are happy when we bring a couple of people into the region.
At the 4Deserts races, you decide where the 250 participants run – through untouched nature, which in some cases can also contain major risks. How much stress does that put you under?
A runner who signs on to such an extreme race, first of all, also has a certain personal responsibility. In the event of problems, the rescue helicopter is there in not even two minutes. I have to allow for these conditions. I don't have any sleepless nights, but the step from volunteer to route chief wasn't without them.
What adversities do the runners have to cope with at the Gobi March?
The climatic conditions are extreme compared to other deserts. Within one hour, the weather can veer from sunshine to snowfall and storms. Shifting between below 0 and 40 degrees Celsius isn't uncommon.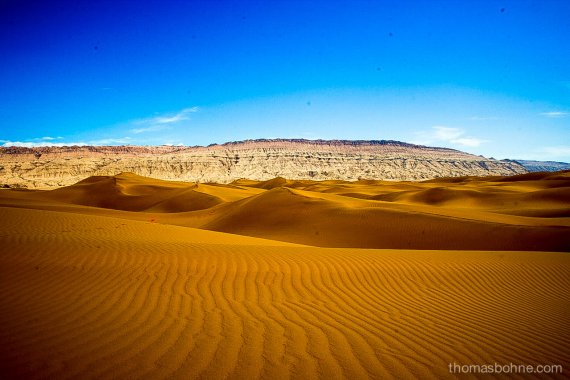 How do you react to these kinds of situations during the race?
As route chief I have a small team with very good runners that can immediately implement my Plan B on the course. In addition, assistants patrol highly dangerous sections with doctors and water. But if a sandstorm approaches, sometimes all we can do is evacuate the tent camp. That just means: back on the buses and go.
"I was probably about to collapse"
What was the most extreme thing that you've ever experienced?
Before I was route chief, we once went on foot to mark a route section on the Flaming Mountains in Ürümqi. It was 48 degrees Celsius, but my then boss – an old warhorse – wanted to still have finished the assignment. It was my first day in the region, and I still wasn't accustomed to the heat. And yet: 30 kilometers marking routes. Starting at 10 in the morning. Shortly before the end I had some problems from the heat. My body couldn't take in any more water, then I slowly got dizzy.
It sounds like a very unpleasant situation. Were you still able to escape?
No, I was already too badly off for that. I immediately called my translator to climb up the highest dune and find me. I wasn't that far from the car, and Mahmut was still able to help me right away, because I was probably about to collapse. When we wanted to collect the route chief, we saw that it had gone even a bit worse for him in the other direction. With the heat, the glue on his shoes had melted and the soles had peeled off. On the way nomads had to give him water, and ultimately he drank the dirty brackish water out of a camel trough. It took him two days before he was fully recovered. That was a lesson for me – and that way something like that has never happened to me.
Click here to go to trail running expert Thomas Bohne's website.