As Mr Angel explained: "Designers are starting to ask questions about the value chain and as a result develop ideas on how the system behind the products can be made smarter, more efficient and more environmentally friendly."
We are all well into a more sustainable way of living in our day-to-day lives, conserving valuable resources as we embrace electric cars, anti-odor clothes through to recycling our post consumer plastics to sourcing environmentally sound products at all levels.
We have become accustomed to the push in clearing up our oceans of plastic and recycling products, the most famous being the Parley shoe from Adidas, now having sold more than one million pairs. Seaqual, the Spanish yarn provider, collecting ocean waste and recycling into yarn that has been incorporated by many mills. Nyvidd Fischleder developed by the Visleer Foundation is taking it one step further, by developing fish leather from the bi-product of the fish industry.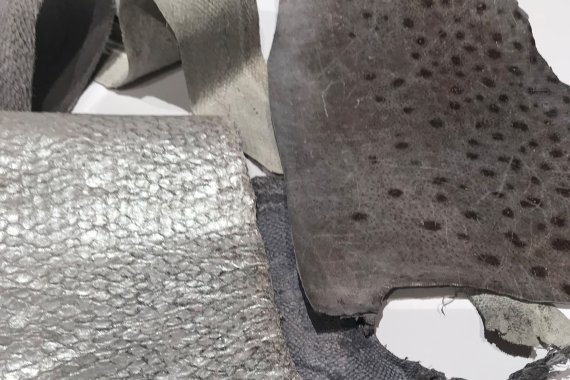 Fish leather isn't new, for centuries it has been used in Iceland for making shoes. As a waste product of the fishing industry, fish leather is thin, flexible and water repellant, additionally it is stronger than traditional cow hide leather due to its interwoven fibers. The surface effect also offers an innovative finish, with the scales adding a reptile look, a replacement to those banned exotic leathers used in the past for the luxury market. The Visleer Foundation is aiming to make fish leather an alternative solution in the market, especially an alternative ingredient to the luxury leather sector. 
Ceramic has been commercially developed in the textile sector through micro-encapsulated yarns and finishes, offering a thermal regulative function. A natural ingredient, Justina Moceviciute, the designer behind Claything, was researching the possibility of transforming a rigid material into a moving textile surface. Claything consists of clay pearls that are joined to create a surface using a special knitting technique in conjunction with stretch yarns. Clay has been used for centuries, but for the textile industry there is still some potential in developing new ideas, especially as clay is a natural ingredient and is recyclable.
As the textile industry continues to develop alternatives to synthetic dyestuffs, including Archroma's EarthColors, Laura Luchtman and Ilfa Siebenhaar have developed their Living Colour research project by using bacteria to obtain color. By multiplying bacteria through by high sound frequencies that makes patterns on textile surfaces by means of vibration, the design duo placed petri dishes with bacteria and fabrics onto loudspeakers, as succeeded in creating a batik-like look to fabrics through to a more controlled solid effect.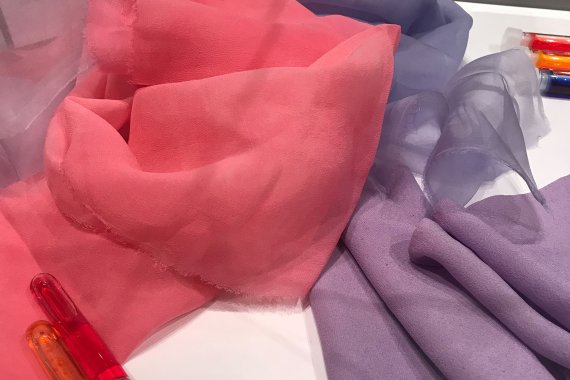 Designer Billie van Katwijk was intrigued when she first saw a cow stomach, not even realizing what it was at first. But then it dawned on her, this culinary delicacy in many countries or used for dog food in others, also had a unique structure and texture. Additionally a cow has four stomachs. Could it possibly be used for the luxury product market? For her project entitled Ventri, von Katwijk tans the stomachs at a lab using an elaborate process. A bag collection has already been developed as have poufs made with stomach leather in cooperation with the Dutch design agency Mooi, confirming that this low-value material has a premium place.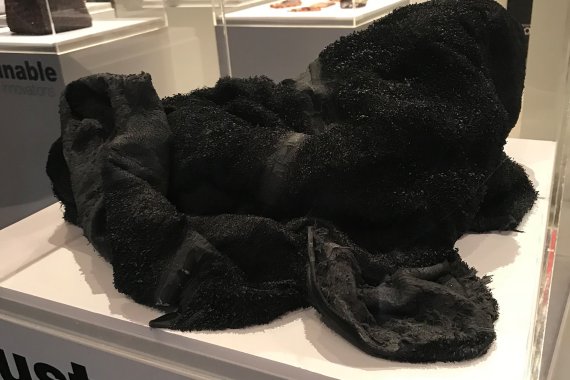 Pine Skins has been developed by Sarmite Polakova, creating a vegan leather from a renewable source and that is also biodegradable. Pine trees over the course of history have provide a food source through to medicine,through  today the tree is appreciated for its soft wood, with other components rarely used. Polakova discovered that the inner skin that lies under the thick and hard outer bark of the tree has leather-like properties. By coating this bi-product of the wood industry with a protective layer of wax and color pigment.  Geared towards the interior design  market, dues to its soft and durable aspect, the pine skins have a life span of two years, after which they can be returned to the soil to biodegrade.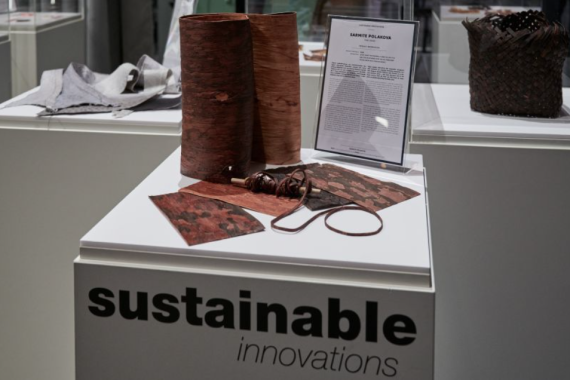 Whilst some of the developments may sound slightly bizarre, every new commercial development has to start somewhere. Who would have thought twenty years ago we'd be wearing apparel composed of recycled yarns derived from post consumer plastic bottles, or  shoes derived from plastic waste in the ocean through to biodegradable synthetics derived from sugar beet and corn starch! If anything, products featured in the Sustainable Innovations forum are certainly a conversation starter.