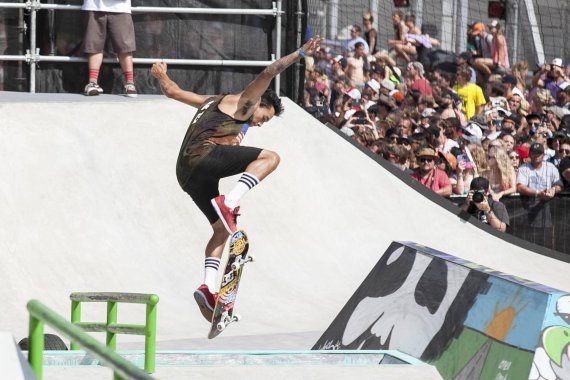 On the second day of the 129th Session of the IOC in August 2016, the delegates made their decisions on the acceptance of the five new sports. The only condition was that the maximum number of competitors (Summer: 10,500/Winter: 2,900), trainers (5,000/2,000) and medal decisions (310/100) are not significantly exceeded. 
Olympia is a milestone for the new sports
Together, the five sports bring 18 new events as well as 474 athletes to the games. One of these would be skateboarding star Nyjah Huston, who said to ISPO.com before the decision: "If skateboarding becomes Olympic, we're going to see a new generation of skaters grow up." Read more here: The complete interview with the skater.
Also Brian Atlas, President of the Street League Skateboarding contest, the Champions League of skateboarding, said to ISPO.com: "It is definitely a milestone for skateboarding, when one can represent it on this ultimate global level. But it is very important that skateboarding is authentically represented on its Olympic journey." 
Read more here: This is how Brian Atlas wishes to make skateboarding even bigger.



Bringing the Olympics to young people through trend sport
"We wish to bring sport to young people. Due to the many opportunities that young people have today, we can no longer accept that they will come to us by themselves. We have to go to them", said IOC President Dirk Bach: "In summary, one can say that the five sports are an innovative combination of established, emerging and youth-focused. They are popular in Japan and will improve the visibility of the Games in Tokyo."
"Surfing is too cool for the Olympics"
But there are also critical voices. For example, the ex-pro surfer Corky Caroll said in the Wall Street Journal that "Surfing is too cool" to take place in a club with synchronized swimming. In the skater community there is a petition, which already has nearly 7,000 signatures, against the acceptance of the sport in the Olympics. The surfer Owen Wright (217,000 Facebook fans) said to Reuters, "Surfing is more of an art and a form of expression" and therefore not suitable for the Olympics.
Read more here: Star skater Chris Cole: Skateboarding is like Star Wars