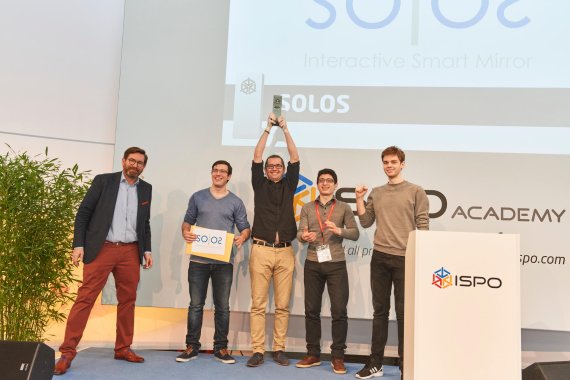 "It's quite an incredible story, considering that we only started up in November," says Vladimir Kondic. The 28-year-old is the oldie in the four-man SOLOS team that came together on the founders platform UnternehmerTUM. Kondic's companions Georgi Anastasov, Dimitar Magurev and Giorgi Khubua are all 22 years old and all students.
Do you think you've got an award-winning idea? Hit the ground running with ISPO Brandnew >>>
Or rather: they were students. "We have had to divert some of our attention from our studies," says Giorgi Khubua: "We have even pulled all-nighters for SOLOS." No joke: he wrote his bachelor thesis for the TU München (Technical University of Munich) on the subway on his way to the start-up: "40 minutes there and 40 minutes back every day, that's all I had time for," he says, laughing.
SOLOS is living the creator's dream
The four SOLOS founders are in high spirits – after all, they are currently living the dream of every start-up creator: "The feedback we are receiving here at ISPO MUNICH is fantastic."
Their victory at ISPO Brandnew Digital, the competition for digital newcomers, only serves to sweeten their time at the trade fair. On Tuesday morning, Vladimir Kondic presented the SOLOS idea at the elevator pitch with a good portion of self-confidence – and managed to convince the jury.
The team's idea: a smart mirror that analyzes your movements during fitness sessions and gives you tips on the correct execution of your exercises. Instantly. "This renders personal trainers superfluous," says Kondic.
Smart mirror receives much attention
Though it will take a little time before the SOLOS smart mirror is ready for production, the idea in itself is ingenious. "And so far it is unique on the market!" Vladimir Kondic adds. "Our target group is not centered exclusively around fitness studios, but also includes hotels, cruise ships or rehab clinics."
Private customers should soon also be able to train with the interactive mirror. "These smart mirrors have enormous market potential," says Kondic. "We are extremely motivated by all the attention we are receiving from experts at ISPO MUNICH."
Countless companies have already registered their interest in the smart mirror at the SOLOS stall in the ISPO Brandnew Village (hall B5, 133). "Visitors have included companies and sales representatives from South Korea, Canada, Spain, Iran and other countries," Kondic reports.
SOLOS is looking for investors
Some experts from China were apparently so enthusiastic about the product that they carried out a thorough examination of the SOLOS prototypes using their smartphone cameras, the young entrepreneurs explain, highly amused. "We have requested a patent," says Kondic, "and now we are looking for investors for SOLOS."
Given the resounding success of their product and the added title of "ISPO Brandnew Digital Winner", they shouldn't have to search for too long.
For more information on SOLOS: www.solosmirrors.com
SOLOS overtook the following five start-ups during ISPO BRANDNEW Digital's elevator pitch: taktikr, eversports, Avalanche VR, Fision, OpenSponsorship.
The international jury of experts was comprised of: Bernd Storm (Bits&Pretzels), Willem Bulthuis (Business Angel & Digitalization Advisor), Andre Kholodov (Digital Entrepreneur), Georg Petritsch (IT Consultant), Katja Krämer (Sky Germany) and Markus Hefter (Exhibition Group Director ISPO).
Sascha Liebhardt (CEO of the New European College) led the event.