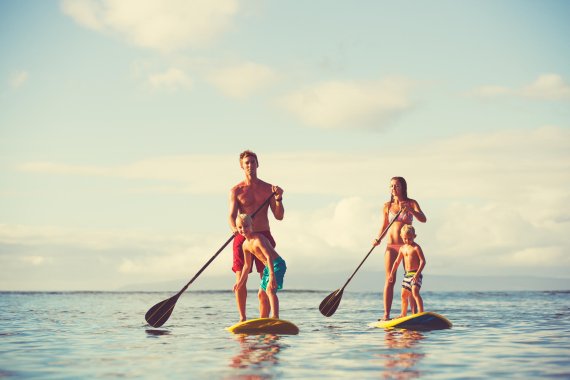 Robby Naish doesn't know of any other sport that has a more meditative effect than Stand Up Paddling (SUP). "This sport is like a virus," the waterman from Hawaii says, "if you try it once you get infected and can't get away from it." He admits to not really being the tranquil yoga or muesli type, rather preferring adrenaline, speed and action, but paddling while standing on a board seems to be the perfect way to relax.

"You perceive your environment and nature with different eyes, SUP changes your perspective. I am a board rider – through and through – and I love standing on a board, no matter whether as a windsurfer, kitesurfer, snowboarder, skateboarder or Stand Up Paddler. SUP completed it all: I've done the two wind-related sports, but now I have something I can do when there is no wind. And you can paddle anywhere there is water," Naish enthuses.

50,000 boards were sold in the USA
The multiple windsurfing world champion seems euphoric. After all, the former pro is also a businessman whose company sells boards for all surfing disciplines. And the industry is delighted about a trend like SUP, which, according to Naish "has pretty much gone through the roof in the last few years". According to estimates, in 2012 about 6,000 boards were sold in Germany, and 50,000 in the USA – and counting. Time Magazine states that in 2009 SUP sales by kayak dealers in the USA accounted for as much as 15 to 20 percent of their overall revenues, and US discount chains like WalMart and Target added SUP boards by known brands to their product portfolio.

The former niche sport is booming and attaining mainstream status. Stand Up Paddling started on the coasts of California and Hawaii in mid-2000 and has since migrated into the interior of the USA, to Idaho, Ohio, Montana, Minnesota and Arizona. Today, it is not unusual to see Stand Up Paddlers between excursion boats, tankers and motor yachts on the Hudson River in New York, and many yoga enthusiasts have shifted their sessions onto the floating boards.

The technique is easy to learn 
Stand Up Paddling seems to be evolving into a popular sport for the masses. No other sport in the world is growing faster, according to many insiders. Turquoise ocean or dark quarry pond, Hamburg's Elbe or Paris' Seine River – suddenly people paddle everywhere. What is the attraction? The sport is easy to learn and almost independent of season or weather. Even people who are not athletic can enjoy success quickly, and the technique can usually be learned within a few hours. Stand on the board with legs apart hip-wide, bend knees slightly and put the paddle into the water – you'll soon feel secure on the board.

At first you should probably practice on a lake with flat calm waters. Once a bit of experience is gained, it is time to attempt creeks and rivers, and later coastal waters with waves and currents. A fin on the board's stern helps maintain the course. The paddle is gripped with both hand, dipped into the water and pulled towards the back. The board is steered by switching the paddle to the other side. What sounds rather relaxing is exercise for the entire body, because all muscles come into play. The degree of intensity is easy to control: for faster speed across the water you will need to expend more energy.

Paddling in Alaska
If you really want to make waves, travel to the northernmost US state and book a trip with Liquid Adventures. The travel organizer has offered SUP trips in Alaska since 2012. "In Alaska SUP paddling is an experience like nowhere else in the world, paddling through fjords and ice floes is an indescribable adventure", according to owner Christopher Mautino, outdoor guide for 23 years and renowned stand-up paddler for the last six years.

To date there are 250 different brand name boards available, and manufacturers continue to flood the market with new hardware. Many boards are inflatable and easy to transport. Selecting the right board depends on personal skill and weight. Wider boards with 75 to 80 centimeters of beam, for example, provide novices with sufficient stability. Later, they can graduate to a narrower board.

By the way, the concept of paddle tours is by no means new. For centuries Polynesian fishermen have used large boards to paddle across the water to keep a better lookout for their prey. In the late Fifties surfing instructors in Hawaii copied them to keep a better eye on their students. SUP gained true popularity when extreme surfer Laird Hamilton surfed a monster wave with paddle in hand. Another waterman, Charlie MacArthur, finally brought the sport from the oceans to rivers and lakes.