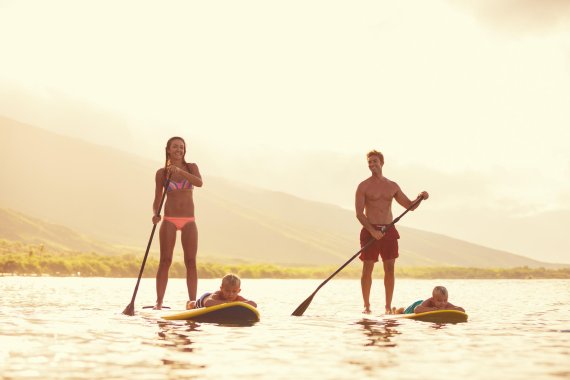 ISPO.com gives an overview of the equipment for the relaxed water sport, what the fun costs, and everything you can get up to with a board and a paddle.
What do I need for stand up paddling, and what will it cost me?
Board- inflatable (e.g from Starboard) $700-1200
Paddle- aluminum $70, carbon $500
Leash or Restube (life buoy) $75-100
Headlamp (waterproof) helpful, $35, dry bags $35
Winter SUP – recommended by winter SUP experts Mario and Manuel Stecher for the colder time of the year:
dry suit, e.g. from Supskin – $450-900
Skiing underwear starting at $70
Neoprene gloves 5mm $35, shoes 5mm $35
Thermosocks $20
Where can I get on the water with my board?
Everywhere, actually. No matter whether lake, river, or sea. You can race off on your way on any body of water with your SUP board. For more advanced riders, frozen water (i.e. snow) is even feasible as a navigable surface.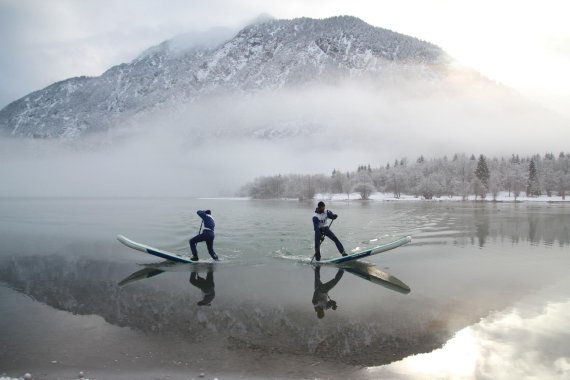 If you've never stood on an SUP board before, or want to improve your skills, get an overview of current courses here.
Rookie/beginner's courses: Explanation of equipment, adjusting paddle length, and how to safely mount the board. This is where the SUP basics are taught.
Intermediate/advanced: Improving technique, turning maneuvers, optimized sequence of movements. There's no avoiding a course like this if you want to get deeper into the subject matter.
SUP Yoga: The "downward-facing dog" by sunset and the soft sound of the waves. No problems with the necessary sense of balance. Requires high body tension and is probably not for beginners.
SUP Workout: If you'd like something more substantial, you're advised to try an SUP workout course. This course is also not necessarily something for beginners.
Winter SUP: For the really hardboiled, there are also winter courses. What's necessary to consider regarding freezing temperatures, and which equipment is required.
SUP 50+: The sport knows no age limit, but of course there are differences in capability. Specially adapted courses teach the 50+ generation the SUP basics.
SUP Sightseeing: Exercise and still get a bit of culture along the way. Access castles, monuments, and untouched embayments from the waterfront with SUP Sightseeing.
SUP Kids: Playfully taught basic knowledge for the smallest SUP fans. Of course, there's no shortage of paddling and swimming.