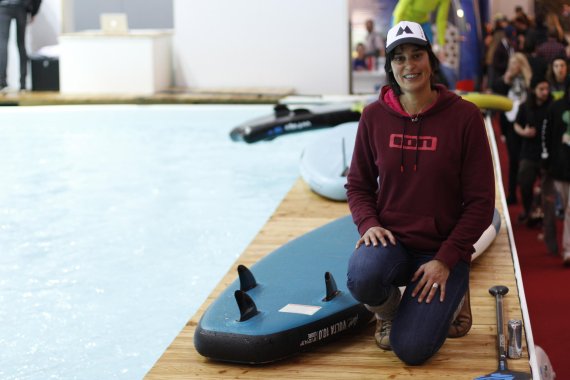 There's hardly a lake or river where, in nice weather, there aren't SUPs to be seen. Quickly rent or buy the equipment, and off you go. Dexterity, balance, coordination, and physical feeling are required. Otherwise, you'll quickly find yourself in the water.

Guinness World Record in SUP
One of the world's most famous SU-paddlers is Isa Sebastião. The Portuguese national broke the Guinness World Record for the longest non-stop tour on an SUP (170 kilometers in 24 hours) in 2015, and now has her own school in Portugal. The 43-year-old is confident: The market potential for this trend sport is still far from exhausted, and the potential for growth is enormous – not just in Portugal, but worldwide.

That's because: "If you want to surf or kitesurf, that you first have to learn. SUP is easier: up on the board and off you go." The same way she first saw SUP on TV eight years ago, and was immediately excited about it.
And in actual fact: At ISPO MUNICH 2017, as well, quite a few curious people dare to try out boards in the 20-meter-long, ten-meter-wide indoor pool in the Water Sports Village. These are bigger and more stabile than a surfboard, and demand lots of body strength with their unsteady bottoms – something that defines muscles. Anybody can learn how to do it. The only requirement: You have to be able to swim, and not be afraid of the water.

Specialty retailers help at ISPO MUNICH 2017

Those who get a taste for it at ISPO MUNICH 2017 and want to get into SUP can get individual consultation right away. There may even be the right equipment right there for some people. But above all, it's about the latest state of the art.

Isa Sebastião regards the excitement for "her" sport with favor during her visit to ISPO MUNICH 2017. She compares SUP to cycling – just on the water. That's because: "Anyone can do it. Sup could become a mass sport." Then it could even have more followers than surfing.