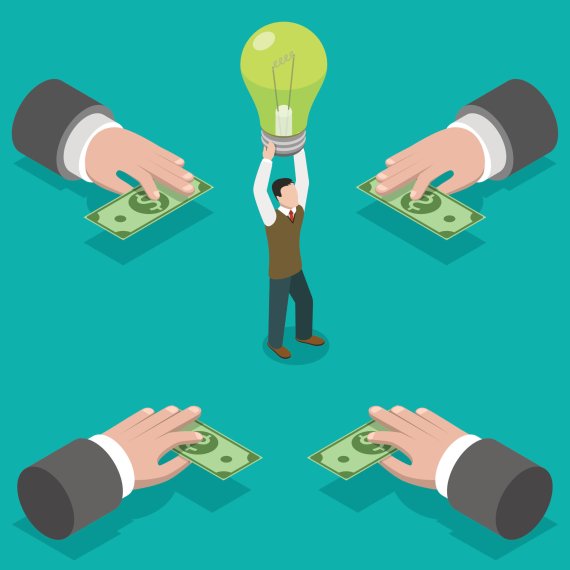 ISPO.com talked with four ISPO exhibitors about their experiences: Ralf Schwenger, Director of R&D Racquetsports at Head, Hartmut Semsch, Chief Executive of Ortema, Sigmund Piller, Head of Research at Uvex, and Dr. Johannes Kreuzer, CEO of Cosinuss.

Networks and secure financing
An important aspect of funding in the sports field is networking. Thus, financing is more secondary at Head, while new contacts and networks are more interesting: "That it still minimizes costs is, of course, important and helpful. But the main reason is actually that we have partners who are willing to work together with us on a project."
Through sponsored projects, with their firm guidelines and agreements, competitors like Uvex and Adidas can become partners and share not just knowledge and risks, but also materials, which can also be produced among partners in small amounts – in contrast to the free market, where you usually have to buy several tons.
Ortema, however, uses acquired subsidies for fundamental research, and thus for company development. Accordingly, the further development of the company is also influenced by current funding topics: "In product development, we depend in part on what's just been advertised for funding," says Hartmut Semsch, Chief Executive of Ortema. For Ortema, funding thus opens up development opportunities that otherwise might not have been able to be financed.

Likewise for Cosinuss: According to Dr. Johannes Kreuzer, grants offer the young company "above all, urgently needed financial resources in order to finish developing products." Cosinuss thus uses funding primarily as financial security in the buildup of expertise, while the big guys are less dependent on money and profit more from network layout. Although each and every company profits from subsidies – they don't all have a proper acquisition strategy.
Funding acquisition – not all that easy
Large firms like Head and Uvex don't search for tenders themselves, but rather actively position themselves as partners like Cosinuss, and mostly take on smaller roles. The reason for this is one of the great disadvantages of any funding: the bureaucratic expense. "Interesting concepts are usually implemented with several smaller partners, in order to optimally use the various competencies and keep the administrative cost as low as possible," is how it's described by Sigmund Piller of Uvex.
That the overall application process for subsidies can thereby drag on for a long time is another disadvantage: first of all, if half of the entire year goes by after a project application before the decision comes, it will mean major difficulties for the dynamic and fast-paced sports industry. Even the large firms would then rather give up on the money and stem the project themselves. "For example, we had commissioned a project for arm comfort in 2005. The results came in 2008, when the topic of arm comfort was long since obsolete," says Ralph Schwenger (Head).
Tips from experience
Despite all of the difficulties, great potential lies in external funding, through secure financial support or facilitating cross-company cooperations to strengthen separate innovative strength. There are definitely opportunities even for sports companies to get funded. As the importance in many tenders lies in technology development, it could help to sell ideas or projects differently: for example, "prevention" will get funded more easily than "jogging equipment."
In order to taste the air of application, you can first embark as a partner in consortium applications and profit from experienced applicants: "We got lucky twice in funded projects, and were able to draw on experienced partners in the application. Without these partners, the application would have been more difficult," reports Dr. Johannes Kreuzer (Cosinuss). What Ralf Schwenger would find ideal would be an exchange of experiences in the sports industry, to learn from the successes of others and to be able to better estimate one's funding chances.
What's most important, says Sigmund Piller (Uvex), is being aware of the expense in advance: "You should be aware of your competencies and duties in a project and be able to fulfill them." In any event, you should become aware of which benefits you're hoping to get from the funding, and then select the corresponding form of funding and define your own role. 
About the interviewees
Ralf Schwenger, Director of R&D Racquetsports at Head 
Head is based in Kennelbach, Austria, and has about 590 employees. It currently receives regional funding that, admittedly, doesn't specify any concrete topics, but is designated for fundamental research, not for product development. For example, new materials are currently being tested and their "perceived performance" (subjective/emotional perception of products) is being analyzed.

Hartmut Semsch, Chief Executive at Ortema 
The Orthopädietechnik Marktgröningen GmbH (Ortema) is primarily engaged in four fields: orthopedic technology, rehabilitation, medical fitness & health, and sports protection. They receive funding for product development, for example for the project "Bio-inspired safety systems (BISS)," in which protective equipment is being developed based on bionic principles, together with several partners. Generally, they are usually involved in projects where medical-technical background knowledge is in demand.

Sigmund Piller, Head of Research at Uvex
Uvex is represented by 42 subsidiaries in 19 countries, and produces with an emphasis in Germany. Two thirds of its approximately 2,300 employees (as of: GJ 2014/15) are employed in Germany. Uvex distributes products and services for safety and protection in the fields of work, sports, and recreation.

Dr. Johannes Kreuzer, CEO at Cosinuss
Cosinuss is a young technology company from Munich, which develops portable sensors and algorithms for the continuous and comfortable detection of vital parameters like pulse, body temperature, and blood oxygen saturation. It's funded via the EU's AAL Joint Programme, while their application is also running for a Bavarian technology funding measure, the "Programm für technologieorientierte Unternehmensgründungen (BayTOU)" (Program for Technology-oriented Start-ups).
You can find the entire innovation series here.
Sports companies need to be creative when it comes to funding.