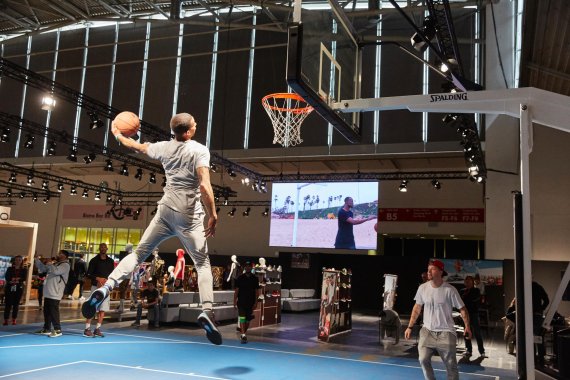 Four members of the audience stood in a line in front of the basketball basket: that's an obstacle of approximately 1.70 meters high and more than one meter wide. Guy Dupuy takes a run-up and races toward the basket. Just before he jumps, his colleague, "the Professor", throws him the basketball. Guy catches it in the air, spreads his legs and sails over the brave volunteers. They flinch as he slams the ball into the basket above them. 
Guy Dupuy and his colleagues Chris Staples, Porter Maberry and "the Professor" earn a living with slam-dunking. Porter Maberry's slam dunks are particularly impressive. The American is just about 1.60 meters tall. However, that doesn't stop him from effortlessly jumping over his 1.90-tall colleague Chris Staples. 

Slam-dunking opens doors
After ISPO MUNICH, the two are off to Los Angeles for the Oscars. He featured in a film together with Chris Staples. "Slam-dunking has opened doors for us. Meanwhile, we no longer earn money with our tricks alone," says the short basketball player. Porter Maberry shoot to fame through a video on YouTube, that went viral. 
"Slam-dunking only forms a small part of what we do," says Chris Staples. The two guys travel all over the world, give motivational speeches, are booked by companies and of course continue to show off their spectacular tricks.