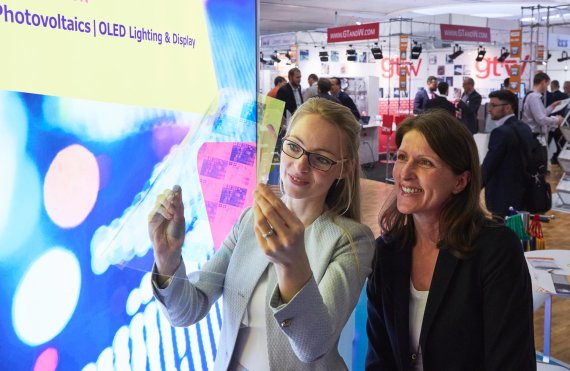 Printed electronics are still a young technology whose subject is very complex. Experts from the print, chemistry and micro electrics sectors must work together to create successful products. Printed displays for washing machines are an example of products that are ready for the market, and two large German car manufacturers also use printed rear-lights on a small scale.
Video: Printed electronics meet sports industry
Martin Riebel, CEO of Deuter in the Schwan-Stabilo group, imagines some applications of printed electronics in the sports sector: "There is one obvious spontaneous idea: an integrated light on our bike rucksacks would be more sensible than a simple reflector." The light, which would be incorporated into the rucksack material, could then supplement or where possible replace the bike lights.
Printed electronics in practice
Of course that is just a spontaneous thought, but Riebel says he has got lots of ideas after the LOPEC tour.
But it is always necessary to check whether certain product innovations fit in with the company philosophy. Eberhard Heim, the development manager at Leki, agrees and says: "A product absolutely must bring added value for the customer. And I need to be able to sell it."
In turn, this also means that products with new technologies must not become too expensive. Skiing poles for 400 Euros would have no customers, says the development manager. Marmot faced the same problem around ten years ago, explains Andy Schimeck, CEO of Marmot and Exofficio. Back then Marmot developed a jacket with an integrated light. But the development was too expensive and the electronics they used couldn't meet their requirements.
High-ranking representatives from the following companies and associations took part in the LOPEC "Cross-Industry Walk":
BSI – Bundesverband der dt. Sportartikelindustrie (Federal Association for the German Sports Clothing Industry)
Amer Sports Deutschland
Deuter
EOG – European Outdoor Group
Jack Wolfskin
Leki
Mammut
Marmot
Ortovox
Schwan-Stabilo Outdoor
Vaude
Printed electronics for tents?
"With printed electronics that would change though", continues Schimeck. In spite of this, jackets with lighting are not an issue for him at the moment: "In the outdoor sector we already strive to create products which are as sustainable as possible", says the CEO. "Can we really make efforts to manufacture without PFC and then use sensors at the same time which can't be recycled easily?" There's a contradiction there which isn't easily solved, say Heim and Riebler too.
Schimeck can imagine printed electronics being used in a few years for tents. Printed solar panels could be incorporated into the tent fabric and save energy – for lamps (possibly also printed into the tent fabric), the cooker and to charge mobile phones. 
Wearables: showcase for printed electronics
Printed electronics have an obvious application in wearables and smart textiles. For recreational sports and training control, printed resistance or pulse sensors for example could be very valuable. This is because the sensors are light, flexible, thin and inexpensive. They could also deliver data directly to mobile phones and similar devices. 
"If we want to develop more innovative products then this first interdisciplinary exchange in the 'Cross-Industry Walk' is a good starting point which gives us food for thought", says Schimeck. Now it is necessary to find concrete possibilities for application and to develop products together.
It's not out of the question that printed electronics will be presented at ISPO MUNICH in the future.
Video: Innovation builds bridges