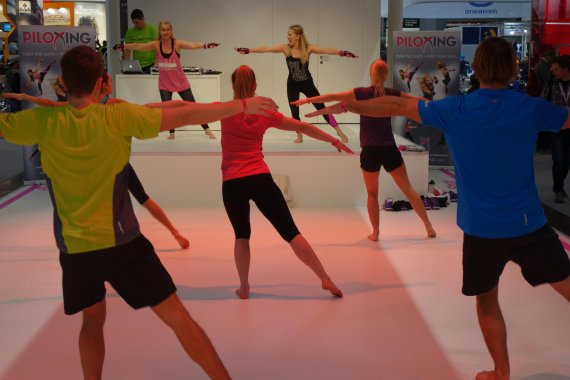 PILOXING on the training stage at ISPO MUNICH smile, which is frankly amazing because they are participating in what appears to be an incredibly taxing fitness class. The sweat drips down their foreheads as they throw rapid punches into the air accompanied by loud music. Next thing you know, they are balancing on one leg, with the other stretched far out. The trendy new sport of PILOXING combines the two extreme opposite activities of boxing and pilates, and not just in its name.
With PILOXING, fun comes first
"PILOXING strengthens the body an incredible amount, both physically and mentally as well," says Bettina Ausweger, who is studying to become a trainer in Salzburg. She is leading the taster course on ISPO stage in the Hall for Health & Fitness and it is clear she is having fun. And even among those attending the course who are trying out PILOXING for the very first time, the sense of fun is what is most striking. There's a lot of laughter, but also a lot of sweat. The variety of dynamic boxing and dance moves and the motivating words of the trainer are impressive.
PILOXING tones your body and strengthens your mind
PILOXING was originally designed specially for women in Los Angeles. But men are also joining in at ISPO MUNICH, trying out the program following the slogan, "sleek, sexy, powerful." This of course means that arms and legs are constantly moving. Rapid punch combinations are followed by intensive choreographed dance moves. "It seems more like an advanced class," says someone in the audience. The tempo and intensity of movement is simply awe-inspiring.
Hollywood stars love interval training with PILOXING
A lot of Hollywood celebrities seem quite taken with PILOXING. Actress Kirsten Dunst is among those who are fans of the trendy new sport, as are singer Hillary Duff and a number of top models. The concept is impressive: PILOXING works like interval training. Instead of breaks there are pilates exercises. "During one 60-minute class," says instructor Ausweger, "the entire body is engaged and you can really push yourself." PILOXING classes are already available in over 80 countries worldwide, and the trend is growing. It seems that even extreme opposites like boxing and pilates sometimes do attract and fit together.
PILOXING is

• 40% BOXING
• 40% DANCE
• 20% PILATES