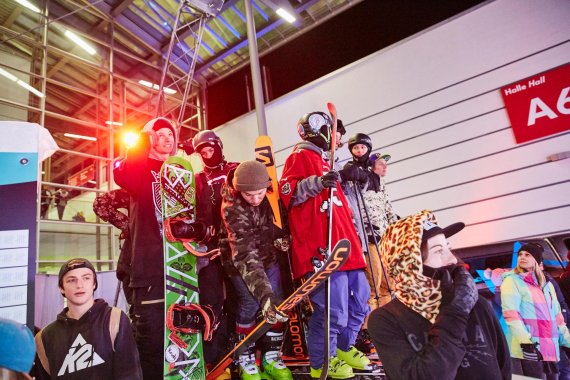 It's ice cold. But that's no big deal for Luca Pichler. Under the roar of the fans thronged along the course, the young man glides through the snow park – shirtless – and performs a spectacular jump.

The freestyle skiers at this trick session win a 70-euro prize. In cash, straight from the show's host. The red-hot music echoes from the large boxes where the young man with the wild, curly hair is warming himself up, at least on the inside.
A snow park made by Olympic designers
"This is another thing that is totally new here – I mean it's in the middle of a city at a conference center! But it's so much fun. And there are a lot of cool people here," beams Luca Pichler. He is one of just under 30 snowboarders and freestyle skiers who are performing their tricks for a rabid audience for the first time at ISPO MUNICH.

The professional snow park designers from Schneestern designed the course, complete with an extra fun park at the conference center with rails and bumpers – the same designers scheduled to create the snow park for the 2018 Winter Olympics in Pyongyang.
The remaining expertise was provided by Wake-Concept, the experts in portable wakeboard and snowboard event systems. A small cable car runs above the course and the athletes hold onto a rail, which allows them to build up the speed necessary for their flips and rolls.

"It's a little bit like water skiing," says Luca. He won another 50 euros that evening for an under-flip, a sideways flip with a half twist.
Cool vibes and awesome jumps
The audience clearly loves it. Word has spread that this is where the heart of the action is at ISPO MUNICH. Many young, hip people with long hair, casual clothes and wild headgear from the freestyle scene are in the crowd that evening.
They are visibly enjoying the cool vibes and awesome jumps. And those who are hungry can get a burger or a Schuhbecks currywurst at the refreshment stand at the edge of the course. And it's not just this first evening that draws a full crowd – during the day a number of curious visitors gathered at ISPO MUNICH's new snow park as well. And there's a full program running here on Monday and Tuesday from noon to 8 pm.
3,000 euros and a day for the kids
3,000 euros in prize money – and fame and glory – are at stake in the finale, which starts at 7 pm on Monday. Tuesday is "Kids on Snow Day", when kids will get the chance to perform for fans through the "Your Winter, Your Sport" initiative.
Nicola Thost will be hosting the kids, and the day will be filled with different training sessions, fun contests and numerous opportunities for meet-and-greets with the pros. Hopefully Luca Pichler will have found his sweater by then...