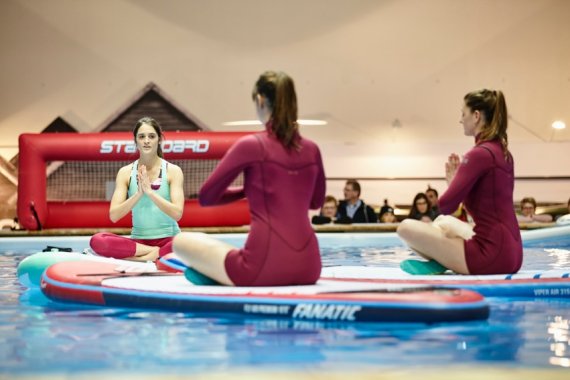 Yoga on land? Of course. Yoga on the water? Are you crazy? No. Two types of yoga were presented at ISPO MUNICH – yoga that most people likely have very little experience with: paddleboarding yoga and yoga diving. But what's behind these terms and how did they originate? ISPO.com was there and reports.

Yoga on paddleboards

For yoga on paddleboards, instructors lead their audience in exercises on the water on paddleboards, which are more stable and somewhat wider than typical surfboards.
Paddleboard yoga is suitable for both beginners and more advanced yogis, says Nicole Scheichl. The 29-year-old from Götzis in Austria has been a certified Asthanga Vinyasa yoga instructor since 2014 and presented the innovative sport in the pool at ISPO's Water Sports Village.

The completely wobbly nature of the rocking board increases inner balance because the body compensates for the instability. "You are forced to engage and tense muscle groups that you otherwise don't exercise," says Scheichl in an interview with ISPO.com. "You really have to concentrate or else you'll just end up falling into the water."

Skepticism gives way to extreme relaxation

If you're not quite convinced about this combination of yoga and water, you're not alone – even Scheichl knows the feeling. "At first I also thought, 'Why in the world would you do yoga on a surfboard? Is that some kind of new trend?' And then I tried it."
Now the enthusiastic windsurfer and freestyle skier loves the combination of two of her greatest passions. Scheichl highlights the fact that paddleboard yoga has an "extremely exciting appeal" because you get to work out in the fresh air while enjoying the lapping waters and the sound of birds chirping.

Metz presents yoga for divers

Relaxation and overcoming stress are other points raised by Magnus Metz when he talks about his own passion: "yoga for divers."

Metz is part of a team of sports scientists, ardent divers and yoga enthusiasts. Their innovative yoga training methods help divers to reduce their oxygen consumption and prevent panic attacks, thereby reducing stress levels.

"A lot of divers experience stress and consume a lot of oxygen," explains Metz during his visit to Water Sports Village. Breathing exercises, physical exercises and mental training aim to teach divers how to have a relaxed and unforgettable experience underwater. Feelings of stress are wasted on Scheichl and Metz in spite of all the hard work they do everyday. Thank goodness for innovative ideas.