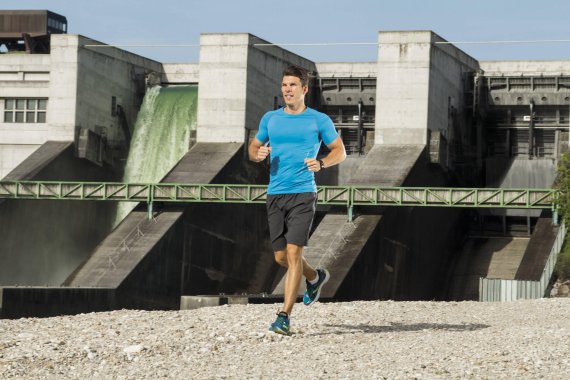 But what happens when there is no one else who shares your passion for long-distance running? Never fear, just go online to look for a training partner.

The virtual fitness factories allow us to compare the results from our nightly running routine with the whole world. Theoretically. Social fitness and health networks make it possible – sports turned into an interactive social experience. The portals are experiencing a boom; training and sweating in virtual company seems to be an incentive.
From app to portal
RunKeeper, for example, established itself from a simple iPhone app to a very popular portal within five years. It works for runners and cyclists. According to the developers to date 17 million people use RunKeeper as their personal trainer, and the app is now available in seven languages.

You can access statistics like speed, distance and calorie use, or listen to coaching advice on your earbuds. In addition, so-called assistants can watch the workouts live, or you can post your results on Facebook.

The more apps and services you choose to integrate, and there are over 70, the more detailed the representation of your state of health and fitness profile. The FitBit app, for example, measures how well you slept last night, and helps you improve your nutrition.
Apps for every Sport
The Austrian Runtastic brand offers six apps for cycling, walking, mountain biking and running, for winter sports as well as a pedometer. In addition, the online shop sells accessories like heart rate monitors, GPS watches or iPhone cases. A GOLD membership is available for a monthly fee, providing weather forecasts, weekly performance reports or freedom from advertising. 
Witty instructions for swimming or cycling 
Getting motivated to exercise is tough. Fitocracy recognized this and works with a different concept: instead of counting calories, there are points and levels similar to a computer game. To increase one's personal high score, the user selects his or her daily workout from more than 800 exercises.

To stave off any boredom, there are witty instructions for swimming or cycling such as "Passing Poseidon – Swim 200 km in your lifetime" or "These Legs Don't Stop – Cycle 1000 km in your lifetime".

There are even points for taking a stroll or walking up stairs. Once you reach a certain number, you gain a level. Similar to Facebook, the user sets up a personal profile and makes online friends.

Information for health and training
This networking is supposed to motivate ambition, under the motto "Gaby just did 100 push ups – Heinz likes this". You can't wait for the next day, just to collect another compliment for your accomplishment. 
The fitness network DailyBurn replaces the trainer with a video platform. If you want to use everything the network has to offer, you can upgrade from the free to the full version for ten US Dollars per month. Apps provide additional information such as nutrition and coaching.

The user sets goals – such as losing 15 kilos of weight – and answers questions on his or her state of health. The result is an individualized exercise program. All streaming videos can be accessed online at any time, and the user can select the gender of the personal trainer. There are five different instructors to choose from.