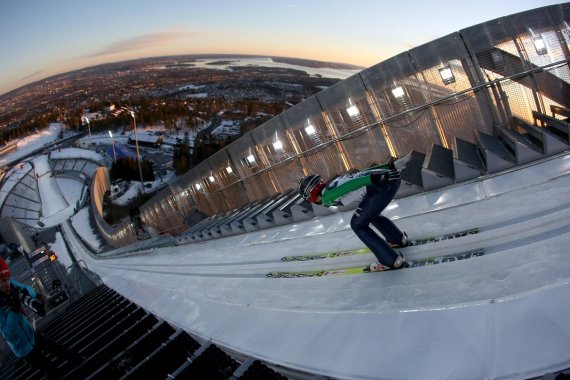 Aside from the tournament in Garmisch-Partenkirchen, Oberstdorf, Innsbruck and Bischofshofen the FIS (Fédération Internationale de Ski) would like to establish a second series in ski jumping to take place in Norway. Two jumps would take place one weekend on the ski jump at the Holmenkollen in Oslo. After that the competition could move on to Trondheim and Lillehammer the following week. The planned tournament does not yet have its own name.
The Norwegian newspaper "Aftenposten" told the event manager in charge, Terje Lund: "The decision for the new series will likely be made at the FIS Congress in Mexico in June. I'm certain that it will be approved." FIS race director Walter Hofer is said to have been one of the plan's initiators.
The Four Hill Tournament in Germany and Austria has taken place every year around New Year's since 1952. Norway has been the most successful country after Austria, Germany and Finland (with 16 tournament victories each) with 10 victories by various athletes. 
Read more here: This is how much money is generated at the Four Hill Tournament
Starting in 2009 a five year team competition in Willingen Klingenthal and Oberstdorf also took place that was supposed to be a new kind of Four Hill Tournament. Sponsors then were: Teldafax (2009 to 2011), Plus.de (2012) and Verivox (2013).