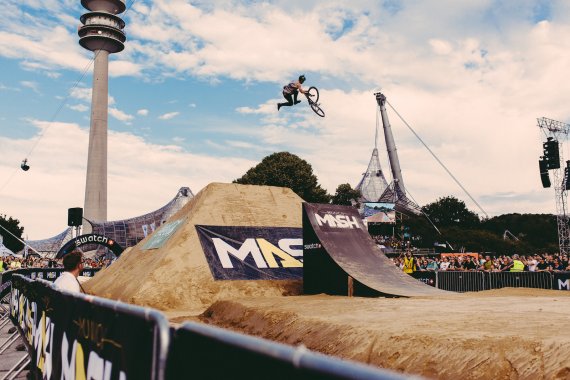 Slopestyle mountain biking, street skateboarding, and big air wakeboarding – the Munich Mash from July 1-3, 2016 in Munich's Olympic Park assembled three of today's most trendy sports.
Slopestyle mountain biking competition is young sport and already has its own superstars that chance the crazy jumps and stunts. That's how slopestyle MTB goes. These are the backgrounds of the industry:
Slopestyle mountain biking: what's it about?
Slopestyle has gotten big in the last 15 years. The first slopestyle event is considered to be the Joyride Slopestyle 2003 in the Boneyard bike park in Whistler, Canada. From there arose the Crankworx Whistler, to this day the most famous event in the scene. Slopestyle courses are made up of up ten meter tall drops, dirt jumps, and obstacles built mostly out of wood. That's where the riders execute their breath-taking tricks, which are evaluated by a jury.

Read more here: everything on the topic of action sports
Considered the defining moments of the sport are the 360 by Darren Berrecloth at Cranworx in 2005 , as well as Andreu Lacondeguy's double backflip in 2008. Slopestylers use small, versatile bikes with full suspension or hard tail, and which have to be extremely stable.
Who are the stars?
Brett Rheeder (CAN) won Munich Mash 2015; after his victory at Crankworx Rotorua 2016 he was once again considered a favorite. But in the 2016 edition Nicholi Rogatkin (USA) gained first place. He's currently leading the Diamond Series rankings. It was his very first victory at the FMB Diamond Series.
Rogatkin's victory ingredients: Footplant 360, Tailwhip, Tuck-No-Hander, Triple Tailwhip, Double Tailwhip, Backflip, Cashroll, Frontflip, Double Tailwhip und Cork 720.
His rivals Brett Rheeder and Thomas Genon (BEL) had a bad day and crashed at both runs.
Nico Scholze from Filderstadt gained a respectable sixth place.
Which sponsors are involved?
In addition to the mountain bike industry, Red Bull and Swatch are heavily involved in Slopestyle – as sponsors of events and top athletes. Monster Energy and sports goggles manufacturer Oakley and Smith are also supporting pros. Official partners of the Freeride Mountain Bike World Tour include Camelbak, Continental, and TSG. They're all interested in the sport for its youthful image, the spectacular tricks, and athletes' boldness.
Where can you watch slopestyle MTB?
As part of freeride mountain biking, slopestyle has a good standing in the classic mountain biking media. Events like the Munich Mash are broadcast worldwide on TV and live in parts online. The scene's gathering places are bike parks with slopestyle elements, such as Leogang, Saalbach Hinterglemm, and Serfaus Fiss Ladis in Austria or Samerberg in Germany. The sport's international association is the Freeride Mountain Bike Association (FMBA).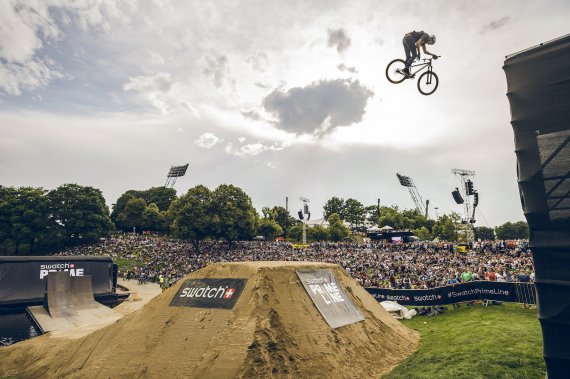 What potential does slopestyle MTB have?
Slopestyle is a growing sort that, despite the overall expensive equipment, is currently being very well received among young athletes. The tourism divisions have a great deal of interest in filling their bike parks and are advertising them heavily. However, due to the high risks, slopestyle is not going to become a massively popular sport.
Read the other parts of the action series on Munich Mash 2016 here:
How the Munich Mash works: www.munich-mash.com