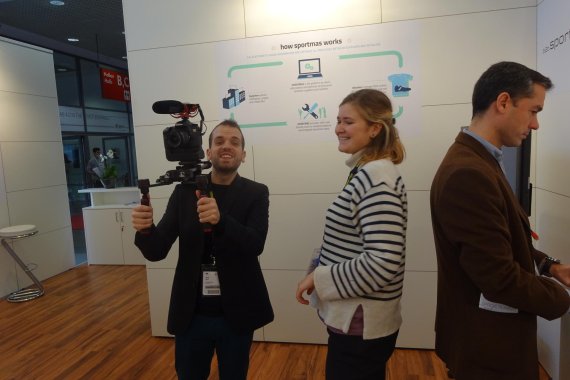 After the successful premiere event in 2016, ISPO ACADEMY has made some adjustments to the ISPO RETAIL LAB 4.0 powered by SPORTMAS special exhibition area and is hoping to match ISPO MUNICH 2016, where over 1000 sport professionals spend an average of 25 minutes at the stand. ISPO RETAIL LAB 4.0 will introduce visitors to the latest in point of sale technology. The "Fast Total View" stands will enable three different companies to present their ideas to customers at the same time.
Learn from the best in the sports business: ISPO ACADEMY's speakers share exclusive insights to help with your business! >>>

For the second run of events, a couple of improvements have been brought in by the organizers, Martina Claus, Foreign Representation for the Munich Trade Fair in Spain, and Andres de la Dehesa, CEO of service-technology company SPORTMAS.


ISPO RETAIL LAB: New Concept for 2017
"The first ISPO RETAIL LAB 4.0 incorporated a quite technical presentation within a relatively closed stand design, which was of interest mostly to technical specialists," says Claus of the first ISPO RETAIL LAB. "For 2017 we have made the stand much more open, so that all feel welcome, whether you are interested in getting individual advice or just want to take a quick look at the technology. There will be a stronger focus on presenting the technology as it will actually be used in practice."
A specific example of what this means for ISPO RETAIL LAB 4.0 powered by SPORTMAS is the presentation of Beacon Technologies. This enables retailers to identify their customers and to address them individually. Through the usage of digital signage and screens which use facial recognition, customized marketing campaigns can be used at the point of sale. On top of this, sellout control tools and the latest RFID technology will be presented.
Presentation Spaces for Retailers to be Developed
"Communication between brands and retailers will happen in real time," says Claus. "Using sellout control, the brands will receive a direct response about the sale of their products in specialist retailers, thereby making it possible to accurate plan for warehouse stock. It won't be necessary to plan the sales for each season wholly in advance any more."
At the ISPO RETAIL LAB 4.0 powered by SPORTMAS stand, three businesses will be able to present their ideas at the same time through the Fast Total View presentation spaces. There will also be four panels which can play video content. In addition, the stand will have a meeting room available.
You will be able to find ISPO RETAIL LAB 4.0 powered by SPORTMAS directly at the east main entrance at ISPO MUNICH 2017.