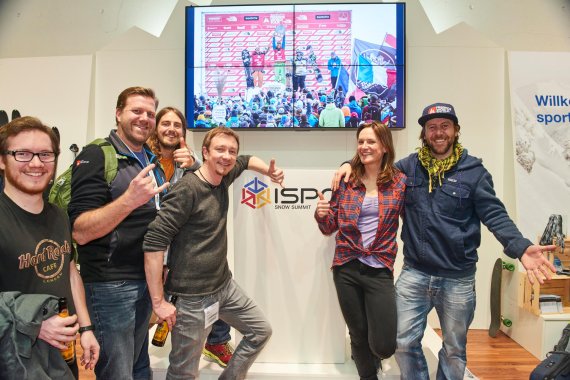 "Organizing a Freeride world cup is not an easy task," says Stefan Häusl, who has been familiar with the tour from the very beginning.

First you have to find the right terrain, the mountain has to be safe, it needs to be inspected and then you've got about a one-week window for good weather: "It can't be carried out like a ski world cup," said the ski freerider.
The Freeride World Tour offers opportunities for growth
The skiers usually take a good look at the mountain for two days, from below, from the side and, ideally, from above. Freeriders are not permitted to ski the actual face prior to the competition. Instead, the skiers take photos and examine the terrain on the computer.

"On day X, there's just the one ride and often there's a change of plans," says Häusl. "The mountain plays a big role in our sport." By that he means that not everything – and certainly not the weather or snow conditions – can be controlled. "Freeriding is wild," Huber added.
For Huber as a professional freerider, the sport is not really about winning, even if the tour is a competition. It's the chance to grow and learn from the challenges of the competition that matter most to the 36-year-old. There is a strong sense of community at the Freeride World Tour – especially among the women.

"We travel together during the competitions and go skiing as a group," said Huber. "Getting together with so many fantastic skiers has its own special energy."

Read here: Alpine star Julia Mancuso talks about her passion for freeriding
Everyone can watch the tour thanks to the live stream

The runs of all 50 skiers and snowboarders at the Freeride World Tour can be viewed over live stream. Even in Alaska, a team of 40 will be present to ensure that the images from the slopes in Haines travel the world.

"Since we've had live streams, FWT has gotten a whole lot more attention," the FWT 2014 second-place winner told ISPO.com.
Häusl assumes that this year's tour will bring the sport to a new level once again: "The skiers are more fit and choose smarter routes," said Häusl. "For example, they choose the route that best suits their style and take leaps with increasingly steep landings."
FWT skiers Lorraine Huber and Stefan Häusl on their favorites

Who will be this season's number one? Huber believes her compatriot, Eva Walkner, will be the best of the women; Häusl thinks it'll be Huber. Both expect Loic Collomb-Patton to win the men's competition.

In snowboarding, their favorites are Anne-Flore Marxer (France) and Sammy Luebke (USA). But, they both say at once, almost anyone at FWT could end up on the winner's podium.
The Freeride World Tour stops:
Feb. 9 - Feb. 16, 17 Vallnord-Arcalís, Andorra (two competitions because the contest in Chamonix was cancelled)
Mar. 6 - Mar. 11, 2017 Fieberbrunn, Austria
Mar. 18 - Mar. 25, 2017 Haines, USA
Apr. 1 - Apr. 9, 2017 Verbier, Switzerland
Video: The Latest Products from the World of Skiing and Snowboarding