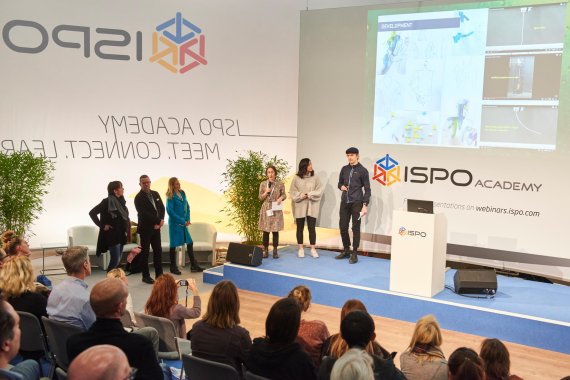 "The most important thing is generating enthusiasm for sports and for sport design," said Kühner prior to the second edition of the ISPO ACADEMY Masterclass. And that's just what she did, at least that's the impression you get when you see the results of the ISPO ACADEMY Masterclass final presentation.  
ISPO Masterclass Motto: "Active Rebellion"

For two days, 27 students were divided into five groups. Each group was given a different assignment on designing a jacket for the future. All groups shared the same motto: "Active Rebellion."

The students were asked to "rethink everything and question everything," says Kühner. "Nowadays, our perspective, structures and therefore designs are changing dramatically and so this motto fits perfectly."
The students were also given a great deal of input from the ISPO OPEN INNOVATION Community whose ideas were integrated into the students' projects.
"This group had so much creative energy," says Kühner. "That was very inspiring." Aweriawhen Umuomo from Nigeria describes the four days as a true aha experience. She studies at IFA in Paris.

A collection of talents for sports designs

"I was able to contribute all my talents in this project," the student said. "First I studied math and now I'm studying fashion. The challenges I face here are just right for me." That may make Umuomo the kind of person the sports industry is urgently searching for.
"Good designs for sportswear requires expertise and knowledge," says Christoph Rapp who is responsible for the ACADEMY at ISPO.

"We want to be the bridge between designers and the sports industry," says Rapp. The Masterclass provides a desperately needed platform, one that should be further expanded.

ISPO MUNICH platform brings students and the sports industry closer together

Kühner also focuses on this transdisciplinary approach. The sports industry offers designers special challenges that only the very best can solve. The next step is to provide all of these design talents with a better understanding of the sports industry and the exciting tasks that await them there.

The industry is also pleased about the concept: bluesign was the main partner of the Masterclass. In addition, students could gain interesting insights into the industry and establish contacts to various brands in the lectures and during tours of ISPO MUNICH.