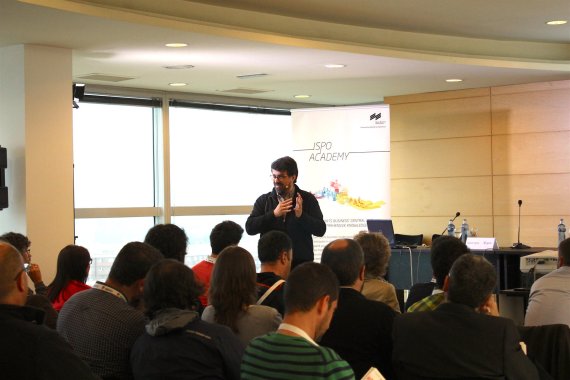 In his opinion, digital transformation means little, if companies don't develop a plan to use data skillfully. María Fernanda González from the Moca consultancy adds that brands should concentrate more on understanding the customer than on technologies.
RocaSalvatella has offices in Barcelona, Madrid and Bogotá, Colombia and works with a long list of well-known companies, such as Roche, Bacardi, Mango, Desigual, Audi, ABB, Nissan, Telefónica – just to mention a few.
Talking to ISPO.com at ISPO ACADEMY, Roca laid out his major thesis: collecting data on the consumers is not an end in itself. "Big Data", he believes is just a term, when it comes to learning more about consumers. Before starting, it is important to define a clear strategy about which information a company actually needs. Otherwise, big data can become a big problem.
Roca warns that customers have become increasingly sensitive when it comes to the transfer of personal data. This ethical issue is even more critical if companies collect data which are turns out to be useless. Roca shared his thoughts on the challenges of collecting data:
Data relevance is critical – not data quantity
"Digital transformation" is just a fashionable term that means little.
More important are three critical aspects:
1) company vision and strategy, 2) operational adaption to challenges and strategic aims in the digital world, 3) organization, training and staff mindset to meet requirements and company philosophy when implementing digital strategies.
Roca is skeptical about an overload of information. Collecting data has to mean more than just collecting data. This is dangerous. First, a company needs to ask itself the relevant questions before building a data pool. It has to be driven by the results that a company desires.
Currently, brands are busy collecting data from their customers. But what about irrelevant information? Especially in a context where there is user growing discontent with companies wanting to know as much as possible. Customers feel increasingly uncomfortable with this attitude. Ethical questions are becoming more important than technical issues.
ISPO OPEN INNOVATION: Personalized and customized products enjoy a growing awareness and appreciation among consumers. This requires a strong connection and a flow of information between the customers and the brands. It makes sense when both parties skillfully maintain this relationship. Here, again, key is not the quantity of data, but the relevance of the data.
You can read more about Genís Roca and his approach here.
Open Innovation is not science fiction – it is here and now
María Fernanda González, CEO of Spanish IT consultancy firm Moca presented her thoughts at ISPO ACADEMY, stating that the challenges have less to do with the technical side of digital transformation, and more to do with that old problem – understanding the customer properly.
In an interview with ISPO.com, she stresses that technical feasibility is not the critical aspect when it comes to skillful communication with consumers. She explains how to use the latest technologies in order to apply them to the customer's needs. Here, González feels that brands still have a fair bit of homework to do.
The same as many pioneers in the digital revolution, she calls for a multi-channel connection to the various devices that customers use – from PC via smartphone to tablet computer.
Her specific approach is not to focus on the latest technical opportunities, such as cloud computing or big data – these technologies are here anyway she argues. It is more a question of developing the skills to use them properly.
According to González, the strategic use of various information channels is what matters. She sees terms like the internet of things (IOT) or big data as just words that describe the tools that are available.
Instead, she calls to use these tools strategically. Focus on the customer experience, not the technological toolbox. Consumers are using new ways of communication – and the challenge for brands and retailers is to secure consumer loyalty through those very information channels.
González welcomes new initiatives, such as ISPO INNOVATION developed by Messe München, that build bridges between brands and consumers – especially when it comes to product development. She points out, however, that these developments are by no means visionary – they are reality already. She cites Facebook as one example, where consumers are shaping products.
A short clip on the Moca approach as outlined by María Fernanda González is available here.