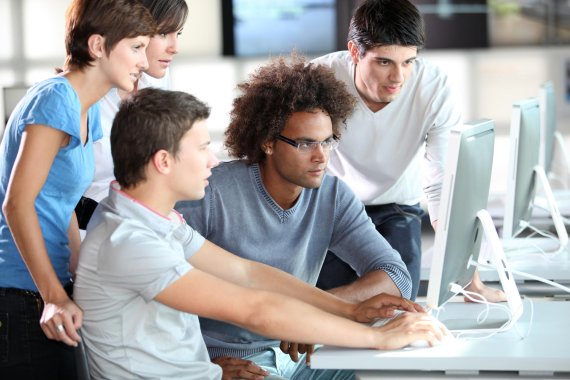 Nora Kühner is organizing the Masterclass Project. She planned and brought it to life together with Rolf Günther. Both are established designers who have been working with internationally renowned sports brands for many years.

Interested? Learn all you need to know about the ISPO ACADEMY Masterclass 2017 here >>>
Kühner is also a trend expert and gives lectures at international industry events. The designer gave ISPO.com an insight into this unique project.
ISPO.com: What is the ISPO ACADEMY Masterclass?
Nora Kühner: It is a workshop aimed at students from the area of clothing and textile design, but also product design. The most important thing is generating enthusiasm for sport and for sport design. Simply said, too few designers are interested in sport, especially in clothing design. 
With the Masterclass we aim to show that there are loads of exciting design challenges in sport too. And all that with a view to the future: Sport is becoming more and more important – sport is lifestyle and therefore an important theme.
What should budding designers be told?
We want to give lectures to show the differences between designing for the fashion and sport industries. What requirements are there? What are the special focal points in sport?

For example, functional materials, processing technologies and ergonomic requirements. This means that we want to carry out a transfer of knowledge so that we can pass on sports specific knowledge about designing sports products.
Masterclass Means Sharing and Imparting Knowledge
What makes the Masterclass so special?
The special thing about the Masterclass is that you can't apply to take part. Instead we work with a select number of schools who choose three or four design students from higher years of study. When we presented the project, the first schools we chose were the ones that were enthusiastic from the outset.

Our network that we have built up over many years really helped us there, but I was very surprised when such large design schools as the University of Oregon and the London School of Fashion showed their immediate commitment. That was a great confirmation that the idea was good and that people liked it.

And now, as we are approaching the second Masterclass, the concept is still met with approval. It is perceived as something that has been missing from sport in this form.
Read here: With the ISPO ACADEMY at ISPO MUNICH 2017, You'll Learn from Trendsetters
How was the first Masterclass received?
The first Masterclass was a really good success, not least thanks to the schools which took part:
Beijing Institute of Fashion Technology (China)
Swedish School of Textiles / University of Boras (Sweden)
Hochschule Pforzheim (Germany)
University of Lapland (Finland)
London College of Fashion (UK)
University of Oregon (USA)
The Schweizerische Textilfachschule
Citta Studi di Biella (Italy)
And new this year we have:
IPCA (Portugal)
Modatex (Portugal)
IFA Paris (France)
We welcomed 21 students from all over the world who were very committed and enthusiastic, as well as our partners from the industry. So at the end we could celebrate a very successful presentation.

The ISPO ACADEMY Masterclass is not designed to be a competition. It's a lot more about sharing knowledge, exchanging and working in groups to develop concepts to a set theme. Then the students will present the results and ideas in a public presentation.
Completely New Ideas Come from the Masterclass
What is the itinerary for this year?
We are going to work with the students for two days on creative concepts. This year it's all about the "Über jacket", or rather the optimal winter jacket of the future. The ISPO OPEN INNOVATION Project for the "Über jacket" helps us to incorporate ideas from many interested consumers.

This is certainly an idea that is absolutely at the forefront of progress that we can integrate with the consumers' imaginations. Such a concept will put designers in the position to develop new product ideas that are more realistic.
On the third day we will visit the chosen exhibitors and on Monday there will be lectures from renowned designers and experts from the industry. And to finish off the lecture day at 5pm the students will publicly present their creative concepts for the "Über Jacket".
Without any storage and production constraints at all, are we seeing some surprising solutions?
The industry also asked us this question: For us, it is about taking new routes and developing new ideas. After the first Masterclass we could observe the intercultural exchanges between the young people and see what happened.

For example we had soon-to-be designers from Lapland working together with young designers from Beijing and Oregon. What happened? What kind of creative new approaches came about? Well, that is also the world of sport.

For many, many years we have been a very globalized industry, and of course this is the designers' environment too. We want to illustrate how today's sports designers work.

This means working in a team for international markets. This was our goal last year and this is also our goal for this year: Working together to rethink sport design!
"Designers Are Demanded to Network!" 
You say that it is a globalized industry with many influences from different disciplines. Do designers need to be able to do more now than in the past?
One thing is sure – without a transdisciplinary approach, it doesn't work. Digitalization is causing a huge revolution, even sport has changed and technologies have changed. We have, for example, many more matched materials with different requirements, ergonomic requirements that we must cater to, new fabrics, rapid prototyping, and of course the buzzwords are digital and 3D printing.

Designers are demanded to network, to exchange and to look to the future. It is no longer about the individual who designs in their quiet chamber. In any case, that is our approach. I find that parts of the industry are still too stuck in the here and now.

If you want to realize good ideas in the 21st century, you need to network with experts from different areas and exchange knowledge. It's impossible to know everything from the design to the possible 3D print. These circumstances also call for a change in the job profile.
What are you expecting from the 2017 ISPO ACADEMY Masterclass?
My colleague and I are very excited and are really looking forward meeting the 27 participants. The exchange between students from such different traditions such as China, Lapland and the USA is a valuable and unique feature. It leads to great ideas and exuberant creativity!

Last year we received feedback from Oregon that the participants came back "highly energized". Needless to say, we want to continue that. We want to enthuse all participants for sport!
The latest sports design, find out more about ISPO ACADEMY Masterclass! >>>