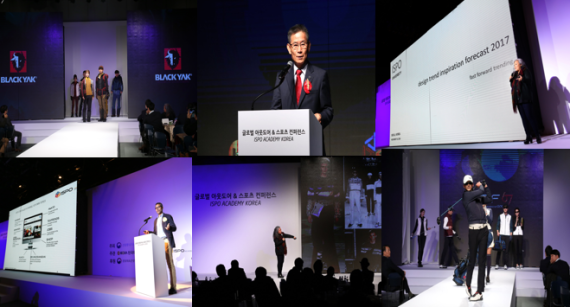 Retailers, brands, experts and press met for speeches and discussions with focus on sewing technology for outdoor and sports garments, innovations on the outdoor market and possible effects of the Winter Olympics 2018 in Pyeongchang for the industry.
With renowned speakers from all around the world ISPO ACADEMY is providing various perspectives. ISPO Academy brings future oriented sense of moving industry as a whole with various strategies including technology, branding, designing of outdoor and sports fashion and goods.
Interested in the trends of the outdoor and sports industry and networking with other business insiders? Apply for the next ISPO ACADEMY  >>>
Design Trend Inspiration Forecast 2017
Martin Kössler (CEO of HuginBiz) spoke about the complexity and diversity of the European outdoor and sports market. He also pointed out that industry needs to strategically approach European market as a whole.

Liang Qiang, professor of Tianjin University of Finance and Economics, addressed in his presentation that the Chinese outdoor and sports market dropped in 2015 due to its economic depression, a decrease of trust customer index and the absence of offline sales channel which results in increase of stock.

The Fourth ISPO ACADEMY Event In Asia
Qiang suggested that the Chinese market should be approached in a very conservative way and though it is struggling at the moment, it is projected positive.
Haysun Hahn, founder of Fast Forward Trending, spoke about "Design trend inspiration forecast 2017". She pointed out that even though the outdoor and sports market accounts for 3,000 billion US Dollars its public awareness were still relatively low and the community was still vulnerable. 
ISPO ACADEMY Korea included not only conferences but also performance shows by Korean outdoor and sports brands.
The event in Seoul has been the fourth ISPO ACADEMY in Asia. Before that ISPO ACADEMY events were held during the ISPO BEIJING and SHANGHAI 2016 as well as in Japan.