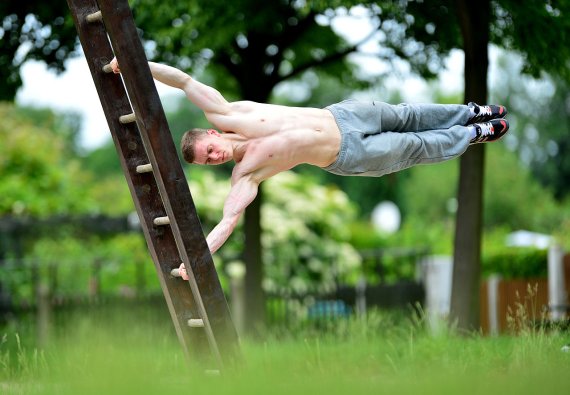 Handstand press-ups, one-armed pull-ups or human flag – anyone who visits a play area in good weather these days can, with a bit of luck, experience acrobatic feats that can normally only be found in the circus.

Because alongside screaming children and concerned parents, a group of young fitness sportspeople have also discovered climbing frames, handlebars, etc. for themselves.
Export hit from New York
The new type of trend sport, in which exercises almost exclusively completed using one's own body weight are the focus, is called Calisthenics. This special variety of strength training developed in New York shortly after the turn of the Millennium.

The impetus for this was especially provided by what are known as the outdoor parks and workout parks that enabled training to take place also outside of fitness studios and sports clubs.
A few pull-up or climbing frame bars, some parallel bars – no more equipment than this is needed to change the nearby town park into a playing field for fitness enthusiasts.
And because creativity famously knows no bounds, various other objects such as fences, street signs or waste bins are also gradually turning into training equipment.
The YouTube Phenomenon
The spectacular YouTube videos by the US athletes "Hannibal for King" and Frank Medrano especially attracted the attention of the online community and made the specialized fitness sport accessible to a larger audience.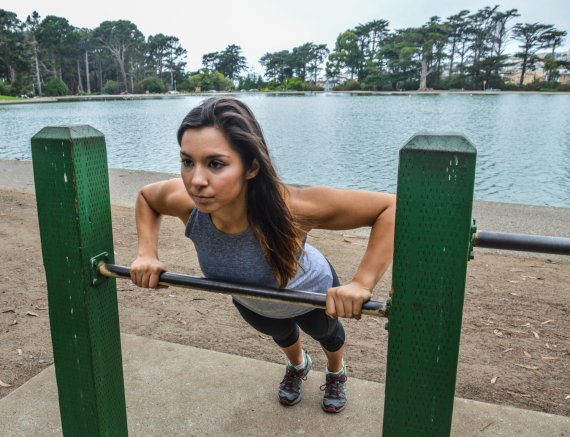 With seemingly playful ease, these two demonstrated previously unseen variations of strength training on pull-up bars and parallel bars or press their bodies into 90 degree angles to poles, fences or street signs, in order to form what is known as the "human flag".
It did not take long before the new trend found its first supporters in this country as well. The Calisthenics movement had come to Germany.
Calisthenics – one sport, many advantages
However, the successful overseas import is not a miracle because Calisthenics has a long list of benefits: The exercises with your own body weight are not only good strength training but are also excellently suited for training co-ordination and balance.

As opposed to training on machines, in own body weight exercises our muscles' natural course of movement is emulated.

In the meantime, numerous fitness studios have started offering what is known as functional training – which is to say, training that activates our muscles in the way that they originally functioned. Calisthenics is nothing other than this.
A further plus point: Even during the basic exercises of a Calisthenics aspirant, which is to say, knee bends, pull ups, push ups or dips, a basic tension must always be held. 
Through this, especially, the core, the middle of the body, is trained. This does not only quickly lead to considerable abdominal muscles but, from a sports medicine point of view, it is also good for preventing back problems.
A further important factor: goal setting. Whilst during classic weight training it is only possible to increase the weight and the number of repetitions, in Calisthenics more and more complex exercises are possible.

Anyone who manages a series of pull ups without any problems can as a next step, for example, dare to do muscle ups or one-armed pull ups. Thus you always have a focus on a specific goal and are permanently motivated in what you do.
Also the creative freedom in the selection of training objects and the variety of exercises ensure that there is plenty of diversification during training. 

A workout together with friends in the fresh air sounds much more inviting than does monotonous sweating on the treadmill. Not to mention the free "entry".
The correct foundation does it
Anyone who has now seen a few YouTube videos and is on the way to the nearest play area should consider one thing: Before top acrobatic performances are in line, the basics must first be mastered.

You would be well advised to start with knee bends, pull ups, leg raises and dips to build up the necessary basic strength. With some more practice, the more complex exercises are also already within feasible reach.
And for those who want to lose weight: The combination of various exercises with your own body weight is especially suitable for losing excess pounds. 
Topic for discussion:
Have you ever done fitness exercises on a public court?