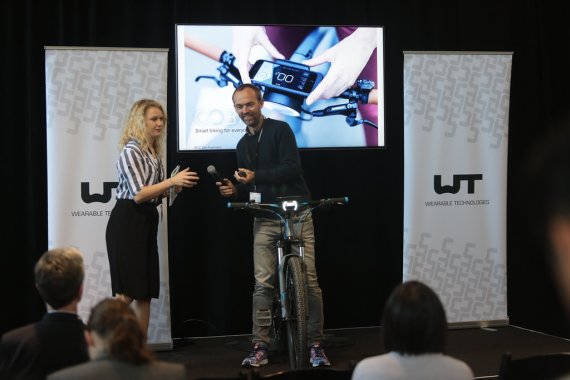 The conference stage kicked off with FLEX and MAS Holdings debuting their new set of athletic safety LED apparel. Bright lights can enhance the safety of a person when they are running, cycling or working in dark hours.

There were other products featured that assist with health and fitness. Halo Neuroscience demo their smart brain sensing headband + headphones. The idea is for athletes to wear their product while practicing to enhancing brain power in order to reach top performance. Yet, professional athletes are not the only folks that need to be active.

Check out: Wearables that help you improve your athletic performance
Wearables: It's not like the old days
Unicef Ventures spoke in the afternoon about their Wearable-for-Good. It's an activity tracker that turns steps into points. Once you reach a certain number of points, you are able to send non-perishable food to a child in need. Unicef is leading social change within the wearable movement. It was a pleasure to see how many people are already using this technology and how it many children are able to have satisfies stomachs.

On the second day we featured a VIP, Russell Okung, from the Denver Broncos. He touched on how professional athletes are using wearables in practice to learn how their body can remain competitive in their high risk industry. ͞It's not like the old days.

To be perfectly trained means a healthy body andmind. We are no longer pushed to the extreme, Mr. Okung stated. He dove into how he enjoys sleep tracking. He realized that when we received enough deep sleep, he is able to perform better at work. The downside for the athlete is that their recorded data is owned by the owner of their team. With that said, if a pro athlete would like to know what their stats are, they have to ask for permission.

Christian Stammel, CEO of Wearable Technologies: What the Future Looks Like
Firstbeat: the most accurate data
News from the World of Sports and Fitness featured four outstanding companies. Firstbeat is the original heart beat sensor. Many products use heart rate to dig deeper into the data. This allows for accuracy, thus leading to improved awareness of the body, inside and out. Graphwear created a sweat sensor that knows exactly what your body is telling you all in the compact form of a Patch.

Firstbeat is another sensor company that has been around for a long time creating heart rate sensors. Product designers should use their heart rate sensor if they wish to gain the most accurate data for practical applications.

Halo Wearables (not be confused with Halo Neuroscience) is targeting the problem of dehydration. All people, weather they work out or not, should maintain the perfect amount of hydration. This allows for the best performance and an actively engaged mind and body. Make sure you are drinking enough water through a non-invasive sensor combined in the form of a wristable.

Cobi is the newest connect bike. They have created an all-in-one system that attaches to the hand bars of the bike. You can have a light, smart phone, activity tracking, GPS and more all in the convenient location of your bike. As Cobi is a European company, many people are already purchasing their device and including it on their bike.

One thing Cobi is missing are headphones for listening to your favorite tunes. No worries, for Jabra joined the WT | Wearable Technologies Conference to share their Sports headphones. Waterproof, comfortable, activity tracking and coaching are now in the compact design of your headphones.
These Wearables help you on your Bike rides
Rithmio is a product that ͞moves people.͟ You would have been able to find them in the WTUS16 exhibitor hall. Rithmio EDGE pairs with their wristable to track your weightlifting routine. Then you can check out your form and progress from their mobile app.

Red Bull Media House shared how have partner with Go Pro to make Heros out of all active creatures. They don't just settle with humans – they have attached a camera to an Eagle to capture footage of Mother Nature that is a No Fly Zone for aircrafts and drones. Will you be their next hero?
The expanding wearable, connected device industry reaches beyond end products. WT shared new developments by inviting over 45 speakers and 50 exhibitors to share their story. Developments are far and large, even though companies are creating micro-sized electronics, the improvements are changing the future of technology. Do you know where the future is headed? If not, you should join WT at one of their world tour stops, Hong Kong (Oct. 12th), Germany (November 14th) and more for 2017!  
Virtual Reality: Watch Sports and Feel Like a Part of the Game
Christian Stammel is CEO at WT | Wearable Technologies, a leading innovation and business development platform for wearables, and updating ISPO.com readers about latest trends on digitalization, wearable tech and IoT in sports, fitness and well-being. More information about WT at www.wearable-technologies.comhttp://www.wearable-technologies.com