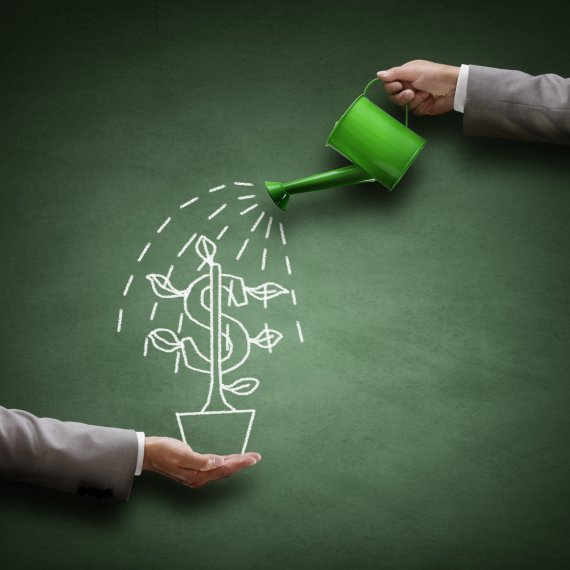 But first it's important to make two important distinctions: Is funding required just for a specific project or a whole company? And: Do you want your funding to come from the public purse or private investors?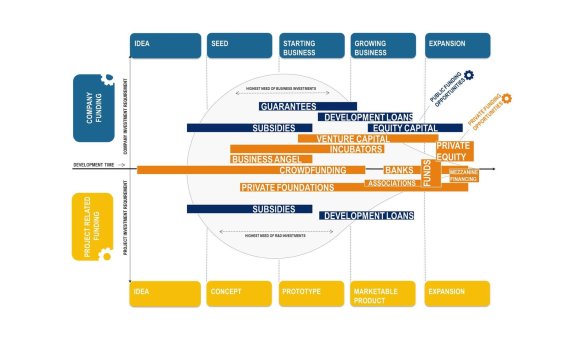 Starting with a fundamental decision
Company related or project based? Programs directed towards companies as a whole generally work on the basis of sponsoring economic locations (excellence initiatives, for example), whereas project based funding provides support for individual projects. This may involve anything from product innovations to new strategies for sustainability or the development of demographic management systems within a company.

To that end, there are two different types of funding: public and private. Funding can come from both the government and private sources like banks, investors or foundations, regardless of whether the funding is company related or project based. While state funding generally requires a great deal of bureaucratic effort, private funding generally comes with certain conditions attached – for example, funding from an investor who in turn would like a share of any profits.
Difficult phases
Depending on the phase of the project or company development, varying levels of difficulty may be met with when trying to secure funding. The funding landscape is least populated right at the start of a project; those looking to fund the brainstorming process have no option but to turn to crowdfunding.

Crowdfunding works via Internet platforms, for example, Kickstarter or Indiegogo, where you briefly present your project, specify a minimum amount you want to collect and rely on enough people finding the project so interesting that they donate small amounts to it. The difficulty here lies in standing out from the crowd! A total of nearly 300,000 projects have signed up to Kickstarter alone.
And at the opposite end of the scale, it's difficult to obtain funding: If you want to bring a product to market (project based funding), there are barely any public funding options to be found and you'll need to turn to private means: to loans from banks (e.g., LfA Förderbank Bayern), to clubs or associations that often support projects relating to specific issues, to funds and mezzanine capital – a type of credit that is generally provided by private equity corporations, special mezzanine funds or even banks.

The situation is similar for corporate development, with companies having to seek out loans from banks or find a fund or private equity investor. Private equity investors focus on companies that already enjoy a stable position where they won't be required to engage in any major acquisitions in the near future and that offer good potential returns for relatively little risk.
Public funds

If you already have an idea or even an initial plan for implementation, there are a wide range of options for obtaining funding. In the public sphere, funding can come from the EU, for example, or from German ministerial departments: For corporate sponsorship (location development), entrepreneurs should turn to excellence initiatives (EU) or the German Federal Ministry of Economics and Technology (BMWI), which has a Central Innovation Program for SMEs, for example.

However, if funding is needed for one individual project only, the EU offers specific calls, such as "FET – Future Emerging Technologies". In Germany, this is administered through the Federal Ministry of Education and Research (BMBF). The options for public funding here extend to subsidies with no repayment obligations and guarantees all the way up to development loans, which are normally only awarded if you are already past the planning phase and can show concrete progress.
Incubators, which sponsor companies just starting up, are a good stopgap between public and private sponsors. Incubators – also called startup centers or technology centers – provide emerging entrepreneurs with networking opportunities and advice, and are often publicly organized through local communities or towns, and are more often than not supported by private investment or universities, such as the Technical University of Munich's incubator, UnternehmerTUM.

Private funds

Other private funding sponsors, who can also provide assistance in terms of expertise, are called business angels. They also provide emerging entrepreneurs with support in the initial phases of their startups – as opposed to startup centers they also provide monetary assistance as well as contacts, corporate knowledge and advice.
Venture capital enters the scene in a somewhat later stage of company foundation. Venture capital investors, similar to equity capital investors, invest in new companies in order to share in the expected profits later on down the line. Unlike with equity, however, venture capital investors come into play much earlier. This means that the risk is greater on the one hand – the company could go bust, in which case all the money invested would be lost – but, on the other hand, so are the possible returns too. For young entrepreneurs, these form an alternative option to banks, which will not grant any loans without sufficient collateral in place.
Projects in particular can also strike it rich with funding from foundations, even if they often require the project to have some specific social background (for example, the Laureus Sport for Good Foundation).

Ultimately it can be said that the greatest need for support – but also the greatest density of this need – exists in areas where the greatest need for research and development is present and the problem is usually not that the right funding is unavailable but that the right funding is not available from every place that offers funding.

The next part of this series will see ISPO exhibitors from this year's ISPO MUNICH sharing their experiences with funding and providing their recommendations for seeking out financial support in the sports industry.

You can find the entire Innovation Series here:

Sports companies need to be creative when it comes to funding.