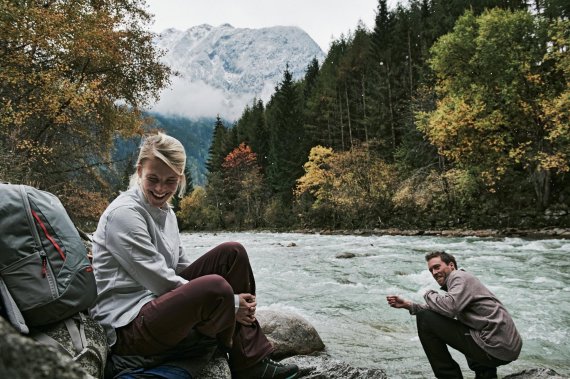 Sustainability is difficult to communicate
Of course founder Timo Perschke would like to tell interested customers about this sustainable cycle, but "sports retail does far too little to explore the subject." Communication for end-consumers is often lacking, according to Perschke.

Eva Karlsson, CEO at Houdini, agrees. Houdini offers customers the opportunity to return used clothing – at least in its flagship stores in Scandinavia.
How important is sustainability to sportswear customers and how do they react to it? The Sports Evolution Report has an answer >>>
"Of course individual brand stores are beneficial," says Karlsson. It would be much easier to, for example, communicate these companies' sustainable initiatives (such as the Houdini second-hand sale) than in the retail industry.

However, Karlsson remains confident that people's awareness of sustainability is increasing, and the CEO is certain that the number of customers inquiring about this topic is on the rise – even in retail.
Even sustainable fashion must emotionalize people 
Are separate sales areas for sustainable brands necessary in retail? Opinions are divided on this matter. Fredericke Winkler is an editor specializing in the sustainable textile industry and poses a different question: "How important is it really to be seen as a sustainable label?"

And "do sustainable brands not face the same difficulties as all the others – that is, managing to connect with customers on an emotional level and persuading them to buy their product?" After all, customers don't buy rationally, says Winkler.
"The first step is to be attractive," says Perschke from Pyua. That's why the company emphasizes the triad of style, functionality, and sustainability.
For Winkler, sustainability comes into play in step two: "This is when it is important to carve out why this product is different from conventionally produced clothing." Of course that is a very complex process, says the industry expert.
Ecologically influenced sales areas cannot turn into the store's "tree-hugger corner."
Jana Kern is open-minded when it comes to the idea of "ecological sales areas." She is a communication and strategy advisor specializing in sustainability.

Such a sales area could make it easier for customers to orientate themselves in the store and could encourage them to think. "However what must be avoided," says Kern, "is that this sales area is dismissed as the 'tree-hugger corner'."
Whether brands have their own sales areas or not, they must always work together with the retail industry. Brands need to provide retailers with suitable information. At the same time, retailers must instruct their sales staff in such a way that they are able to convey aforementioned information correctly to customers.

Kern believes it is essential that retailers are convinced by the products: "They should know the differences between sustainable and conventional brands and be enthusiastic about the matter."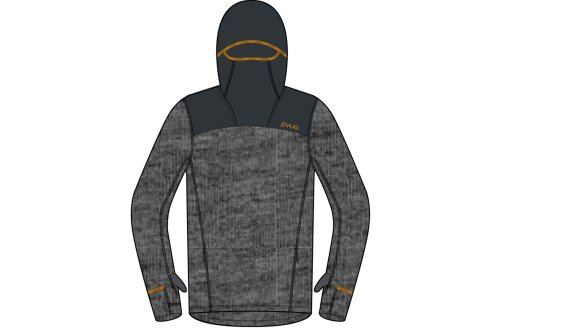 Vaude often looked down on in the beginning
Vaude is one of the first outdoor brands to focus consistently on sustainability. Retailers are given the necessary know-how during a two-day training course at the company's headquarters in Tettnang (Germany).

Lisa Maria Fiedler from Vaude's department for development and sustainability states that Vaude is looking to "provide the best possible support" for point of sale. "This ranges from creating posters all the way to developing an entire 'Greenshape' area."
However, Fiedler also admits that Vaude faced some serious teething problems in the beginning. "Our sustainability strategy came into force in 2009, and many people looked down on us for it." Meanwhile, things have changed, there are new developments. Fiedler sees a change in customers' attitudes, in the fact that there is more demand for the company's products.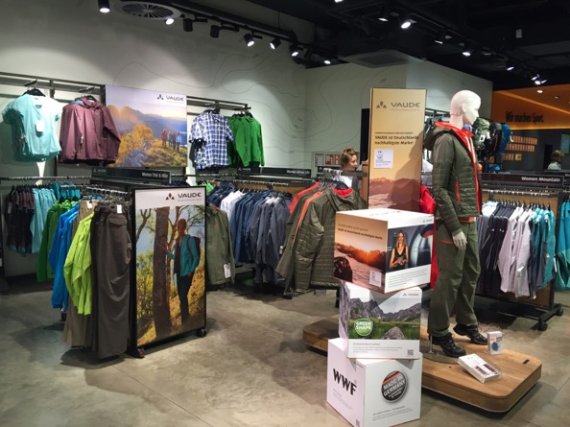 The seed of sustainability has begun to grow in consumers' minds.
The 2016 "Sustainable Fashion" GfK study confirms this (for the whole of the fashion industry), at least in part: Consumers are increasingly aware of what they buy, though this attitude doesn't always translate into buying habits.

For example, three quarters of consumers feel that environmental and social compatibility are important or very important. However, fairtrade cotton and textile production saw its sales stagnate in 2015. 
In particular in the sports industry, Winkler sees plenty of potential for sustainability and fair production to establish themselves and ultimately communicate their message to customers. Here are her three reasons:
1.    Compared to the fashion industry, companies in the sports industry have created departments dedicated to research and development.
2.    Customers are used to giving more thought to products, gathering more information, and making comparisons before buying.
3.    Furthermore, Winkler believes that there is an obvious connection between people who practice sports outside and their surroundings that sets them apart from others, that they have a greater appreciation of nature.
Sustainability "more than just fine rhetoric"
"Even if many companies do not yet know how best to communicate their strategy on sustainability," says the textiles editor, "they already have all the necessary information." Companies have recognized the problem – and in Winkler's opinion, that is an advantage.
"A strategy on sustainability should not just comprise fine rhetoric spread across the company's guidelines or beautifully marketed on their website," Kern adds. "Rather," she continues, "the companies should live by it."

If a company's strategy for sustainability is 'real', communicating it should become easier. Then it becomes about making the message clear. "Communication should be as individual as the strategy for sustainability itself," says Kern. 
Expand your knowledge about how to communicate sustainability in the sports industry and sign up for the webinar at ISPO ACADEMY! Sign up now here >>>