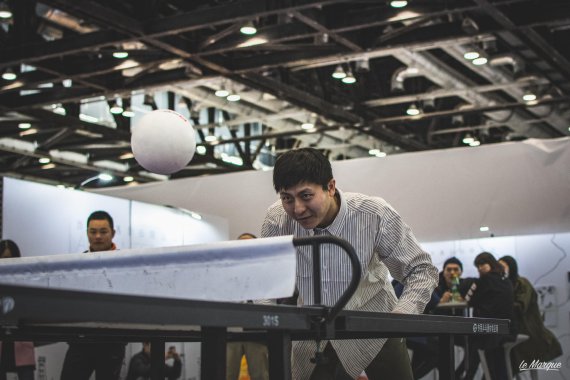 First played in 2006, Headis – table tennis without bats, played instead using your head and a rubber ball – was one of the ISPO BRANDNEW finalists four years later. ISPO.com spoke with inventor Rene Wegner about the importance of the Chinese market, possible cooperation with football superstar Wesley Sneijder and a trip to Arsenal in London.
ISPO.com: Mr. Wegner, you were with Headis at ISPO BEIJING for the first time, how would you summarize your experience?
Rene Wegner: The trade fair was excellent for us. We received very good feedback from the trade fair's visitors. It goes without saying that China plays into our hands as they love table tennis there.
Would you say this platform is a way to attract Chinese customers?
Yes, absolutely. Everyone in China is able to make use of Headis, at least in principle. Football is also becoming more and more popular in China. It is as though Headis is the missing link to unite these two passions. Watching, recording videos, taking photos – there is always interaction. And many want to try Headis straight away.
And did it simply stop there, or were you also able to talk business in Beijing?
We had some very interesting conversations: One with a potential sales partner for the Headis ball and net, and another with a program provider that promotes football in China.
What is that about?
The cooperative project is between the company Sport8 International and the football coaching program Yoursoccercoach. Sport8 is owned by the Dutch international Wesley Sneijder among others and organizes football camps for kids and teens in China.
"Everything in China is simply huge"
In that case, what role will Headis play?
To promote football in China, Yoursoccercoach – with support from Sport8 International – is visiting the country's schools and training football coaches there. These trainers give more intense football lessons, and Headis is then meant to become another element.
On what scale are we talking? China isn't exactly like your home the Federal State of Saarland...
Of course, we cannot draw comparisons with Germany in terms of size. Our initial idea for the program would be to have a good three to five thousand schools. You simply think "Okay!" to start with (laughs). Everything in China is simply huge. We had far more discussions during ISPO BEIJING – I am quietly confident that we will work together in one way or another.
One partnership that has become tangible is the cooperation with the Chinese Global Media Group franchise partner. The first show date was planned for Shanghai following ISPO BEIJING. How did it go?
We were at Shanghai Jiao Tong University to host a Headis workshop. The university's lecturers shall act as Headis ambassadors. We will have a couple more of these sessions throughout the year.
"Manga comic on the creation of Headis"
How is this kind of workshop developed?
A TV crew was on site, and the organizers also had a Manga comic on the creation of Headis printed and it showed how to play. There was advertizing on busses and giant banners everywhere around the university campus, as well as clothing featuring the Headis logo for all participants – we didn't know anything about any of this and were pleasantly surprised.
Headis has been shown on German television fairly regularly, such as on "Schlag den Raab" on Pro7. How will Headis be represented on Chinese television?
The Chinese Global Media Group is working closely with state television, particularly with CCTV 5 – the sports channel.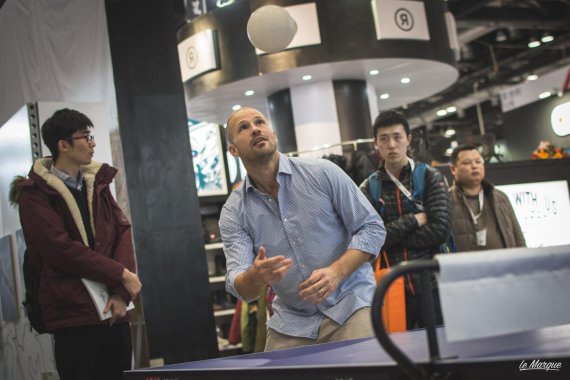 How important is the Chinese market for you in comparison with Europe?
We are European and are well represented in this market. As a result, Europe is currently our most important market. But due to its size and the importance of table tennis, China holds great potential for us.
Is the European market already saturated?
Absolutely not. We will travel to London in March to develop a project with one of the Premier League clubs.
Headis in the home of football – with which club will you be working?
We have been invited by Arsenal in London – the Gunners' social media department have got exciting plans. I can't reveal any specifics right now though, but our first meeting was certainly quite entertaining. Arsenal was very proud to explain that their videos have been viewed 8 million times, but we made it clear to them that we already have a bit more to show since one of our videos has already been viewed more than 100 million times.