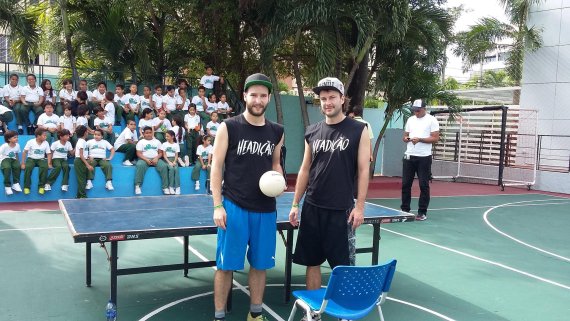 Although Rene Wegner is a professional athlete, he's not a soccer player. Wegner plays headis. It may be even more correct to say that Wegner is headis. This man from Kaiserslautern is the one who invented this sport after all and made it into a real brand.
Finalist of ISPO BRANDNEW
Invented in 2006, headis – table tennis played without a paddle but with your head and a rubber ball instead – was honored as one of the finalists of ISPO BRANDNEW award four years later. And that was just the beginning of its meteoric rise.
The charity project "Hedicao" – inspired by the Brazilian national soccer team, Selecao – was founded in 2014 with the goal of making headis an accessible sport to disadvantaged children around the world.
"We flew into the slums and the ghettos, built the tables together with the children there and trained them," says Wegner of the project, which was given the Social Awareness Award at ISPO BRANDNEW in 2015.
Expansion into South America and Africa
Wegner has already visited Brazil and the Dominican Republic with Hedicao, and South Africa will follow in 2016. This success is a credit to him.
Together with project partner "Cafe con Leche", Wegner was able to make an impression on the Dominican Republic's Minister of Sports, who now wants to promote headis nationally to allow more children and young people to be able to participate in the sport.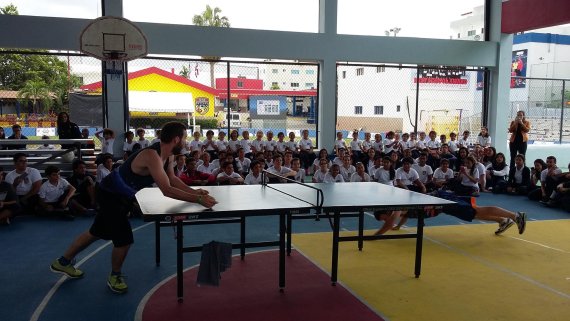 "To me, Headicao was about demonstrating headis' Olympic potential. In the end, you don't even need a proper ping pong table. A piece of plywood works just fine. Then you just need a ball and you have equal opportunity for everyone," says the soon-to-be sports sciences PhD.
Innovative and a little crazy
Not bad for an idea born out of desperation at a swimming pool: With no space to kick a ball around, it was straight to the ping pong table to have a go with their heads.
After the first world championship, where all of Wegner's friends who played gathered in his parents' garden, the headis project rapidly gained speed.
The mix of crazy player names like Rolli the Butcher or Headi Potter gained in popularity, and headis fandom simply could not get enough of the highlight videos from the first tournaments.
Marketing across all channels
"Names are an important element of this sport for us. It's fun," reflects Wegner. "Of course, that meant people laughed at us at first and we weren't exactly taken seriously. And that was still the case when we appeared on Stefan Raab's show."
Shows like "TV Total" and "Schlag den Raab" introduced headis to a broad public, and even the resentment of the initially skeptical Table Tennis Federation quickly abated. However, Wegner politely declined their offer to "join the Federation."
At the same time, headis was making headway towards the second element of its origins: soccer.
Important contacts at ISPO MUNICH
"Kaiserslautern is small enough that after a few tournaments and campaigns you would absolutely know someone who works at 1st FC Kaiserslautern," says Wegner of the collaboration. He himself is a big FCK fan.
Networking with sportswear manufacturer Kappa at ISPO MUNICH and marketing agency Sportfive put them in contact with Hannover 96, Borussia Dortmund, FSV Mainz 05 and Borussia Mönchengladbach.
"Jürgen Klopp invited us to Dortmund, and then he put us in touch with Thomas Tuchel in Mainz. As if that was not enough, we later met with Borussia Mönchengladbach as well, which is how our campaign with world champion Christopher Kramer came about."
A trendy sport full of potential
Tuchel –click here for a video of the coach's thoughts on headis – and his Bundesliga colleagues were intrigued and headis was increasingly being integrated into the training routines of many clubs to improve heading skills.
ISPO MUNICH was the most recent proof that headis is much more than an off-the-cuff swimming pool idea.
"Our first appearance demonstrated that we can achieve something serious and longer term with headis," says Wegner. "At the time, we had just found our first net producers, distribution was being handled professionally and we could see that people from the industry were appreciating the potential of our sport." 
In fact, potential to the moon and back as Wegner hooks sponsor after sponsor. The speed is so breathtaking that "I don't even get around to updating the business plan quickly enough."
Sponsorship on tour
Headis Trendsports UG acquired drink manufacturer Vitamin Water, a Coca Cola Company affiliate, as its main sponsor in Germany.
Feels like selling out. Welcome to the mainstream. But things are a little different with headis fandoms – the fans understood that strong sponsors help to promote and develop the sport.
"And the money benefits our players as well, indirectly. DJs always work at tournaments, organization is better and we are now able to hold additional events. It's now a case of our players supporting the companies that support us."
Marketing in Asia as well
And Wegner is pushing for the expansion of headis on the international stage at breathtaking speed as well. 
Agency contracts in Switzerland, the Czech Republic and Belgium have materialized, and the headis crew enjoyed a business trip to Thailand just before Christmas.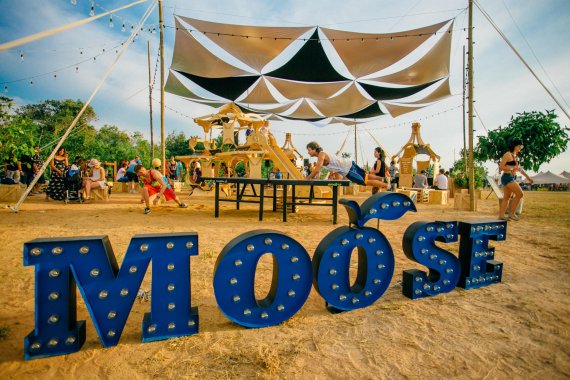 Wegner and co. appeared at the Wonderfruits Festival as brand ambassadors for Moose, the first local cider producers. The campaign is intended to spread headis to Thailand and will include a roadshow in April, among other things. 
China will be conquered
The headis CEO announced the coup de grace in the 2015 annual financial statement:
The government China, where table tennis is almost considered a national sport, will promote headis in future.
They concluded an agreement with China Global Media Group to introduce headis to university and through the media. In addition, lessons, tournaments and headis shows have been agreed for 2016.
With around a billion potential headis players, this next stage of evolution will likely only be a matter of time.