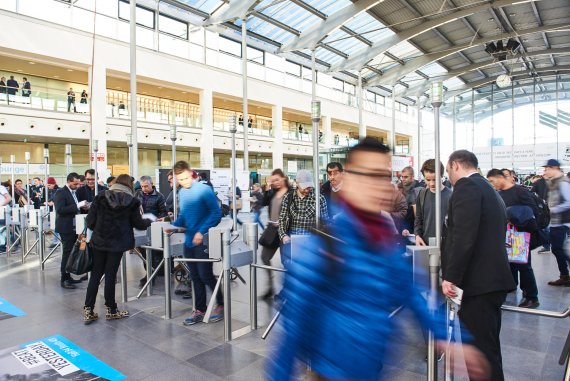 +++ Time to say goodbye! +++ ISPO MUNICH 2017 is coming to an end and it was great. 2,732 exhibitors (record), more than 85,000 visitors, growth from the international area and, in addition to exciting new product innovations, important impulses for industry and trade – this is the record of ISPO MUNICH 2017 from the viewpoint oft he trade fair. ISPO MUNICH 2017 might be over, but here on ISPO.com you get all the news from the sports business 365 days of the year – ISPO is all year round.
+++ 10:30 am. How sporting goods and health are related +++ Prof. Gerhard Huber talks about the connection between sporting goods and health. He explains how people will move their bodies in the future and what they need to do. ISPO Health & Fitness stage
+++ Networking Breakfast opens last day of the fair +++ Klaus Dittrich opened the ISPO WOMEN NETWORKING BREAKFAST on Wednesday morning. "Messe München aims to create a platform for women to exchange ideas and strengthen each other," said Monika Dech. She is Deputy Managing Director of Messe München and, together with Margit Dittrich, initiator of the initiative "Frauen verbinden" (connecting women).
After breakfast and introductory lectures the participants went on guided tours on the topics of health & fitness, sustainability, innovation and start-ups, as well as digital trends.
+++ Hermann Maier honored with the ISPO Cup 2017 +++ The former German sports anchorman Gerd Rubenbauer is holding a laudatory speech for the Austrian skiing legend Hermann Maier during the ISPO VIP diner: "I accompanied him from the very first to the last second. 13 years with Hermann Maier have been like 200 years of marriage."
Afterwards, Messe München GmbH CEO Klaus Dittrich presents Maier the ISPO Cup 2017 on stage. "You are a role model for everyone", Dittrich is lauding Maier, who is welcomed on stage with standing ovation.
"I am just very happy I was allowed to live my passion. I tried to keep evolving my whole life. That has been a great experience for me. So thank you very much", Maier said after receiving the ISPO Cup 2017.
+++ The ISPO MUNICH 2017 VIP Dinner has begun +++ Ski Superstar Hermann Maier is already at the white (!) carpet and is being interviewed by the press and ISPO.com.
+++ Cross-Industry-Walk at ISPO MUNICH +++ Experts from the printable electronics industry are catching up on innovations and wishes from the sports sector. ISPO brings technology companies and users from the sporting sector together. 
+++ From 5:30 pm: Water Sports Village invites you to the first ISPO Pool Party +++ This year for the first time the ISPO Pool Party takes place in the Water Sports Village. This is where the water sports community will end the day with a drink. Visitors will get the opportunity to meet the community and the network. Also they'll be able to cool off in the pool after a tiring day. In hall A6 at booth 436.
+++ Livestream at 1.50 pm: Influencer Marketing – Hype or viable business model? +++ Panel Discussion with Pit Gottschalk (Sports Editor in Chief Funke Mediengruppe), Dirk von Gehlen (Süddeutsche Zeitung), Sebastian Canaves (off-the-path.com) and Lee Jakobs (Marker Dalbello Völkl ) will be streamed on Facebook live and ISPO.com.
+++ 1.45 pm. A true surf legend enters the Water Sports Village: Robby Naish. +++ Visitors can meet him in hall A6 at the ISPO pool. The multiple surf and kitesurf world champion talks about the newest trends in water sports and his career.
+++ Change of schedule +++ The discussion "Content Marketing in the digital world: How brands build their own digital media house" with Sascha Pallenberg and Karsten Lohmeyer starts already at 1 pm instead of 1.20. Location: Entrance East, ISPO ACADEMY Arena 
+++ 12.15 pm. Apnoe diving in the Water Sports Village +++ Staying under water for a full seven minutes – with only one breath. This is Apnoe diving. Peter Durdik talks about the risks and how it works at the pool of the Watersports Village in Hall A6.
+++ 11.30 am. New opportunities for running specialists. Urs Weber from RUNNER'S WORLD talks on the Health&Fitness stage +++ From running analysis to delivery service. Shops are no longer limited to retail. RUNNER'S WORLD Editor Urs Weber talks with a top retailer about the new opportunities in the running-business on the ISPO Health&Fitness stage in hall B4.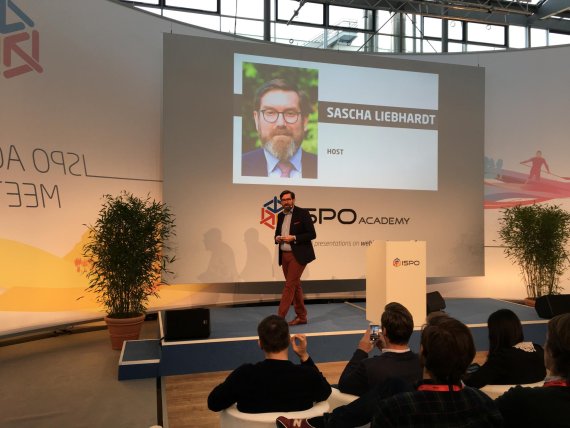 +++ 9:30 am. Elevator Pitch of ISPO BRANDNEW DIGITAL+++ Six companies have 90 seconds each to convince the jury of their business ideas. Where? At the ISPO ACADEMY stage at the entrance east.
+++ Joint run of ISPO, Icebug and Silva +++ Whoever has not walked enough after a whole day at the biggest sports fair in the world or just wants to get back on the road again can do this with the joint running of ISPO with Icebug and Silva. Meeting point is at 6 pm hall A2 booth 124 at SOG. The run will go on for about an hour.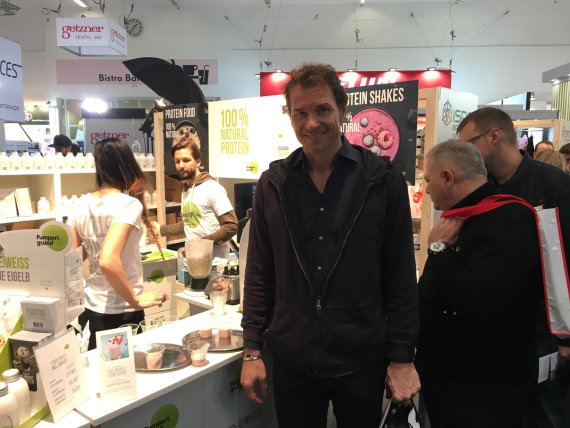 +++ Jens Lehmann at the ISPO MUNICH +++ Former goal keeper and TV expert Jens Lehmann will make his tour of the ISPO MUNICH 2017 on Monday. BRANDNEW participant "Pumperlgsund", who offers fitness food, "I am a very good customer," says Lehmann, "because I like to eat healthy." As a passionate outdoor fan, he enjoys the variety as he says. "In winter my favorite sport is skiing – but in the summer it is football . "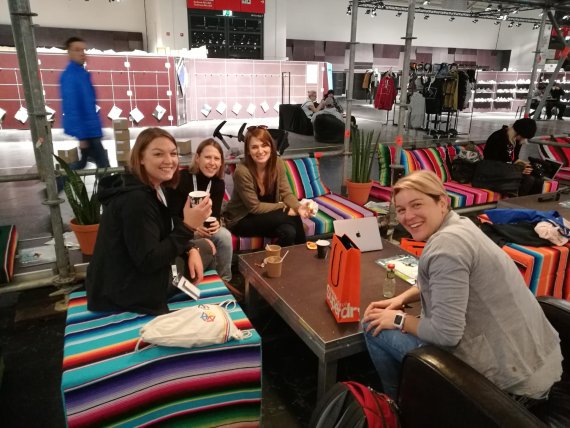 +++ Sports blogger and influencers meet +++ In the influencer clublounge an hall B6 bloggers and influencers met for a networking breakfast. At the moment they are walking through the ISPO BRANDNEW Village.
+++ How many people ski in China? How many ski resorts are there? And what does that mean for the ski business? +++ China is discovering winter sports! Benny Wu, Vanke Group's Chief Strategy Officer, took a closer look at the Chinese ski industry and presented it in his White Book. More on this later on ISPO.com.
+++ 11:00 RUNNER'S WORLD Running Shoe Symposium Moderation Urs Weber +++ "Laufen und Liken - the new impetus in running business". Many other events all day in the ICM. Read more Running Tips by Urs Weber.
+++ 11 o'clock. Ultralunner Florian Neuschwander at Garmin +++ He is Germany's most famous ultrarunner and now a social media phenomenon. Florian Neuschwander talks about his life at Garmin in Hall B4.401.
+++ 10:30 am. Are investments in winter sports areas worthwhile? +++ Peter Marko, Managing Director of Silvretta Montafon, talks about the future of winter sports at the Snow & Safety Summit in Hall A3.40.
+++ 10:30 am. GREENBODYCAMP presents fitness concept +++ A lot of perseverance is on the health & fitness stage. Because GREENBODYCAMP includes hard military drills and workouts. The fitness concept is based on the idea not only of its physical strength, but also of its mental fitness. Hall B4 central aisle.
+++ 10 pm. ISPO TEXTRENDS. What's behind my clothes? +++ The end-user is always looking more and more for sustainably produced clothing. Tomas Vucurevic, founder of BRAIND, talks about the sustainability of brands at the Trend Conference. Hall B5.338.
+++ 9:30 am. ISPO ACADEMY +++ A panel discussion on "Entering the East Asian Market" will take place in the East Entrance at the ISPO ACADEMY Conference. The following spoke: Martin Kössler, CEO of Huginbiz. Audiences are welcome.
+++ Congratulations to Nikwax waterproofing for the ISPO MUNICH Anniversary! +++ If you would like to congratulate a real ISPO old hand, you will pass the booth 400 in Hall A2. Nikwax waterproofing, manufacturer of high-quality cleaning and impregnating agents, is celebrating its forty-fourth participation! A great anniversary.
+++ Our tip for the start of the second day: Zlagboard Contest by VerticalLife +++ In the ISPO Vertical Fitness Bar the Zlagboard Contest of VerticalLife takes place – the whole day. Register now and measure with others! A3.50
+++ Cool guys and weird outfits – this also something you can find at ISPO MUNICH 2017! +++
+++ 4pm. ISPO AWARD Prize in the Influencer Clublounge Hall B6 +++ In the new Hall concept Polygon the award ceremony of the ISPO AWARDS 2016 will take place in the action area.
+++ 4pm. ColdWaterSurfing: Sebastian Steudtner in Hall A6 +++ Big-wave surfer Sebastian Steudtner talks about the challenges, stratagems and safety of surfing from the world's biggest waves.
+++ 4pm. Pauline Shepherd and Nick Chiarelli on the latest sales figures for outdoor products +++ The presentation will give an update on the latest sales figures for outdoor products, followed by an analysis of the most important consumer trends that move the market. In conference room B32.
+++ 4pm. Press and Blogger Tour "Women in Sport" +++ Start ISPO Women Lounge Hall B1: Anita Active, Northface, Dynafit, GARMIN, Marmot, Luis Trenker and CEP.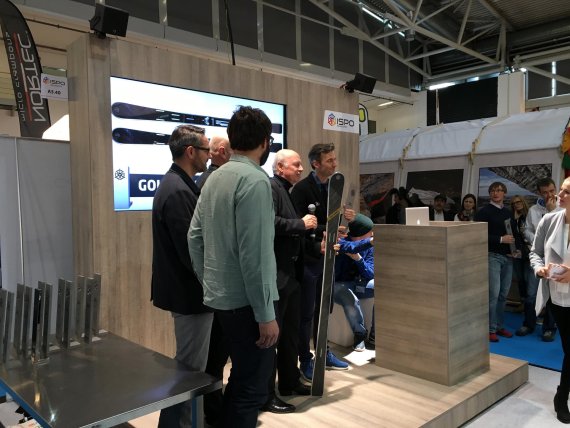 +++ 3.15 pm. Willy Bogner collects his ISPO AWARD himself +++ Willy Bogner insists on collecting the ISPO AWARD GOLD WINNER trophy for the Ski B LIGHT VT himself. Hall A3.40.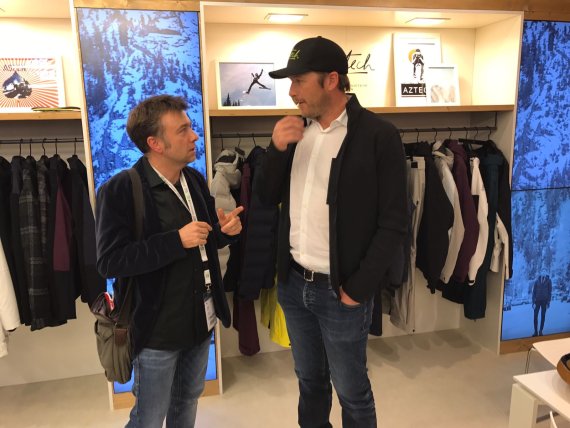 +++ Newsflash: US superstar Bode Miller "with 90% chance won't return to the ski circus" +++ The best skier in US history said this in an interview with ISPO.com editor in chief Gunnar Jans. Miller is exhibitor at ISPO MUNICH 2017 as part of the clothing company Aztech. He will experience the ski world championship, which begins tomorrow in St. Moritz, as a TV commentator. Miller to ISPO.com: "I'll be 40 soon. I have experienced everything in skiing. I think it makes little sense for me to go back again. Now the business is a new challenge for me." What Miller experienced at ISPO MUNICH 2017: later on ISPO.com.
+++ 2 pm. ISPO ACADEMY Conference: Introduction of ISPO SPORTS EVOLUTION REPORT +++ Dr. Ottmar Franzen presents the ISPO SPORTS EVOLUTION REPORT and discusses it afterwards. Watch the livestream here.
+++ 2 pm. Budokon Yoga on the Health & Fitness stage +++ A mix of flowing movements and martial arts. Cameron Shayne introduces Budokon Yoga. Hall B4.
+++ 2 pm. Skier Henrik Kristoffersen at Reusch in hall B3 at booth 410 +++  Together with trade fair boss Klaus Dittrich a public forum will take place.
+++ 2 pm. Ski Champion Bode Miller at Aztech in hall B1 booth 323+++ Together with trade fair boss Klaus Dittrich talks Bode Miller about his partnership with Atztech. Later they will look at the trends from BRANDNEW in hall B5.
ISPO MUNICH is a great opportunity to meet your sports idols – just like here blogger Andrea Löw (http://www.runninghappy.de/) is excited about meeting Lornah Kiplagat (http://www.lornah.com/).
+++ 1 pm. ISPO AWARD 2017 Performance und Health & Fitness +++ The winners of ISPO AWARD 2017 in the categories Performance and Health & Fitness will be awarded in hall B4.30.
+++ 1 pm. ISPO Cold Water Surfing: the new Trends +++ What are the newest trends int he surf industry? Experts, athletes and product managers discuss it in hall A6.234.
+++ 1 pm. Press conference Paramo +++ Outdoor clothing manufacturer Paramo share information.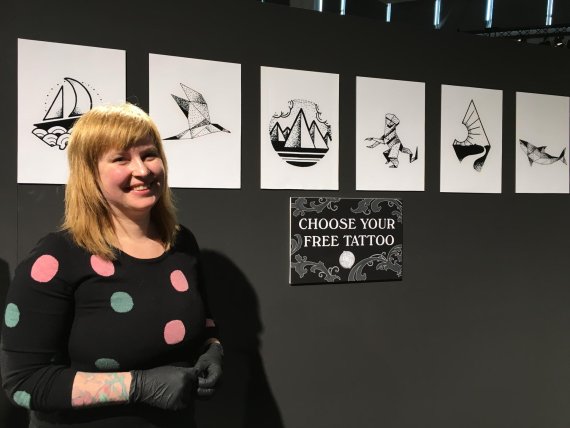 +++ 12.30 pm. ISPO ACADEMY Conference: Rethink or Die +++ Mike Schragger, CEO of Sustainable Fashion Academy, talk about innovation and sustainability in the fashion industry. Entrance East 4.
+++ 12 pm. ISPO ACADEMY Conference: Act sustainably and still ear money +++ Andreas Andrén from WeAre SpinDye talks about how the sporting goods industry can protect the planet with sustainability and profit from it. Entrance East 4.
+++ 12 pm. ISPO TEXTRENDS: Louisa Smith presents the new trends +++ Textile Trend Consultant Louis Smith presents which colors and mega-trends will lead through the autumn/winter-season 18/19.
+++ 11.40 am. Kostenlose Tattoos sind nachgefragt +++ "At 11.30 am I have my first customer!", says Monika Rumrich. The tattoo artist has six different tattoos to offer, which the ISPO visitors can choose from. For free!
Where? Halle B6, booth 40 (opposite from ISPO Sneakology). The first customer picked a mountain design "In my Tattoo-Studio this would cost around 150 Euro", says Monika Rumrich.