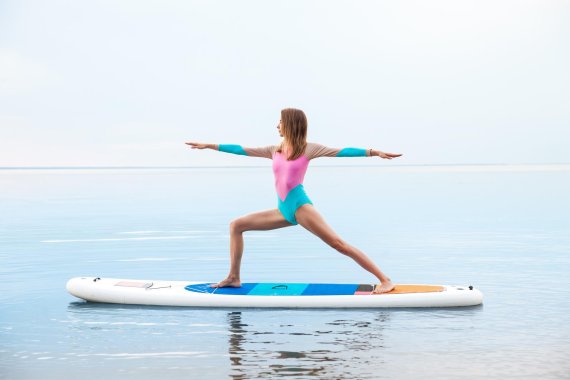 The growth in water sports is on the rise from supping (stand-up-paddling) to sup (stand-up) yoga, surfing, aqua aerobics, aqua spinning and the relatively new swimrun sport originating from Sweden to name just a few.
Car maker Mercedes Benz now sponsors kitesurfing, windsurfing and sup events. Of course, on the higher level we have triathlon, lane swimming and competitive swimming, the list is endless whether it be a leisurely pursuit and lifestyle choice or going for gold on the competition stakes.
One common denominator though, is the crossover of technology from other sectors of the market in performance and outdoor sports in ensuring the best performance, protection and value to the consumer in terms of function and duality.
The five key textile trends for Spring/Summer 2019 from ISPO TEXTRENDS set to feature at ISPO SHANGHAI, highlights these essential ingredients for terra firma to the sea, from the gym to swim.
See the textile trends of the future in the ISPO Textrends Trendbook Spring/Summer 2019. Get your copy here >>>
Surfing, SUP, Yoga and Supping
There is a strong lifestyle aspect that features for aqua related apparel, stemming from athleisure. Today's surf and beach brands have to have multiple functionality, a higher level of technicallity combined with a strong sense of fashion. The apparel pieces here, as with the dry sports sector easily translate through to lifestyle wear, offering the consuming added flexibility.
Aqua yoga tops and leggings work perfectly when dry, the difference being that certain key yarn ingredients have been incorporated including UV protection, quick dry, moisture management and super chlorine resistant spandex/elastane which replaces the traditional high power spandex/elastane for longevity against sea water and chlorine.
Duality is essential in the Aqua Sector through Gym to Swim Experiences
Multi-functionality is key, fabrics are being developed for brands to consider duality to a product, not just through reversible options in double knits but also through tweaking yarn ingredients to adapt to the different environments. One is developing sports bras with fabrics allowing a sports bra to deliver the essential performance elements when training in the gym but also by replacing key ingredients and enhancing the level of function, these pieces work perfectly in the pool.
This gym to swim thinking gives consumer added value in purchasing their kit. In addition, the sports bra translates its essential support to aqua fitness classes including aqua Zumba and aqua spinning by incorporating chlorine resistant yarns into the fabric for longevity. 
Sustainable Aspects
With outdoors water sports connecting closely with the environment, recycled synthetics in the form of polyester and nylon are key for the eco conscious. All the major finer suppliers are following recycled programs and are starting to develop bio synthetics with innovative polymers for wetter environments that perform and enhance performance.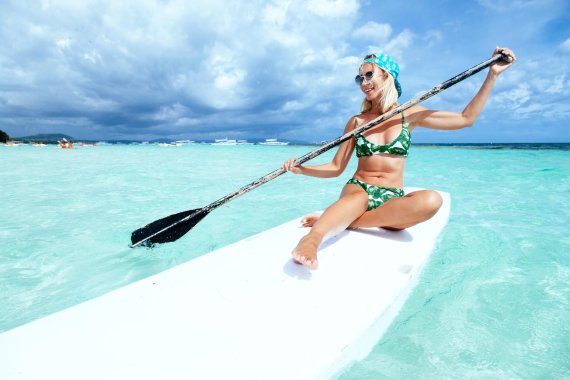 With performance featuring in swimwear there is still a strong partnership with sustainability. As part of their Life Cycle Control project Carvico launched Fuocco a beachwear fabric that weighs only 140 g/sm for fashion swimwear. Composed of 82 per cent Econyl recycled hollow nylon and 18 per cent Lycra, that is fully UV protected and chlorine resistant.
For competition swimwear Carvico has introduced Acqua, again using Econyl with Xtra Life Lycra for increased technical performance. Comprised of 73 per cent Econyl and 27 per cent spandex, the weight is 170 g/sm and is proof that technical performance can be achieved in partnership with a more sustainable approach.
Triathlon and Swimrun Apparel Products Need Fabrics That Adapts to the Varying Environments and Physical Output
Getting the best out of your performance is the aim, especially when it comes to competing in different environments using the same apparel and footwear, for triathlon and swimrun activities. These products have to adapt, be cool with moisture management, compression support and UV protection on land. But also in the sea they have reduced drag to enhance speed, be quick dry once finished and more importantly adapt to the different movement the body undertakes during each particular activity.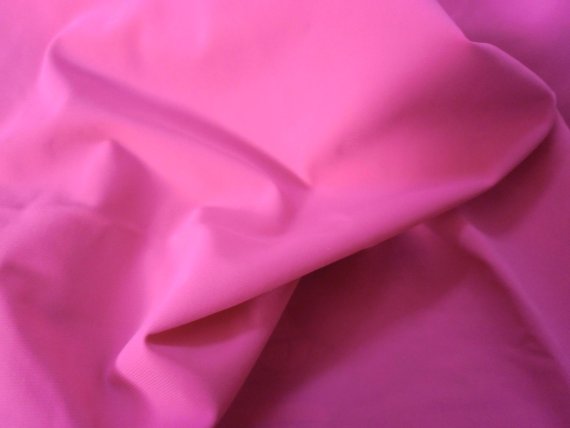 For triathlon quick lacing, sock-like fit and drainage systems feature, in ensuring every second counts. Swimrun and running shoes have to have the stability for running but the flexibility for swimming, traditional running shoes are hard to swim in. Additionally, the surrounding environment and the exertion being used in running and cycling can on be chilled when hitting the water where temperatures can drop to 8ºC, so thermal applications, lightweight wetsuits are essential products.
Woven Works As Well As Traditional Knitted Fabrics 
ESF provides high performance four-way woven swimwear fabric. Their key brand Aquatech designed for sports including swimming, delivers high-level performance. UV protection, breathability combined with chlorine resistance also feature. An Aquatech fabric loses only 17 per cent of its elasticity after 60 hours of bathing, compared to 70 per cent for a traditionally knitted structure. Offering multidimensional elastic movement, a gentle retention mechanism creates an effective second skin effect. On a more fashion direction ESF's Mad About Skin delivers four-way stretch to the swimwear market.
Another swimwear woven company, Tessitura Taiana Virgilio, as compared to traditional warp and circular knits, continues to pursue a more performance related swimwear sector with the development of Kinetech that sits next to its beachwear fabrics brand Blu.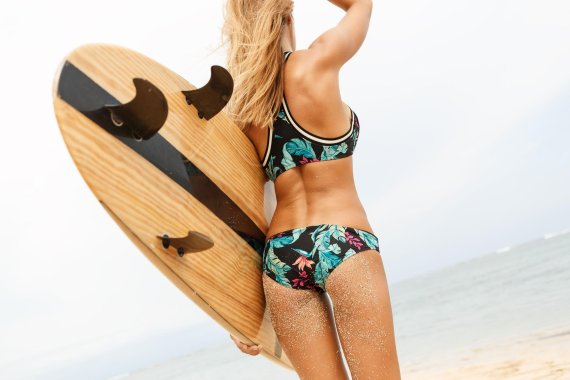 Kinetech is the company's technical line where it creates high performance stretch woven fabrics that combine movement and technology. Swimming, diving, cycling and triathlon all feature and the fabric obviously does work as 45 medals were won by athletes at the last Olympics.
The advantage of the stretch woven fabric for swimwear over the knitted sector is different. A better stretch and recovery modulus offers a second skin effect combined with best cover factor for weight with a woven fabric of 130 g/sm cover performing equally as a 200 g/sm.
New Energy Enhancing Performance
For pool swim training endurance and building up the speed is of the essence as is energy reserves lasting as long as possible. A3 Performance with its Bodimax brand. A3 Performance was founded by Dan and Amy Meinholz in 2004 as a proprietary brand of All-American Aquatics — a national swim team dealer headquartered in Wisconsin.
The latest development comes in the form of A3 Bodimax training sleeves, consisted of a compression fabric sleeve that will enhance training and increase energy. The sleeve improves health, energy, and overall well-being through training by creating a new level of fabric-skin interaction through the inclusion of a Far Infrared Yarn, Innergy from NILIT.
Absorbing the body heat and returning it to the body in the form of far infrared rays. These rays penetrate the skin and stimulate blood microcirculation, cellular metabolism, and thermoregulation. Studies prove that Bodimax Technology increases blood microcirculation by 92 per cent (when worn for 60 wears, 30 minute minimum wear).
Increased blood circulation and cellular metabolism increase the flow of oxygen, reduce vasoconstriction, and remove metabolic waste. Bodimax facilitates and improves the absorption and utilization of oxygen in the body. This increases the production of energy by the oxidative system and reduces the accumulation of lactic acid in the muscle, postponing muscular fatigue, discomfort, and tension, delaying fatigue and enhancing performance
It Isn't Just Apparel But Footwear Too
These innovative fabrics, originally destined for the apparel side of the aqua market, are also transcending into footwear, especially for cross-training sports. AQUA-LANDER from Ballop, a previous gold winner of the ISPO Awards, is designed a hydrodynamic fin on the toe of the shoe. The fin does not have a negative impact on normal walking and movement, and it reduces the resistance in water. The design of the sole was inspired by octopus suction cups and increases the traction on land.
See the textile trends of the future in the ISPO Textrends Trendbook Spring/Summer 2019. Get your copy here >>>
Video: Sustainability in sports fashion