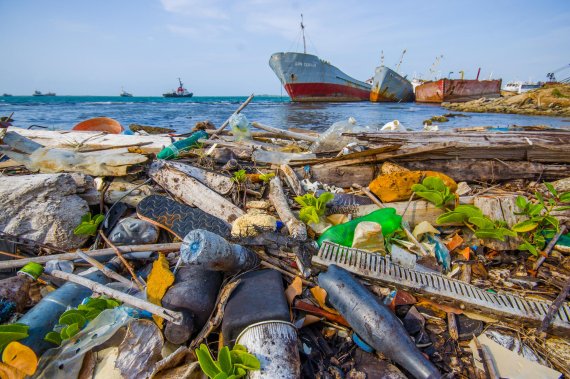 The mega trend of Effiiciency remapping the textile industry from ISPO Textrends for Fall/Winter 19/20 is indicative of the developments featuring throughout the textile chain. Recycled polyester has recently been gaining ground throughout the industry with fiber producers and textile companies implementing new products. Recycled polyester, including Repreve from Unifi, has gained ground, manufactured from the recycling of post consumer waste including plastic bottles.
The core ingredients for recycled nylon come from post-industrial waste. Many of the major yarn providers who supply conventional nylon are embracing the need for a recycled option and the demand is notable.
Cleaning the Oceans
The latest recycled polyester to be launched is Seaqual polyester fiber, created from marine waste and up-cycling plastic waste to extract a new, eco-friendly polyester fibre: this is the challenge that was first taken up in 2016 by Spanish start-up Seaqual 4U, which owns the fibre Seaqual.
Seaqual 4U was born of an alliance between ECOALF foundation, textile group Santanderina and leading spinning mill Antex. To support the development of this eco-responsible fibre, these three shareholders have now appointed Michel Chtepa as Managing Director, with the goal of developing the Seaqual brand's Vision and Global Strategy. 
Michel Chtepa aims to make Seaqual a "global ingredient brand inspiring the entire textile industry to achieve virtuous production and consumption by way of a rational, Eco-friendly manufacturing process, without sacrificing the creative element".
With backing from the foundation ECOALF as part of its 'Up-cycling the Oceans' project, one of the main goals for this eco-friendly brand playing an active role in environmental protection is to leverage the marine environment.
Waste removed from the Seabed
For every kilo of Seaqual produced, a kilo of waste is removed from the seabed. Seaqual  4U has developed a virtuous supply chain from fisherman to consumer involving all players in the textile industry (Spinning-Weaving-Brands) to encourage the clean-up of marine waste and the designing of eco-responsible yarns and fibers. A division for partnering international weaving mills is also being set up. 
Seaqual 4U now has a fleet of 165 fishing boats and 1,500 fishermen who go out to sea to clean its depths of pollution. The plastic waste they retrieve is processed to recreate the fibre Seaqual, then further processed into continuous and discontinuous yarns meeting the requirements of the entire textile industry.
Ecological Revolution
With recycled synthetics established in the textile supply chain, a new area that links into the interest in bio-based ingredients being developed with the performance of conventional synthetics is growing. New on the market is an innovative, modified nylon 6.6 fibre used in the new collection from MANIFATTURE ITALIANE SCUDIERI - MECTEX TEXTILE DIVISION, offering the possibility to manufacture garments made with T-Green fabrics that will respect the environment.
A garment made with these fabrics, once disposed, will result as biodegradable, for a textile material which will result as" zero impact on environmental pollution," maintaining all characteristics and performances. Biodegradability starts the moment the user decides to end the standard lifetime of the garment. The special composition of the fabric allows the natural anaerobic bacteria to eliminate the material. The fabric decomposes in organic matter ( biomass ) and biogas that can also be re-used as new resources for the environment or to generate energy.
Accelerated Degradation - Converting into Bio Gas
This new fibre has the intrinsic quality of converting into bio gas up to 76.50 per cent of its structure, within three years and up to 58 per cent, within the first year. Standard nylon fibers, previously used, will biodegrade at the modest level of 6 per cent within three years. As a further comparison, cellulose (which is normally used as a reference to determine biodegradable materials) converts into biogas 87 per cent of its structure.
Biodegradability generates a definite, evolving and solving process of an almost total elimination of polluting components in waste, finally resulting as a substantial ecological revolution.  Performing fabrics created with this property represents an innovation for the market, with a huge evolution compared to other eco-friendly processes, as recycled, that result less efficient in terms of ecological impact:  biodegradability generates a definite, evolving and solving process of an almost total elimination of polluting components in waste, finally resulting as a substantial ecological revolution.
Biodegradable Stretch and Non-Stretch
The biodegradable T-Green collection by Mectex, offers both stretch and non-stretch items. Non-stretch items are created entirely with the new biodegradable nylon that are 100 per cent fluorine free. For the stretch items, another innovative fibre is added. Biodegradation only starts when the garment becomes a disposed waste and is in contact with bacteria and other natural physical agents.
The stretch fibre is certified as non toxic (norm DIN EN ISO 11721-2:2003 - Hohenstein Laboratories). The use of the biodegradable nylon fibre (in percentage of 50-70 per cent), combined with this eco-friendly elastic, allows to define biodegradable features in the stretch version. Fabrics in Mectex' T-Green collection can also be offered with fluoro free water repellent treatment and water based waterproof coatings. All tests performed show that these ecological fibers have exact same technical, mechanical standards as standard nylons.
Demand for recycled Synthetics and biodegradable Clothing
Each year approximately 80 billion garments are purchased. In Italy alone, 240,000 tons of garments end up in waste disposal dumps. Dealing with deposit and disposal of textile waster, especially apparel garments, is one of the most eco-impacting issues of the planet, including social and economic problems. The use of post consumer and post industrial waste in recycled polyester yarns eliminates the need for the original products to be sent to landfill. The development of bio-based synthetics is also positive lead in overcoming this problem, allowing the consumers the comfort and performance of their apparel with the knowledge that their apparel once discarded will decompose more rapidly.