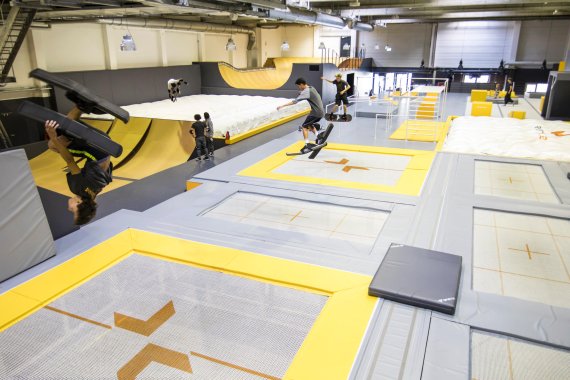 The Gravity Lab in Munich lies in a hip reconstruction business park: The area is called "Die Werkstadt," or 'The Workcity," with companies like GoPro and Planet Sports calling it their headquarters. It's not far from the Mittersendling S-Bahn stations, and right in the middle – fitting the theme – is the Gravity Lab.

The concept is admittedly different, but next to the Freestyle Academy in Stuttgart it's the single holistic freestyle hall in Germany.
The next step in the action sports world: ISPO POLYGON is bringing the scene together with a completely new hall concept >>>
Under Armour, Blue Tomato, GoPro as sponsors
Without any funding, Sabine Schmalschläger opened the Gravity Lab with 1700 square meters in fall of 2016, after four years of planning. She's supported by the brands Under Armour, Blue Tomato , and GoPro. The action camera specialists are also at the hall in Stuttgart, together with K2, TSG, and Burton.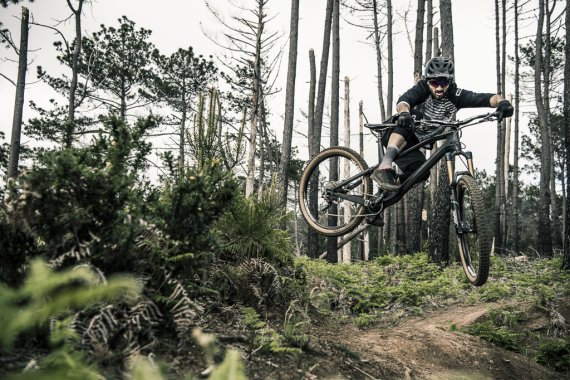 Public authorities helped neither financially nor with the location search for the Gravity Lab in Munich. There are few ways schools, clubs, and associations could benefit from the Gravity Lab.
"The fundamental acceptance for sports like skating, snowboarding, and surfing is missing in the German population, and still with parents," says Rob "J" Heran, pro mountain biker and Gravity Lab ambassador.
Gravity Lab offers four areas
It's apparently different in the homes of David (13) and Leni (14). Both try every Wednesday to come to Munich from Bayrischzell and Allgäu, to be able to train in the Gravity Lab without worrying about the weather.

The teenagers are in the Bavarian freeskiing state team. In the hall, they find nearly optimal training conditions.
To this end, the Gravity Lab is divided into four areas;
A parkour area with tumbling tracks, airtracks, slacklines, and rod scaffolding – with the focus on acrobatic training.
The feeling for airtime and rotations in the air can be trained on nine freestyle trampolines and two freestyle super trampolines.
Bowls, mini-ramps, and kickers offer training options with rollskiing, skateboarding, BMX, etc.
A big-air ramp with three jump options and landing in a airbag is ideal for training new tricks or after injuries.
Freestyle elite on a visit in the Gravity Lab
With this concept, everyone from parkour athletes, to freeskiers, all the way up to bikers are meant to be appealed to. That's because the requirements these sports have with regards to acrobatics, motivity, athletics, and for the feeling for rotations in the air are nearly identical. 
Freestyles from all over the world have already used the Gravity Lab's training options: for example, the freeskiers Tom Wallisch, Jesper Tjäder, Sandra Lahnsteiner and their crew Shades of Winter, the American Ninja Warrior Alan Connealy, but also US skiing ace Julia Mancuso. All were excited, says initiator Schmalschläger. 
Sports need to be fun
But what's also important to her is that the hall not just appeal to freestylers. It's much more a matter of children having fun being active.

"Sports need to be fun. For us in Germany, sports are always connected with performance, successes, and medals," says Schmalschläger. Not every child is suited to that. And the state hardly offers any alternatives for these children. This pressure to achieve doesn't matter for the Gravity Lab.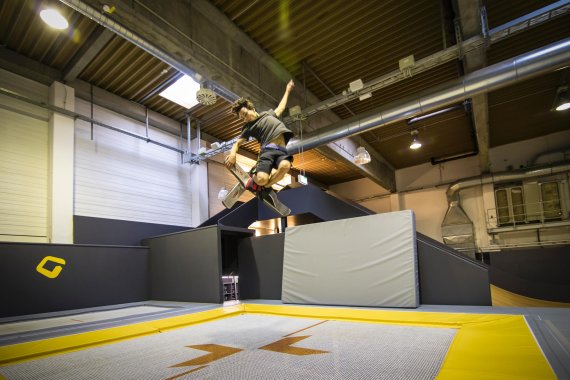 The mother of two boys gathered inspiration at halls in the USA, Canada, as well as Switzerland, and also found an entirely different atmosphere. Schmalschläger believes that Germany needs a different spirit: "In the USA, you're celebrated as a child when you make a jump; with us, you're told that your foot needs to outstretched more."
Gravity Lab: Introductory course is required
Rob J, by now himself a father of two boys, believes that this development can still happen. "Of course it needs more halls like this," says the mountain biker, "The kids do want to try to make what they see in computer games and online a reality."
First and foremost, professional support is required. That is why certified trainers work in both the Gravity Lab and the Stuttgart Freestyle Academy, and an introductory course is required in both halls.