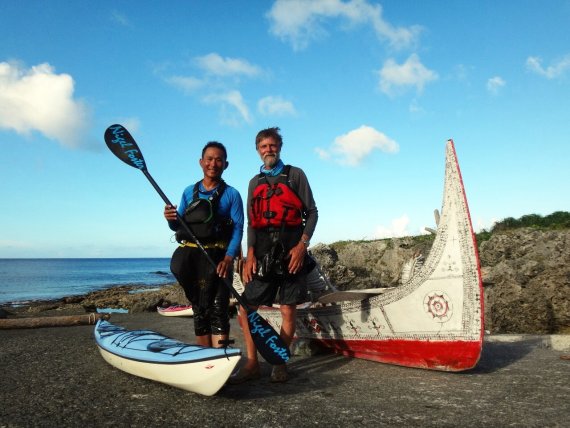 Foster circumnavigated Iceland as first and youngest person ever in 1977, he ventured into the rough sea of North Canada and became a member of the International Hall of Fame for bycicling, rowing, canoeing and kayaking.
In the ISPO.com interview Foster talks about the development of the kayak sport in China, his wild years as kayak adventurer and the transition to being a tinkerer and designer.
ISPO.com: Mr. Foster, you have been kayaking in nearly every ocean on the planet and did a lot of missonary work to bring the sport to the people. What's the current state of kayaking in China?
Nigel Foster: Kayaking is still in its early stages but the potential is huge. We do have some challenges ahead, but especially in the south of China there are already some kayaking clubs. Shanghai, for example, has newly developed waterways, which attract new paddlers to the sport.
Where are the kayaking hotspots in the country?
Certainly down in the south near Hong Kong and also the areas around Shanghai and Ningbo. And - although I do know it is not part of China - the area around Taiwan. The sport is growing in Taiwan with some good instruction and tours, and is even developed as an activity for school children in some places. The same could happen in China. 
What might be the initial spark that could make this happen in China?
I would try doing it like in Iceland. When I paddled there for the first time, I saw one kayaker with his selfmade kayak. And 20 years later, there were several clubs in the country, and now 45 years later they are thriving. With an organic growth, they worked on their skills in pretty tough conditions and developed from there to run guided kayak trips. Now the business is growing even more with influences from outside. But the organic growth is what I consider the most important aspect.
"If you want to do business, you have to go to places like Shanghai"
But the preconditions of Iceland and China are not exactly the same. How can you translate the Iceland model to China?
China, of course, is in a different position because of the huge population and less clean water. If you want to do business, you have to go to places like Shanghai and cope with the city enviroment. To make it really work, you have to start with one location which generates interest in handling a kayak and getting fit for kayak sport. This could be indoors or outdoors. It could be skills based, competition based or fitness based for example. The next step could be creating access to wider waterways and to extend the activities in different directions such as sea kayaking. Once access for kayaking routes is established, paddlers could paddle from one club to another along a route, even in a city.
Are there any issues which could slow down this development?
One of the bigger problems is the distance you can paddle. There are many regulations by local authorities and some kind of unwritten rules not to go past certain points on a waterway. So clubs sometimes have only a small section of a waterway to use, while there are miles of waterways beyond that section.
Are there any trips you have on your bucket list in China?
Well, what I really want to do is to paddle the Grand Canal which runs from Hanghzou all the way up to Beijing. The canal has an amazing history and is quite long – 1,115 miles. I researched it a few years ago and thought: Ah, that would be pretty cool to do. But primarily I'm a sea kayaker, so the Chinese side of the Taiwan Strait would be an interesting area to explore. 
It seems that it will be pretty hard to get a permission for that...
Well, that is the problem and I think it will only get easier to do these kind of trips if Chinese people start kayaking in these areas and lead the way. Then foreigners might follow. Chinese authorities seem to be very protective of people and want to keep them from harm.
Kayaking the Grand Canal sounds like a very relaxed trip, but back in the days you did some really extreme tours. What was your toughest adventure?
Without doubt my solo trip across Hudson Strait in 1981. I came down from Iqaluit at the southeast end of Baffin Island along Forbisher Bay to Resolution Island and then over 40 nautical miles of open water to the northern coast of Labrador. Then my plan was to carry on to the northern most village Nain which is another 350 miles.
What are the conditions like in the Hudson Strait?
The crossing is in the middle of the trip and the tide in the Hudson Strait can be up to seven knots. Not to mention the changeable weather and the water temperature is around three degrees Celsius. And this was the time before mobile phones and GPS – and dry suits. 
Lost some gear, Fingers were frost bitten
Sounds like a really harsh enviroment. Did you make it to the other side?
The tide wasn't exactly going in the direction I expected it to go and I was going northwest instead of going southwest. So I ended up in the dark and tried to hold my position in the tide for several hours. That was one of the most challenging moments in my life. Finally, I managed to make a very rough landing on an island, Lacy Island on the Button Islands. I lost some gear and had frostbitten fingers. A few days later I was very lucky to run into an oil tanker which gave me a ride down to Noca Scotia. Afterwards I thought to myself: Now I know where the limit is and I could easily take a step back.
Parallel to doing sports, you started designing kayaks and kayaking gear. What was the reason for the transition from a kayaking guy to a business man?
I'm just a lazy person. Before I went to university I had the oportunity to spend one year as a kayak teacher at an outdoor center. It was the greatest experience, I loved it. And I thought, I wouldn't mind doing something like this. I managed to get all qualifications to work as a teacher and then looked on a daily basis at the gear. I was curious and tried to improve my stuff. After a couple of years I switched to adult education at the national water-sports center in Wales. Again I thought: I can do it a little bit better. So I started designing boats in the 1970s and with the first one I circumnavigated Iceland in 1977. The people liked what I did and I was asked to do some more designing.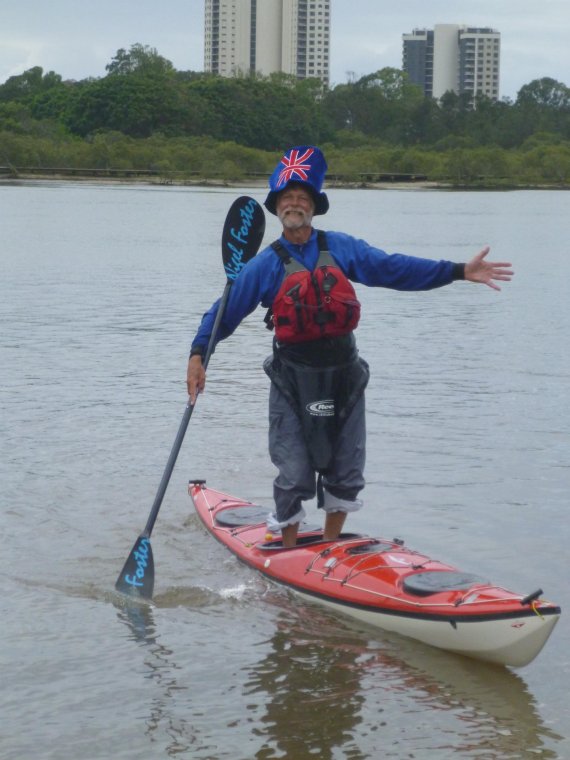 From a design and development point of view, what might be the next big thing in kayak sports?
I don't see any mind-blowing inventions coming at the moment. What is getting really interesting, however, are materials. Folding kayaks and inflatable kayaks might suit the Chinese market quiet well, especially in the urban areas. If you can carry it with your bicycle, that would be a big breakthrough. No more cars needed for transportation, so the expenses would be much lower. The next big step in kayak development might be the personalized fit, where you define the individual attributes of your kayak. Not just the outfitting but the size and shape of the shell as well. 
How hard is it for foreign manufacturers to enter the Chinese market?
I do see business opportunities for people around the world to manufacture kayaking and kayaking equipment in China. But the cost of importing into China is too high and not economical. Only if the foreign manufacturers could produce at lower costs, they might be able to compete.
What else could be a solution to this issue?
It makes sense to manufacture kayaks for the Chinese market in China. The quality and reliability is possible there. For overseas companies, the potential is to develop relationships with clubs for sale of product, teaching expertise and design of product specifically aimed at the body dimensions of Chines people.