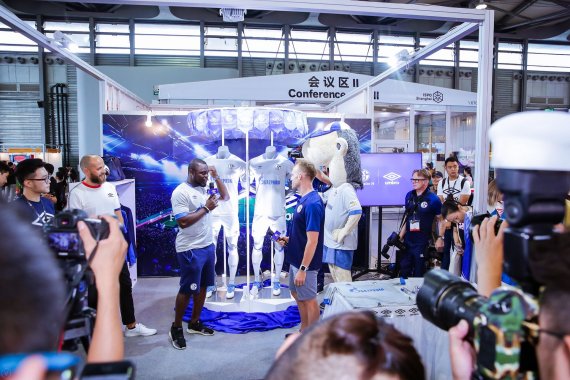 The jersey presentation of FC Schalke was one of the highlights at the ISPO Shanghai. Gerald Asamoah, former Schalker striker and former German international, presented Umbro's new jersey, which follows Adidas. A look at the fans in China shows why the German runner-up chose Shanghai of all places for his presentation.
Schalke has four million social media followers in China. Thus almost half of all Social Media fans of the Schalker comes from China - altogether it is approximately nine million. The Tmall event (China's largest online shopping platform) was broadcast online directly on the online shop's homepage via live broadcasting.
The fans, online and offline, saw Gerald Asamoah in the new jersey, accompanied by the Schalker mascot "Erwin". The new jersey is light grey and has the Schalke claim "We live you." printed on the back of the neck.
For the first time the Schalker have already played in light grey dress. The match against Southampton FC ended 3-3 in Kunshan. It is the first of their three jerseys, which the Schalker presented so far.
"We are very happy to present the new away jersey together with ISPO and Tmall", says Ashkan Maleki, Senior Director Digital & Content at Schalke at the ISPO Digitize Forum in Shanghai. Schalke is on a China trip for ten days.
The country is gaining more and more strategic importance for the Bundesliga football team. In 2016 the Schalker presented themselves online to the Chinese fans for the first time. While at the beginning it was two Chinese social media channels, the football club now serves eleven networks with growing success.