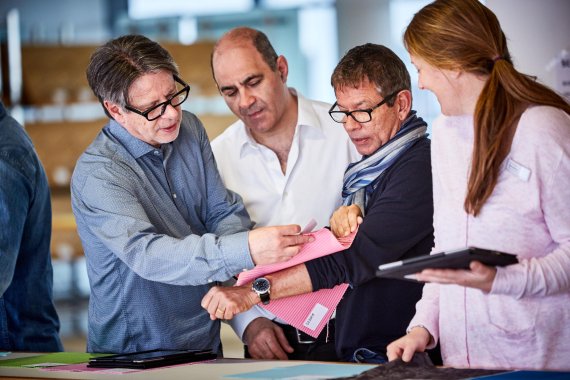 The focus of ISPO TEXTRENDS has thus far mainly been on winter fashion and textile trends for the fall and winter seasons, but innovations for the warm part of the year are also being targeted by the Spring/Summer release. "This is an important step - you can't leave the summer season out," says trend scout Louisa Smith, who's a member of the jury and already presented the trends for autumn/winter 2017/2018 at ISPO MUNICH and ISPO BEIJING.
Summer fashion trends: athleisure and denim
Whether colors, fabrics, or manufacture of textiles, everything is carefully examined by the jury at the ISPO TEXTRENDS. An independent jury of leading figures from the textiles industry will now decide the trends of the industry every six months. Selections will be made from a broad palette of entries from different companies that present their innovations.  "Cooling fabrics are hot right now, those are the big highlight," says Smith. "They're fabrics that regulate and cool down heat in sports but also in day to day life." Already an important trait for summer.
The current trends of the sports fashion industry will continue to shift more and more into the summer, says Smith. "Quite simply, we're talking about athleisure as the trend. It's showing up more and more in urban sports." Athleisure doesn't mean anything different than putting on sportswear even in leisure time and even at work. The tight airy sportswear is also best suited for a light summer outfit. "In the summer, people go outside more, run, do sports on the beach. That's why you have to let ISPO TEXTRENDS take place in the summer too," says Smith.
ISPO TEXTRENDS: Shanghai calling
Along with the already visible athleisure trend, denim is also back in demand, explains Smith. "The denim trend stems heavily from the athleisure trend. A soft fabric, but a robust material, it's idea for skateboarding. That way it's clear: You've got the look," says Smith.  

In a colorful contrast, a development toward natural colors can also be seen: That is, colors that also occur in nature. "Khaki is especially coming in," says Vincent Lecrosnier, Director of Colors, Materials and Trends at Adidas.