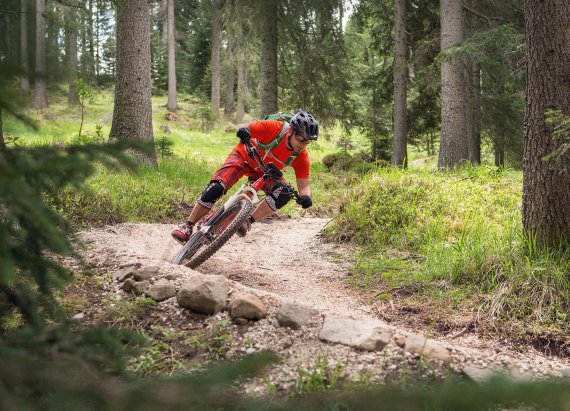 Stefan Schlie is an e-MTB pro, and works for Bosch in the further development of the e-bike engine. Schlie originally comes from trial biking, is a runner-up world champion, and gets excited for driving technology shows. He has been broadcasting his technical skills on his fully with an electric drive for some time now.
For him, e-mountain biking is an entirely new kind of sport. Those who'd like to be convinced of this will go to the E-Bike Days in Munich. At the trade fair for electric bicycles, Schlie will provide an insight into e-mountain biking.
"The e-bike is becoming state of the art," says Schlie. He believes that the greater majority of mountain bikers will soon be switching to e-bikes. "The normal mountain bikers will be the minority in a not-so-distant future," he continues. "The e-MTB will replace the mountain bike."
He names nine reasons for this:
1. The e-bike takes everybody along
Biking together, despite different fitness levels: The e-bike is capable of compensating for differences in performance. This is an important component, especially uphill. Stronger riders just choose a lower level of support for the engine – or shut it off entirely.
2. E-MTB as the perfect training device
For regeneration, basic endurance, or rehabilitation, when combined with heart-rate training control the e-MTB is worth its weight in gold. Many athletes use the e-MTB to get back into shape after an injury. It's also very well-suited to interval training.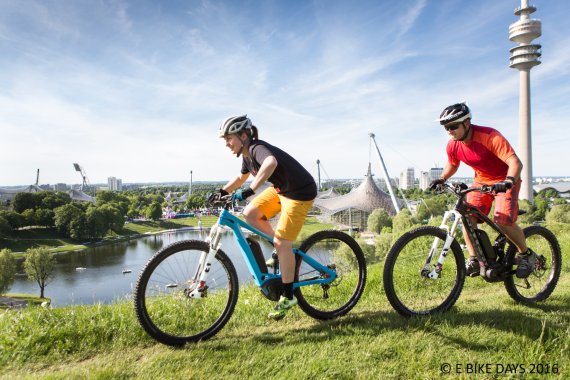 3. Fullys make e-biking comfortable
The technique and gear that are used for the e-MTB is no longer as crucial, thanks to the engine support. Fullys can play to their strengths both up- and downhill.

With a classic fully without an electric drive, by contrast, the buyer would have to decide ahead of time whether they would choose a bike with downhill- or uphill-oriented kinematics.
4. E-bike extends trail enjoyment
People who hit the road with an e-bike will save their energy going uphill. The logical consequence: They have more power to go downhill, and those who feel like it can use the extra time to go around again once or twice. A day trip quickly becomes an evening round.
5. Trails are conquerable, even uphill
For Stefan Schlie, an entire new component has even been added to the mix: going uphill on technically demanding trails. As a trialer, especially, Schlie enjoys biking up difficult stretches with clumps of roots, stony landings, and switchbacks - and developing new techniques with his e-MTB to do so. Schlie has identified six technical options for tight uphill curves alone.

Those wanting to test an official uphill trail should visit the Bavarian Forest. The world's first "e-bike uphill flow trail" was opened there in the Bikepark Geisskopf in spring of 2017.

Stefan Schlie is convinced that there are still several other paths and trails laid out for uphill biking that will follow.
Whether it's e-bike leasing or jacket tests: product testing projects for athletes are manifold. Join in experiencing new sports products and ideas live! Register here for free >>> 
6. Reliable electric drive on the bike
Engine support has done so much for itself, especially in controllability. The latest generation of engines by some manufacturers are already capable of automatically adjusting the level of support. That means: depending on the pedal pressure, the support by the engine will adapt progressively to the individual riding style. If the rider puts more pressure on the pedals, the engine's driving power also increases.

The advantage: The biker can focus entirely on the trail, and doesn't have to worry about setting and toggling the support level.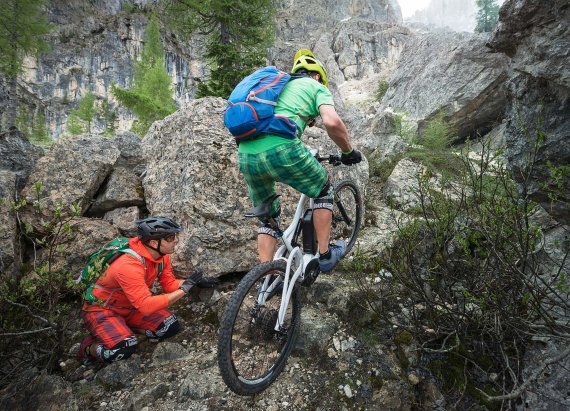 7. E-MTB replaces shuttle and lift
Those who primarily bike downhill really only have the option of resorting to a shuttle or lift to get uphill. Ultimately, it's no fun getting a 37-pound freerider uphill. With the e-MTB, that's now a thing of the past.
8. Environmentally friendly transportation
In addition to the shuttle, the e-MTB can replace cars in the city. Fullys don't just drive well over roots and rocks, but also over curbs. Beyond that, parking problems belong to the past.
9. E-bike also convince mountain bikers
At this year's BIKE Festival in Riva, every year something like the unofficial season kickoff for the MTB scene, more and more mountain bikers rented an e-MTB – and returned excited from their test runs.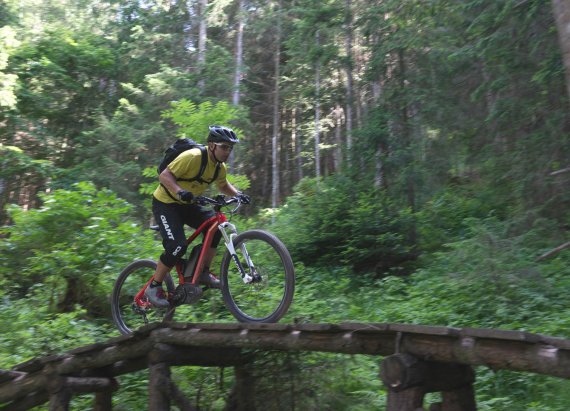 E-MTB and the future of electric drive
As a realist, Stefan Schlie naturally knows that the e-MTB will still need to continue developing in the next few years. Only then will his prognosis stand firm and overtake the MTB.

The most important requirement for him: "The battery power has to get even bigger. Specifically, that means that we need a better energy density with new cell concepts."

The new Bosch system currently has an rechargeable battery with a capacity of 500 Watt-hours. Schlie hopes for a rechargeable battery with a capacity of 1,000 Wh. "I estimate that this would cover an entire day in the mountains."
At the same time, the e-MTB pro wishes that the bikes would get even lighter. Most e-MTBs currently tip the scales between 46 and 55 pounds. Above all, he sees optimization options in the weight of the motor and in the battery.

Want to test new sports products? ISPO OPEN INNOVATION allows you to team up with companies to develop the latest products: Register here free of charge >>>
Video: The fitness trends of 2017