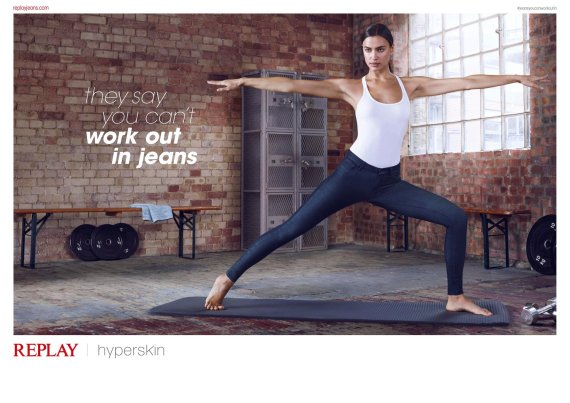 The continuation of the crossover and know-how is  a key area that is highlighted in ISPO TEXTRENDS' Mega Trends that features for Spring/Summer 18 in the form of 'New Horizons' and 'Neoteric' for Fall/Winter 18/19. 
Denim's X-Factor
With consumers ditching their jeans and wearing yoga pants, the emergence of athleisure somewhat startled the denim industry. But, quick to respond, denim mills and brands are embracing this new challenge, taking on a new direction with innovation and creativity in ensuring denim maintains its pole position.
With the increase in yoga and activewear brands evolving to fulfill the consumers' desire for fashion and function fueling the athleisure lifestyle trend, denim defending its territory, taking on a new direction in the form of performance denim as softer knitted denims feature with an authentic woven look through to high performance woven denim with traditional sportswear functions including moisture management, anti rip, thermo regulation and UV protection.
Performance denim with anti rip and soft touch incorporating aramid fibers perfect for street sports feature alongside high functioning denim with anti bacterial and cool touch through to thermal applications dependent on the season. Inherent functions normally associated with the traditional sportswear sector are being embedded into the denim industry.
Leading the way
Orta Anadalou was one of the first denim mills to see the potential of performance denim that offered a combination of function and true denim fashion style. Featured at ISPO TEXTRENDS, their collection included Cool Air, a high stretch denim in a hybrid blend of cotton/spandex and polyester with the polyester bringing added function in the form of moisture management. Black Ice is another cotton/spandex/polyester blend with the performance this time offering thermal regulation and UV protection. Orta Anadalou has also teamed up with Emana Fir black yarn in its bio-kinetic collection, offering a bioactive energy that improves circulation and skin tone plus delivers a sense of wellbeing. 
Hybrid blends and the stretch factor  
A key aspect of the denim sector has been the increase in stretch denim, incorporating cotton/spandex blends through to hybrid blends of cotton/nylon and spandex as 360º stretch and recovery and enhanced flexibility from four way stretch denims that embrace and support the body becomes an essential factor. The hybrid direction denim is taking on the fiber front, moving away from the traditional cotton, originated from cotton prices spiking and mills responding to beat the price hike through innovative blends. Today, cotton prices are stable, but the hybrid mood continues as denim realizes there has to be more to it than meets the eyes. From functional finishes to multi blends, denim is pushing the boundaries in delivering a new generation of fabrics.
With the activewear sector becoming more of a 24/7 application as the consumer embraces the comfort and performance the athleisure lifestyle lends itself to, jog jeans through to denim inspired single knits for yoga applications with added function continue to infiltrate the market.
The pull of performance from the denim sector isn't from the textile side up, traditional denim brands are seeing the potential of active elements and not just altering their core collections but introducing new collections destined for the market. Diesel was one of the first to notice the potential with the launch of their "Jogg Jean" range, the original hybrid jean, a knitted denim with the characteristics of jersey from activewear but with the appearance of authentic denim.
Traditional woven denim continues, worked through in more hybrid blends with greater flexibility through the stretch and recovery, but it is also seeing denim mills look to the knitting sector in creating soft and flexible knitted denim that mimics the appearance of authentic woven denim.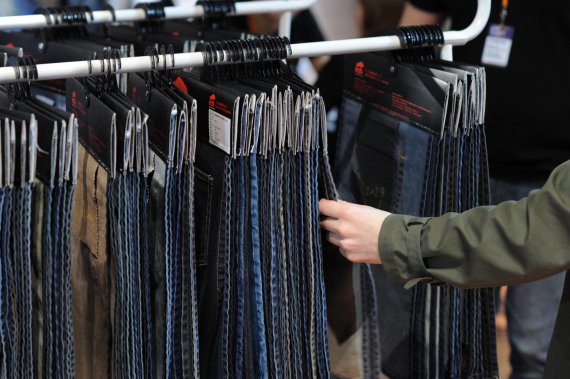 Mills and brands collaborate 
With the crossover of technology and intel continuing to influence new opportunities, there is also a stronger sense of collaboration as mills team up with brands in getting the perfect product. The latest on the athleisure scene is the joint launch of Hyperskin by denim mill ISKO and Replay, introducing a collection of denim that combines style, performance and lightweight, a marriage of the traditional jeans look with the comfort of workout pants.
The new concept of Hyperskin consists of hyper elastic and hyper light fabrics with 360º degree flexibility, stretch and recovery and weighing only 200 grams/m2, a perfect match for motion sports, as due to the content and construction of the fabric, the garment protects and moves with the wearer, working like a second skin.
Sustainability features
Lyocell is becoming an increasingly popular partner on the denim front, teaming with cotton, spandex and synthetic yarns to create super touch but still maintain the true authenticity of denim. From a fiber branding point of view many mills are turning to Tencel to create bi and multiple blended fiber denim, with Tencel lending its super soft touch to the final product. A collaboration between Lenzing and Invista has resulted in denim incorporating both Coolmax blended with Lenzing's Tencel, providing wearers with the cool dry comfort, softness the blend brings but with a strong sustainable aspect as Coolmax EcoMade fiber is used, made from 97% recycled polyester, derived from plastic bottles and other waste destined for landfill, delivers the function.
Performance denim for urban sports
In addition Pro Modal and Modal from Lenzing has also been teamed in multi blends with Coolmax, which has a super soft yet voluminous hand feel.  The performance aspect of the Coolmax is placed in the weft, ensuring the cool touch it delivers is directly placed on the skin.
Cone Denim has increased its performance denim range by incorporating branded fibers including Sorbtek, Coolmax and Dri-Release to deliver increased functionality. Cone is one of the pioneering mills using Dyneema, a high strength synthetic fiber 15 times stronger than steel. The demand for anti-abrasive, yet soft touch denim is increasing especially for street sports, with other mills incorporating the Dyneema branded fiber for a tough denim appeal. Prosperity Textile has introduced Blue Force denim fabrics with upgraded protection with Dyneema, in incredibly light and flexible weights and super soft hands. F2 is a range they are offering in knitted denim incorporating Celliant, a bio-technic product that boosts the circulation, perfect for yoga pants.
The potential of performance denim is only at the early stages, but denim mills are being savvy in checking out the key ingredients that have been a success in the sports sector and integrating them into their core collections. The result is creating true-look denim that has added value in terms of performance and also new applications in giving denim a new lease of life.
Key Trends:
Appearance - the new generation of denim, whether knitted or woven must have the appearance of  authentic denim to appease the consumer
Stretch fibers including spandex are crucial in creating 360º degree flexibility
Aramid fibers are being developed to create softer high tenacity denim
Traditional activewear fiber ingredients including thermal regulation, moisture management, anti bacterial and UV protection are being integrated into the denim sector
Expect to see more denim developments emerge in new lightweight functional qualities with super stretch and added performance
ISPO TEXTRENDS will be highlighting the latest Spring/Summer 18 developments including denim at ISPO SHANGHAI in July. For fabric and component suppliers, there is still time to participate in this innovative sourcing platform. For further information check out textrends.ispo.com