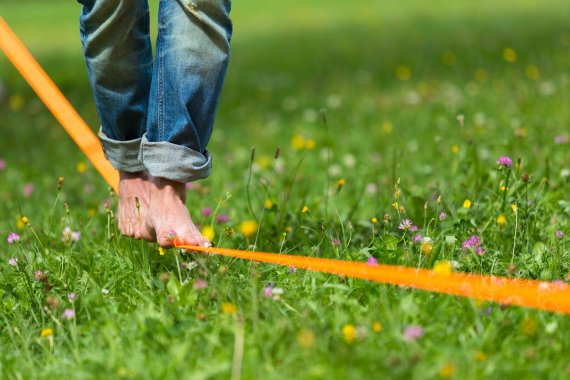 Globally renowned, denim is one of the hardcore textile fabrics that rejuvenates season after season. As lifestyle trends change with the pursuit of healthier lifestyles and higher impact activities, the consumers' love of denim is crossing over into new territories. From 360º stretch to high tenacity denim, denim is looking at a whole new range of applications to target.
Athleisure Hasn't Knocked Denim - Denim Has Kicked Back And Redefined the Rules
The growth of the athleisure market hasn't had as damaging impact on denim as it would have expected too. The main reason for this is that denim reacted to the onslaught of yoga pants and decided to play the athleisure market at it own game with a host of workout denim developments from both the knit and woven sector.'If you can't beat them, join them' is  the motto that the denim industry is pursuing and it is paying off.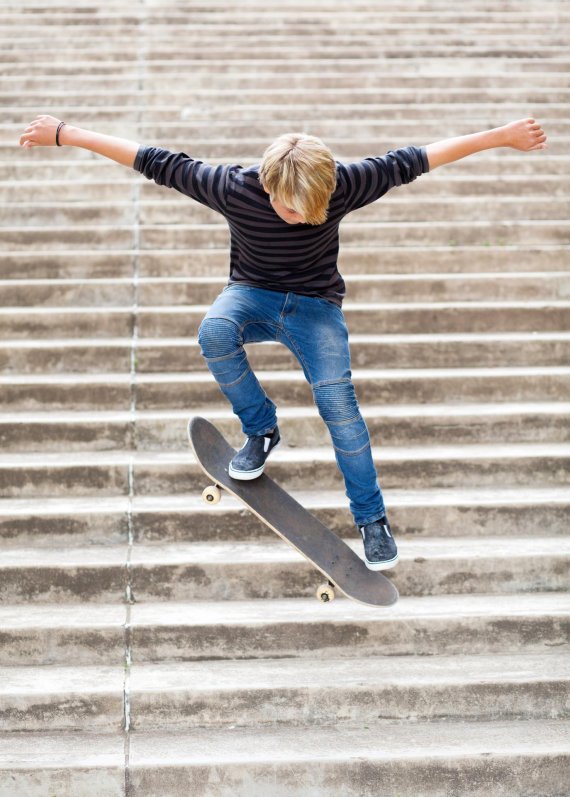 The initial introduction of denim crossing into the sportswear sector has unleashed a range of dynamic denims that will appeal to higher level actives from rock climbing to skateboarding, as denim starts to get tough. This growth market has seen an increase in the diverse denim offering selected and featured in the Street Sports sector at ISPO TEXTRENDS.
Denim Takes a Tough Attitude And a New Level Of Performance
ISKO continues to push its new level of performance denim for the activewear market under the name ISKO ARQUAS, including denim blends with Cordura and Coolmax combined with water repellant and anti bacterial qualities. The increasing development and interest in tough, high tenacity denim with additional functions is fueling the performance sector.
Naveena Denim has launched its Fortified Denim collection of durable denim fabrics using the Dyneema fibre. Dyneema is an ultra-light fibre that is up to 15 times stronger than steel and up to 40 per cent  stronger than aramid fibre, weight to weight, enhance all aspects of classic work wear denim, like durability and resistance, without sacrificing comfort. 
A hybrid blend of cotton/Cordura/wool/Lycra has been developed by Artistic Milliners in delivering a multi functional denim. With performance stretch, the denim quality has excellent moisture management, thermal regulating, breathable and is abrasion resistant with mono stretch for greater flexibility.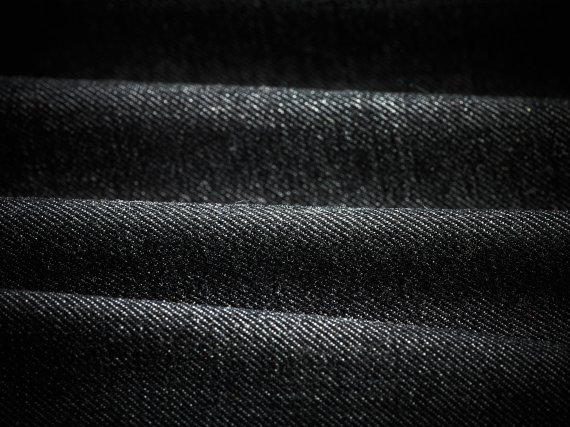 Ingredients From the Performance Sector Feature In Next Generation Denim 
The inclusion of performance ingredients traditionally seen in the sports and outdoors sector is something the denim industry is gaining ground on. Understanding the benefits these functional fibers bring in a synergetic approach with cotton, is seeing a surge in hight performance hybrid blends. What is key is that denim has to maintain its authentic look.
Prosperity Textile has achieved this through a unique blend of cotton/Coolmax/Thermolite/Lycra delivering thermal regulating denim for a trans-seasonal approach. The combination of the synthetic yarns referred to as Coolmax All Season, offer a technical twist in fast drying and lightweight warmth, for all year comfort.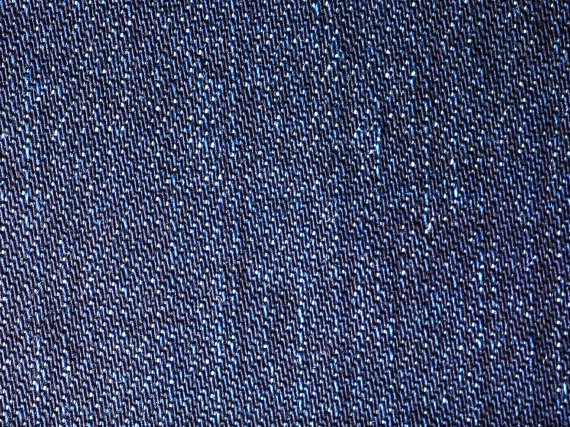 Sustainability Is Denim's Goal

As with all sectors of the textile industry, sustainability is also key to denim. The denim industry continues to strive in delivering a stronger sustainable message following years of water and chemical overuse. Just growing the cotton for one pair of jeans takes up 1,800 gallons of water, take into account the finishing and the figure just rises. This is why many brands are turning to cotton sourced from farmers involved in the Better Cotton Initiative (BCI). A not-for-profit organization stewarding the global standards for Better Cotton, and bringing together cotton's complex supply chain, from the farmers to the retailers, through a more sustainable approach.
Cotton alternatives also feature in the denim sector, with Chia Her developing wool denim, a wool/polyester blend with moisture management and thermal regulation. The fabric mimics the authenticity of denim but with the natural luxury of wool.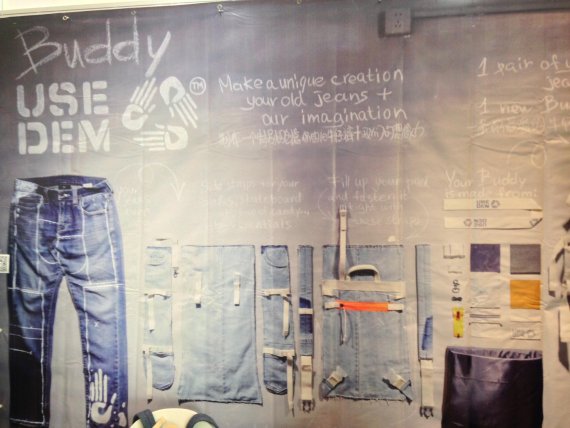 Soorty is highlighting two new product developments for the season that hit both the sustainable and sport mega trends in denim. On the sustainable front they have developed Zero Water Blue, a process that reduces water consumption by 90 per cent in the fabric manufacturing. The process uses only 3.1 liters of water per garment from raw fiber through to the finished product.
For the sports sector and to address the athleisure lifestyle trend, Denim Active from Soorty delivers second skin silhouettes, moisture management, quick dry and recycled aspects by using Coolmax EcoMade, derived from recycled bottles.
Recycling And Upcycling Denim
When it comes to recycling garments, one advantage for collected denim jeans of 100 per cent cotton is that they can be stripped and recycled into yarns. The disadvantage of a natural recycled yarn is that it can be weaker. Filature du Parc has overcome this problem with a range of cotton yarns that are sorted through the colors of the jeans to be recycled from light, medium and dark. The jeans are stripped and shredded before being spun into new yarns, with recycled polyester added to give the recycled yarns the added strength. The advantage to this patented spinning process is that the yarns are already dyed in varying indigo tones, eliminating the water heavy process of dyeing.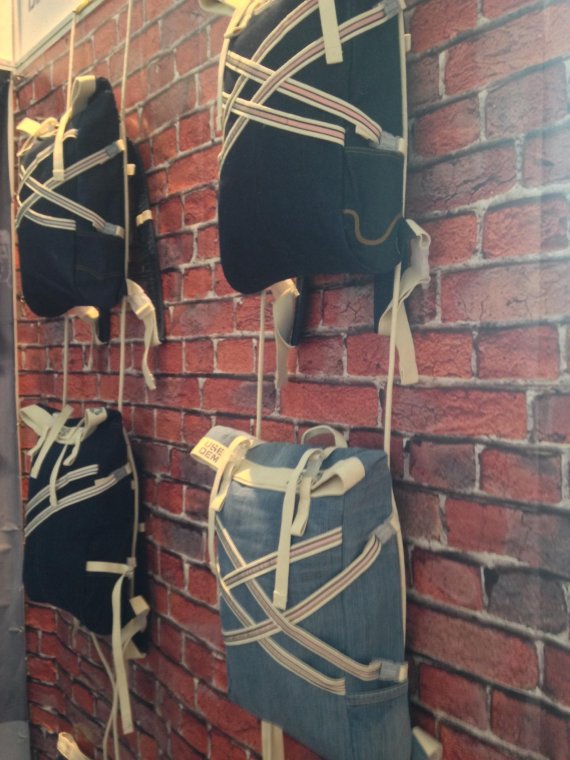 Discarded denim isn't just being used for recycled yarns. At ISPO Beijing, featured in the Startup Village, an innovative forum for enterprising Chinese companies, discarded denim was being used in a unique way. UseDem, a Shanghai-based start-up, is collecting recycled denim jeans and upcycling them into funky backpacks.
Denims Dynamic Future
When will it ever end? It's a full circle commitment with denim, the joint passion for denim from the global consumer and the industry that develops it, ensures that this enthusiasm sees no end. As street sport through to performance denim continue to grow, expect to see more and more denim developments come though, as denim defies all obstacles in its path, and makes amends for its water guzzling and not so eco-friendly past.