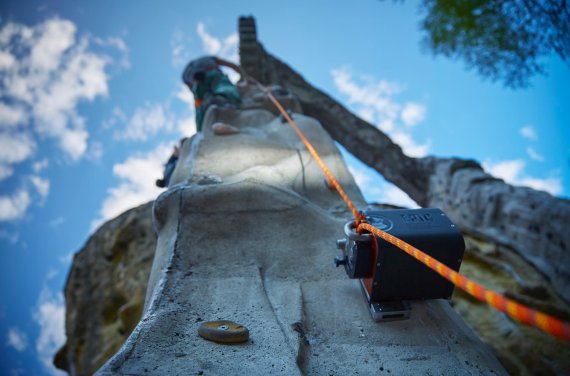 Auroco is actually just a two man company: Jan Lohse and Florian Widmesser are the founders and developers of the Epic, which has already become a Goldwinner in the ISPO Award 2016/2017 in the outdoor category. The jury said: "A new level of safety and freedom when climbing, but also for the entire sector." 
Read more here: This is why the Epic won the ISPO Award
Climb solo – quite safely
This small belaying box is not yet in series production. So far the two developers have specialized on safety at work, but they are now developing the Epic especially for climbing as a sport. The rope can be let out and taken up if the climber falls, the electronics block the rope to stop the fall. By the way, the name Epic comes from Electronic Partner for Individual Climbing.
Read more here: This is how to take good care of the muscles, tendons and ligaments in your arms when climbing.
This will take you to the climbing pioneers' crowdfunding action: The first two stages of 50,000 and 100,000 euros have already been reached and the new goal is to make it to 150,000 euros. Up until 11 September you can still participate in the crowdfunding. It is already quite clear: The protection works, as this small box has already got the test certificate for its EU approval.