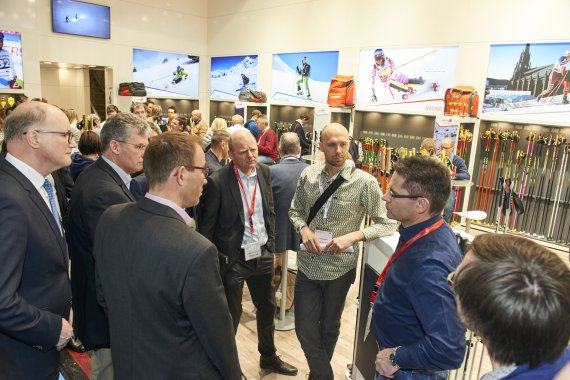 Technology and sports belong together 
That means that they're specialized in electronic components or applications that are printed out. Instead of ink, the printers produce electronic functional materials. What does that have to do with ISPO MUNICH and the sports industry? Ideally, quite a lot. 
"We got our start from innovations," Markus Rindle, Head of Product Design & Innovation at Mammut, "We're very interested in technologies." This makes getting into contact with representatives from the technology industry all the more important.

In agreement with him are Dr. Martin Lechner, head of the New Technologies sector at Messe München, and Robert Fry, VP of Merchandising at Black Diamond.
Exchanging ideas and networks are fundamental
"The way we're exchanging ideas here at ISPO MUNICH, making contacts, that's the right first step," says Fry. "We in the outdoor industry need to leave our comfort zone and talk with experts who know more than we do." And it's not so much about where the whole thing is going, says Lechner. "Rather, it's about getting started and finding out what's possible." 
As a user-oriented industry, the sports industry knows what customers want. It's important to satisfy precisely these needs, Lechner says. "It's about bottom-up processes, not top-down applications." A sector like the printable electronics industry, by contrast, is technology-driven.
Cross-Industry Walk: Participating exhibitors at ISPO MUNICH 2017:
Leki
Mammut
Kjus
Helly Hansen
CEP
Osmotex
Black Diamond
Ortovox
Deuter
Clim8
Isko
Ykk
"For many of us, at Black Diamond and other companies in the sports/outdoor industry, our job isn't just a business, it's more of a calling," Fry adds. "We're curious; we're ultimately our own customers and want to make things as well as possible."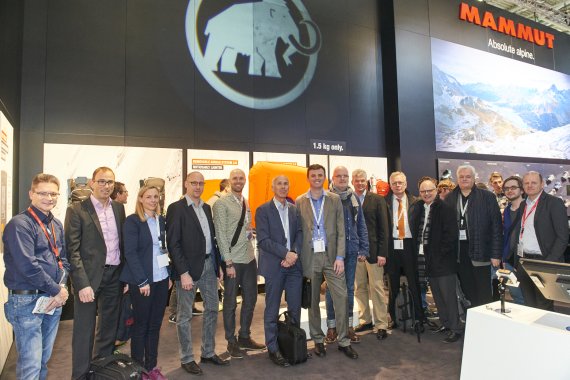 Ideas for using technology are manifold
There are many desires among the company representatives – and sometimes they can even be fulfilled: washable, stretchable, temperature-resistant sensors that measure heartbeat, body temperature, sweat on the skin; batteries small enough to integrate into clothing or better link all kinds of technologies, and be controlled with smartphones, for example. 
For compression specialist CEP, a helpful technology would display when the compression effect changed: "That would be very helpful for our socks: they're high quality, almost never fall apart, but the compression effect can subside over time," says CEP Portfolio Manager of Sports Jochen Seitz. 
Jackets with integrated lights
Ralf Kirner is Concept Designer R&D at Helly Hansen. The company is already working on integrating various lighting technologies in the interface between expedition and work clothing. "We're no longer just a clothing producer, but rather a technology supplier."

Kirner believes that the entire industry, the supply chain, the questions and problems of retail and buyers will change.
The costs of printed electronics may be negligible, but who knows their way around the associated battery regulations, radio equipment guidelines, and CE certifications? This also demands experts. This is where an exchange like the Cross-Industry Walk is of tremendous help.
How often can an LED be washed?
Tour participant Jan Hesse could be of help in this special case. He works at the Fraunhofer Institute for Organic Electronics, Electron Beam and Plasma Technology, and is a specialist in OLED lighting design and integration.

He brought an organic light-emitting diode (OLED) along on the tour that can be integrated, including battery and on/off button, into clothing or backpacks.
The questions that come from sports firm employees are very specific. How often can the OLED be washed, how long does the battery last, what does a unit cost, how movement-sensitive are the light strips?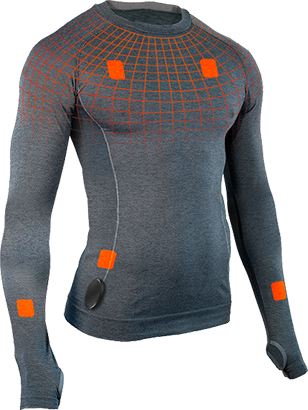 Transfer of competence
The founders of clim8 also posed similar questions in regards to their temperature sensors. The French company develops heatable outdoor clothing. A heating element warms up during cool-down periods, stops during physical activity, and springs back into action during breaks.

Sensors measure skin temperature, activity level, environmental conditions, and adapt to individual sensibilities. Clim8 was named the Gold Winner at ISPO AWARD 2017.
Clim8 is still a groundbreaker. "But if this kind of transfer of competence succeeds more often, when both competences are brought together, something new can be the result," says Lechner. 

The next step is already done: The specialists from the sports industry visited the trade fair LOPEC, specialist fair for printed electronics. There, a similar tour took place.
Video: Sports companies visit LOPEC