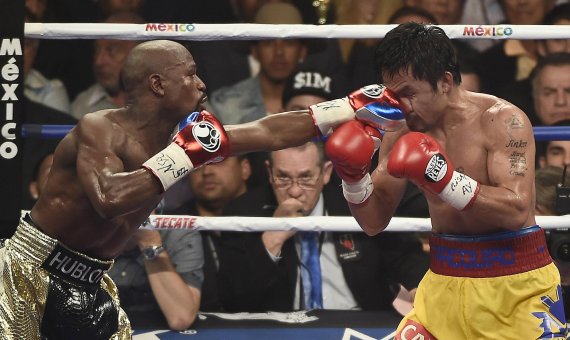 We can all agree that as an animal and behavioral scientist, Manny Pacquiao was way out of bounds when he confided in a regional TV station about his stance to homosexuals, who he called "worse than animals". And we can equally agree that this discriminating low blow from a boxer cannot be ignored by saying that the man had had too many head injuries. 
What company would want to support intellectual instigators?

More has been destroyed than just the image of an athlete who was already about to retire and whose last fight was hyped up as "the fight of the century" by the TV station Sky as an attempt to sell it to paying customers. This is about the image of all those who have considered themselves partners to this evidently homophobic Filipino, it's about his benefactors, his sponsors. What company would want to support intellectual instigators with their sponsorship and thus run the risk of being suspected of supporting discrimination or even racism?
The fact that the sports equipment manufacturer Nike did not need twelve rounds of debate, but instead immediately declared a knockout for Pacquiao's testimonial, is not only politically correct but it is also logical from a business perspective and absolutely essential from an economic one. Athletes are role models – or they are bad examples. Their advertising partners pass that on – or carry it with them. In short: Nobody wants to wear a racist's sport shoes.
The sports world carries a social responsibility – the same goes for the sports business.

Nike's reaction deserves respect – we're not yet at the point where such a quick reaction is considered a matter of course. Or not anymore. In times in which xenophobia is apparently becoming acceptable again, the sports world certainly carries a social responsibility. And that also goes for the sports business attached to it.
The outfitter Trigema was forced to realize that a few days ago when they put a kissing couple, a blonde woman and a dark skinned man, at the center of their Valentine's Day campaign. As a result, the anti-Islamic movement Pegida went crazy on the company's Facebook page – until Trigema posted a stop sign with the label "no discrimination" and announced that they would report homophobic commentators "to the appropriate officials". Unfortunately, even that sounds more self-evident than it is these days in the midst of an emotionally heated refugee debate.
Take a stance – something the sports world should take both literally and figuratively and which should be an essential premise for the sports business. Even FC Bayern Munich has been feeling this thanks to their own fans. Even their most loyal members publicly announced they would leave the association when the Doha airport was engaged as a sponsor following a renewed debate about the winter training camp in Qatar. 
When it comes to soccer the word credibility currently has a bad reputation, largely thanks to the world soccer association Fifa, and sponsors have also been suffering from it. For a long time Adidas found it difficult to take a stance in the corruption scandal involving the since suspended Fifa president Sepp Blatter, but at least the German outfitter announced the withdrawal of its sponsorship of the international association IAAF after the most recent doping scandals in the sport.
Red card for doping, corruption – and discrimination

"We have to work together to show doping, fraud or corruption the red card," announced the president of the world federation of the sporting goods industry (WFSGI), Frank Dassler, at ISPO MUNICH 2016. What he didn't say but should be self-evident: This red card should always be shown immediately when it comes to discrimination. Sport is part of society, it is not necessarily better or worse. Anyone who earns their money with it, i.e. is professional, carries a responsibility. Nike did it justice. No more – but also no less. And that is already worth a lot.