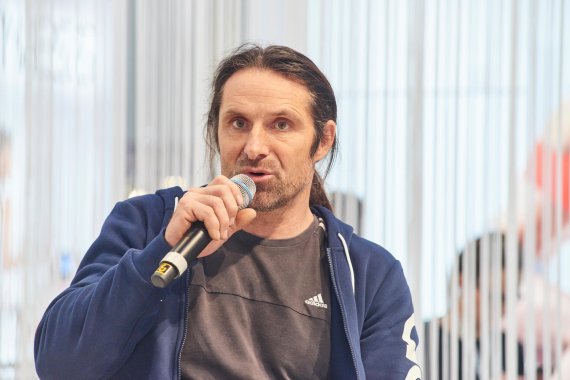 Alexander Huber, known together with his brother Thomas as the Huberbuam ("Huber lads"), is a bustling athlete and businessman. He's written multiple books, gives lectures – and his resume of astonishing ascents and climbing routes continues to grow, even in his late 40s.

But above all, he's an old-school climber who has become big and successful out there on the rock. So, where does he stand on the climbing boom, on the masses that are now getting inspired for his sport?
Test new, innovative products with some of the most exciting sporting goods brands on the market >>>
On the ISPO MUNICH 2017 Health & Fitness stage, Huber spoke about...
...the debate in the industry of whether hall climbers are "true" climbers:
"I wouldn't link the climbing boom to one target group. Today there are still the really excited climbers who are entirely focused on the sport. The circle of climbers has gotten massively wider – a great number now goes into the hall. Are they not climbers? Of course they're climbers! Their motivation is just a different one."

Alexander Huber: "Exercise is good – climbing is good"
...the task and role of climbing in society:
"In today's civilization it's difficult to practice a sport regularly. Getting exercise is good – and climbing is good. Regardless of what the intention is. Climbing was a purely adult sport. Today even school teams are bouldering. And that's important, since you just can't reach every child with soccer. If I were to chalk something up, it would be that school sports were scaled back tremendously. That is a massive educational error."
...how the industry is reacting to the climbing trend:
"The companies have full well grasped that the specialist are going into the mountains and climbing anymore – and are now trying to find access to the various interest groups. Bouldering plays a role in this. Actually, it's always been there. The first climbing halls we developed were bouldering rooms in attics. Only then, no mountain climber took bouldering seriously. Today, bouldering is totally in."
"Today the companies are positioned totally differently in climbing"
...the sports shift since its beginnings
"Earlier, we climbers developed plenty of the littlest bouldering halls ourselves. That's how we trained, Thomas and I built our first climbing wall in our cellar at home in 1984. Not only has the number of climbing halls risen massively since then, the entire industry has professionalized itself.

Today the companies are positioned totally differently – than, say, 1994. Back then I was long since established at the top of the world, before then I didn't get any kind of support. Also because climbing still wasn't a mass sport."
...why climbing is a sport without age limitations:
"A bar belongs in a climbing hall, too. It's about the social experience: because I know I'll meet my friends there. That alone often helps overcome one's weaker self. In Karlstein, where I began climbing, we still went to the pub every day. Meeting friends, getting out, having a good time – that's what it's about. And there's no age limit: My father is still doing it at age 77 – and he's my role model. Go as long as you can!"
Video: The best products for outdoor sports