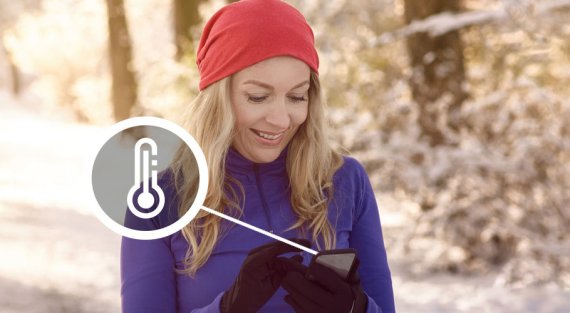 As the days become shorter and temperatures start to sink, people flock indoors to stay in the warm. But this is not possible for people with some occupations. A hot mug of tea can help keep you warm on the inside, but on the outside? There will soon be a solution here too.
Apply now – and test the Clim8 shirt exclusively!
"clim8 is a revolutionary textile technology and new wearing experience," reports Florian Miguet. He is the CEO of the startup clim8 and is working on a shirt which gently warms the body, only as much as tiny, high-tech sensors in the fabric detect is necessary. Also perfect for those who enjoy outdoor sports.
"The need for intelligent clothing has been obvious for a long time," says Miguet. "People want stay warm when it's too cold and cool when it's too warm. And that's why we are here. As everyone has a different sensibility to cold, a solution which is truly personalized and adapt to everyone specificity."

Sensors in the Shirt Regulate the Heat Supply

clim8, that is Florian Miguet and his colleagues Pierre Mouette and Julien Guéritée (PhD). "We three come from France, but with international background," tells Miguet, who worked as General Manager Asia Pacific for Salewa/Dynafit. "Pierre launched two IoT devices in Hong Kong and Julien engineered for sport producers and the defense industry."

They have partnered with three top european institutes in France, Spain and Germany to create, develop this product which has the same name as the company: clim8. "It's a shirt which allows your body to always stay at the right temperature – regardless of the weather or what activity you are doing," explains Miguet.
The special feature is that it has heating components, which are weaved into the yarn so they can't be seen. The energy comes from a small removable battery which won't get in the way of your activities.

And the shirt measures outside temperatures and air humidity and uses this to find the ideal body temperature, in accordance with the settings the user has individually chosen using the clim8 app.

clim8 is Aimed at Outdoor Workers and Athletes

The shirt is set to be officially launched on January 13, 2017 and there is already a countdown on the official clim8 website. The price? According to Miguet, around 150 euros. "Our shirt is great for outdoor workers and athletes, for example, skiing and golf instructors and airport workers, who spend a lot of time outside. But our target group also includes outdoor enthusiasts and the military."
On its way to being market-ready, clim8's shirt needs to undergo some thorough testing. Miguet says: "With ISPO OPEN INNOVATION's help we are therefore searching for product testers who will test our shirt with strict confidentiality."
How the clim8 Testers Will be Chosen

The recruitment phase runs until 14 October, 2016. Those who are interested can apply via ISPO OPEN INNOVATION. Up to 80 people will be chosen to receive a clim8 shirt to test, after signing a confidentiality agreement.

Because these are the first prototypes, they will need to be sent back at the end of the testing phase. "We're on the right course here but we need testers to keep us on the track, be challenged, to make sure the product is made for what people need – and our competitors never sleep," says Miguet.