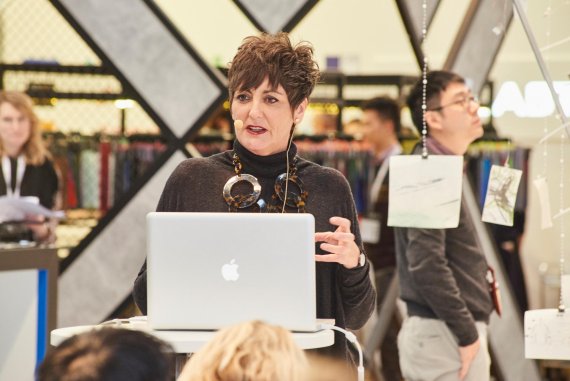 And one direction in particular is becoming increasingly clear: a trend called "athleisure." The word is a portmanteau, combining the words athletics and leisure, and is no newcomer on the sports industry scene. Smith says, "People either love the word or hate it, but no matter what, the trend is here to stay over the next few years."
Sportswear is establishing itself in the fashion world
Smith describes how customers are going in two different directions: For one thing, they want to look good when they're working out. But they are also incorporating sportswear into their everyday wardrobes more and more. "For customers, it comes down to the look. Regardless of whether they're going to the beach or working out at the gym," explains Smith. Producers should therefore focus more and more on bringing together functionality and fashion. 
Textiles: Functionality is becoming more elaborate
Consumers are tending towards increasingly high expectations for the clothing they wear when working out. "We need materials that improve performance but are also protective," explains Smith. Particularly clothing that offers additional features like UV protection or helps with regeneration through compression is on its way up.
Because shorts and shirts have to be able to do more and more, manufacturers are using different materials that combine to offer a new kind of functionality. For example, materials that would quickly absorb moisture to enhance the athletic experience.
Positive: Textile production is becoming greener
In addition to all these innovations, Smith also contends in her analysis of textile trends that consumers are paying greater attention to manufacturing processes. According to Smith, this has already been reflected in the value creation chain: "Customers are not interested in exactly how much water is saved in production. Instead they want to be able to trust the brand overall." This will only increase since the manufacturing sector is starting to place greater and greater value on sustainability and environmentally sustainable production.
The latest textile trends presented by trend scout Louisa Smith at ISPO MUNICH are summarized in ISPO TEXTRENDS 2017/2018 Trend Book. 
You can find details on the latest color and textile trends on ISPO TEXTRENDS homepage.
Available from February, 2016: the new ISPO TEXTREND APP for download to Android and Apple products.