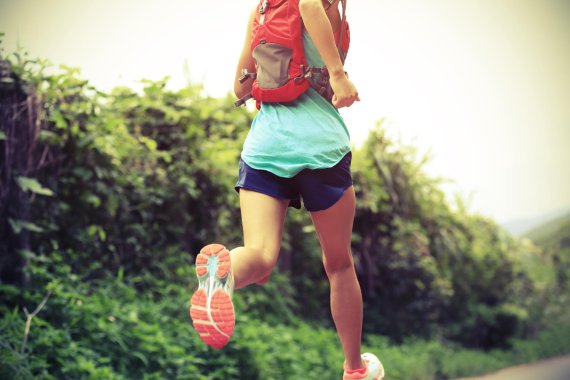 The hydration backpack should be shaped in as lightweight and ergonomic a way as possible, sit close to your body, but without anything cutting in. The chest straps that secure it in the front should be appropriately size-adjustable and elastic, as well as sufficiently cushioned.
A good-sitting backpack doesn't wobble back and forth when you're running, and can't compromise your sequence of movement. The part resting on your back should breathe well.
Water Pouch or Water Bottle?
For many people, a water pouch with a straw tube is the optimal solution that makes for easy hydration on the trail. Nevertheless, you sometimes won't notice when your water level gets low in time, and it's less convenient filling a hydration backpack during competitions.
It can be practical here to also have a water bottle on your backpack. Overall, several runners prefer the solution of having a bottle on the trail instead of a water pouch. By now these bottles can be found not just in the inflexible version, but also so-called softlasks, which can fold up when empty.
Test Your Drink Tube Before the Competition!
After you've filled the pouch and placed your tube in the still-empty backpack, flip the backpack over once and drink until there's no more air in the pouch. This prevents noisy flapping to and fro when running.
In any case, it's important to test your drinking straw at least once, say, before you start a competition. If something's stuck and doesn't work, it would be annoying if you only noticed once you were on the trail, and then had to spend time unpacking everything again.
Dental Care Tablets for Your Water Pouch
And while we're on the topic of insider tips: Cleaning tablets for false teeth are outstanding for taking care of a water pouch and straw. Fill the pouch halfway, make a vacuum by sucking on the straw, then rinse out with clear water after fifteen minutes. That way, you eliminate any possible bacteria after multiple uses.
Removable Pockets Are Helpful
Aside from a spacious inner compartment, good backpacks will also have external pockets that are easy reach, so that you can comfortably get to important equipment on the road without ever having to take off your bag.
Extra, small pockets that can be attached and removed with Velcro are helpful. Also practical are stick holders that make it possible to secure your hiking poles if you don't need them over longer distances.
Packing List for Your Trail Backpack
Running backpacks come in a variety of sizes. What'll you need depends heavily on the length of your planned tour, the surroundings, and the weather conditions.
There are definitely runs where a small, five-liter backpack or even a water bottle carrier will be enough, but for longer tours it should probably be a larger model. Warm and rainy weather clothes, a first aid kit, food and water, cellphone – this equipment takes up a bit of space.
Yet another insider tip: Pack important items in plastic bags before you stow them in the bag, so they're protected from moisture. One affordable solution: small zipper bags actually intended for freezing food have proved themselves very well. They're available in a variety of sizes and are sealable and water-tight.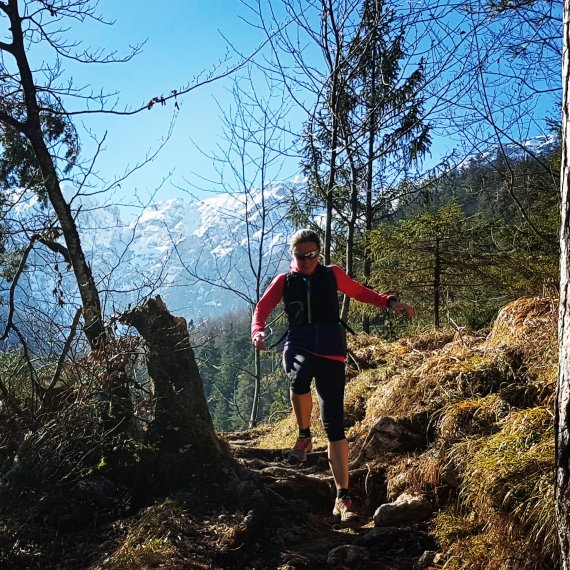 The Running Backpack Belongs in the Washing Machine!
And what's more: Even the best, most expensive running backpack can only be optimally used if you pack smart. Consider before your run just what you'll really need and what's just for emergencies, and pack accordingly.
It's really annoying when you have to spend a ton of time rummaging around looking for your rain jacket, and by then get soaking wet. Gloves and oversleeves, for example, should also be close at hand, so you don't start freezing while you look for your equipment.
On that subject: Trail runners aren't actually familiar with hustle and bustle. You can also rummage around as if you had all the time in the world.
Someday your backpack will get dirty and start to smell; there's no avoiding it. Some manufacturers would tell you that you can't wash your backpack in the washing machine. I have yet to adhere to that, and have had good experiences doing so.
Naturally, you need to remove the drinking straw and pouch beforehand. Otherwise, I just stick the bag in a pillowcase so nothing can stick to it. Detergent for functional washes, about 86 degrees – and the result is a clean, good-smelling backpack.