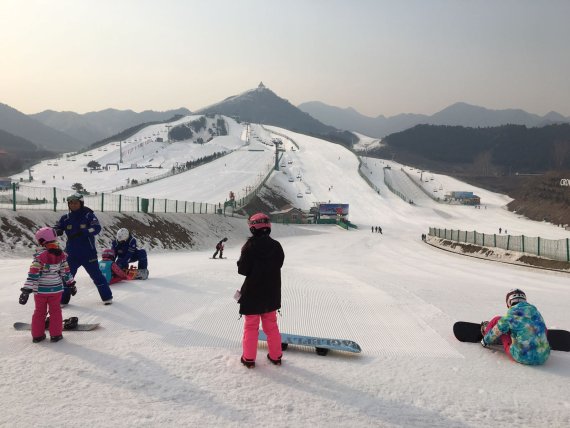 "Only 60 minutes and you are already on the piste." Slogans like these are often used by tourism associations, to attract tourists and locals from the neighboring large cities into the winter sports regions. Munich is a good example of this.
The fact that this also applies for the mega metropolis of Beijing, the home of ISPO BEIJINGis only clear to a few people. This is why, one day after ISPO BEIJING 2017, the multi-segment sports trade fair organized a trip for 20 exhibitors to the skiing areas of Nanshan and HuaiBei, which are about an hour away, to see for themselves what the current situation is outside the gates of Beijing.
The participants all had a positive impression, being especially impressed with the very professional structures. "It's remarkable, what the operators here have managed in such a restricted space with just artificial snow," said Cornel Grämiger, the initiator of the Swiss pavilion, which was represented at ISPO BEIJING for the first time: "Of course the infrastructure and pistes can't be compared with Switzerland, but something is being created here for the people of Beijing. That's very respectable."
The ski areas are covered with artificial snow.
Owing to the climatic conditions here, both skiing areas have to completely supplied with artificial snow, and the range of pistes is manageable, with three or four chairlifts, several drag-lifts and magic carpets. The resort operators try hard to come as close as possible to a European standard.
Read here: Why the skiing boom in China presents European businesses with an opportunity
To achieve this in Nanshan for instance, the operators are very reliant on help from abroad. Working together with the Austrian Steve Zdarsky and his company Mellow Parks, Nanshan offered a freestyle park, to be used, amongst other things, for the Nanshan Freeski Open event for a prize of 30,000 dollars.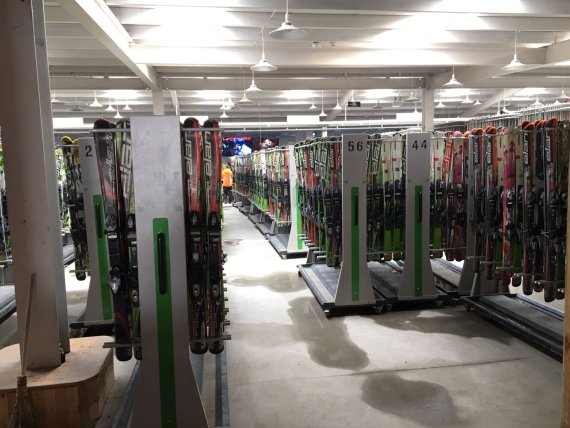 The freeskiers in China is still quite an elite target group, so they are not of course the main source of income, especially close to cities without any really steep mountains. Beginners dominate the scene so there are plenty of straight practice pistes or slopes with gentle and wide curves. To present about 4000 skiing guests each day with ideal conditions, 30 snow cannons generate new artificial snow, and before they go out onto the pistes, the ski learners are equipped with everything that they need in huge rooms. 
Read here: The MND group is equipping the Snowland ski area, thus securing a mega deal.
In China, skis are rented out.
Ski goggles, gloves, skis, snowboards, boots - there is nothing that you can't rent. For Nanshan this also makes sense, as according to marketing assistant Cao Wei, about 80 percent of the guests need a full set of equipment. With a price of 470 Renminbi (64 euros) a day pass is not exactly cheap, but the operators of the ski region have already included all of the rental fees. If you bring your own equipment, there is a 30 percent discount.
There are more than 80 ski instructors ready to train the guests on the beginner hills. Given the number of beginners, that is certainly not overdoing it, but the quality standards still have to be improved.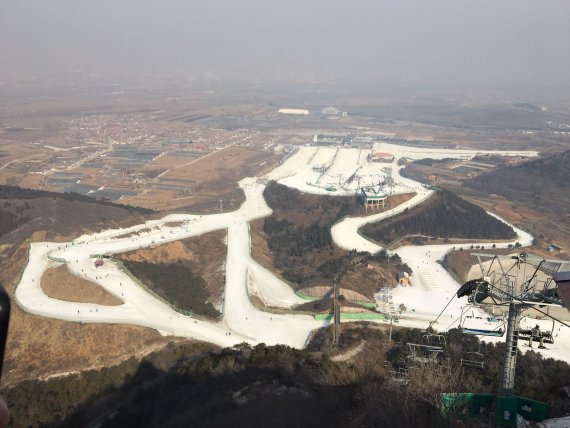 "There is not yet a country-wide association of ski instructors. However, we are working closely together with the Beijing Ski Association. This at least guarantees a regional standard," explained Wei.
Here too, a lot of resort operators do not shy away from asking for help from abroad. Ski instructors from Europe or the USA are regularly employed to improve the level of the ski instructors' training.
Read here: Winter sports are becoming more popular in China - but there is still plenty of room for improvement
To New Zealand for winter sports 
It is not just the Chines and the Europeans who are profiting from the winter sports boom in China, but also the entire Asian-Pacific region. Apart from Japan and South Korea, the Chinese have also discovered New Zealand as a winter sports destination. For this reason, there is also a team around Bridget Legnavsky, general manager of the Cardrona Alpine resort in Wanaka, on the spot.
"The Chinese are really open for help from abroad. They want to learn and they pay very close attention," said Legnavsky who, after the resort in Nanshan, also wants to visit the larger skiing regions further north with her team.
"New Zealand ia accessible by air in about ten hours, but we are in the same time zone which is a big bonus," explained Legnavsky: "But it is more important that China and New Zealand don't take customers from one another. When it is winter in China and the surrounding nations, we have summer and vice versa. It would be a perfect complement."
Ten hours are after all, quite something to travel to a skiing holiday. Especially for Chinese customers, where 95 percent of the visitors to Nanshan come just for the day. "Only 60 minutes and you are already on the piste" does sound a lot better. And with the winter Olympic Games coming up in 2022, those 60 minutes will soon be 15. For in two to three years, the route for the express train from Beijing into this region will be ready and then the winter sports tourism should again get quite a boost.
Everything to do with the skiing industry in China – The White Book 2016 has been published