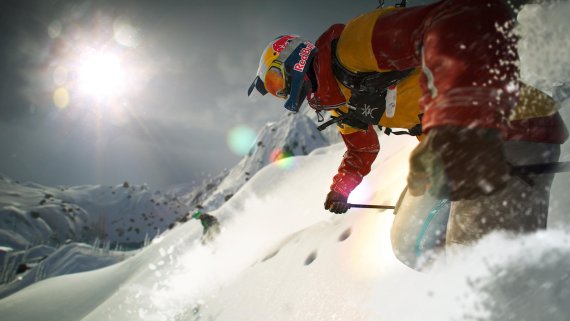 Ortler, Mont Blanc and the Matterhorn are just a few kilometers apart, or even better, just a short flight in a wingsuit. Those who know even just a little geography will want to keep their eyes shut when playing Steep. But only for a moment – otherwise they will miss something.

Software giant Ubisoft's development studio in Annecy, France, has bitten off slightly more than it can chew with its latest game, but has nevertheless created an impressive, entertaining virtual world of winter sports.
Sponsorship in the Virtual Mountain World
In Steep, gamers can go skiing and snowboarding, paraglide, or fly with a wingsuit – anywhere within the gaming world, any time they want. It is an "open world" game – there is no strict story, and no levels dictating what the player must do.

A crazy wingsuit-jump from the Matterhorn's north face? Of course, and in a squirrel costume if you want! A freestyle session on a glacier, a high-speed ride through a snowy forest? You can do these things and more at any time, together with fellow sofa winter-sports enthusiasts from all over the world.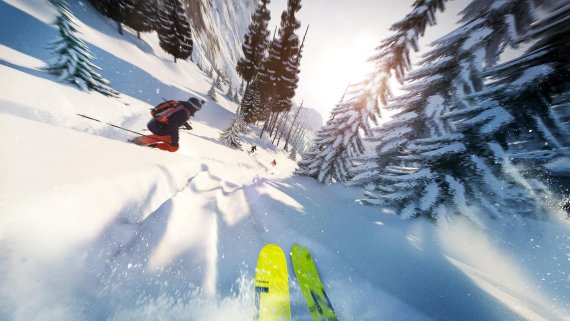 The player can do even more than this in Steep, including many things which would probably lead to multiple injuries within minutes in the real world – players are also regularly invited to take part in in-game events. That could mean a stunt tour through a snowy village or paragliding past rocky crags.

These events usually have a sponsor: Often, it will be Red Bull, with their seemingly endless marketing budget. Sometimes, it's GoPro, or other companies like Salomon or The North Face – companies which are more associated with real-life winter sports and which you wouldn't necessarily expect to find as a partner for a video game.
"This is the first time Salomon has had this level of partnership with a game developer," says Anssi Makela, Global Digital Marketing Manager for Salomon. "It's a perfect match. Not only is Ubisoft's studio based in Annecy – home of Salomon since 1947 – but we share the same passion for the outdoors."
Buy Virtually, Then Later in Real Life
The outdoors? Isn't video gaming something that usually happens indoors? "So if, in some way, a game like Steep can put the idea in their head that the next adventure is just outside the door, then we're happy to be a part of it," says Makela.

The North Face is also going down this advertising route for the first time. "Ubisoft did an amazing job at re-creating the epic mountain world of the Alps and capturing how our athletes have been pushing their limits in these extreme conditions. This brought a sense of authenticity and legitimacy which was paramount for The North Face to get involved," says Jeremy de Maillard, Vice President Marketing & E-Commerce EMEA for The North Face.

"The North Face provided a stamp of credibility by equipping the players with our 'Athlete Tested, Expedition Proven' products, strengthening the connection between the virtual and real worlds. The lines are blurring between these two worlds and we're excited to get involved in the gaming world to connect with people."
Naturally, more than anything this is important for selling products: "Of course, from a business perspective, we hope that being present in the game will make Salomon products a consideration when that individual buys skis, snowboard, or hiking or running shoes", says Makela.

Steep also has a store where players can use points they have earned to kit out their character in their own style with different brands – from hats down to ski shoes.
Steep can thus offer participating companies opportunities for content marketing – and hopefully on a higher, more comprehensive level. Because there is not as much snow, costs for skiing trips are getting higher and higher and it is becoming ever more difficult to get people excited about snowsports (Click here to read a comment from ISPO Director Tobias Gröber on this theme).
From Video Screen to Real-Life Winter Sports?
"We feel that Steep can provide inspiration for gamers to go outdoors. And we're happy to be part of the journey that we hope takes people from the video game to real life experiences in the outdoors," says Salomon's Anssi Makela. And that is independent of sport and sports equipment: "We know people are practicing multiple sports more than ever before."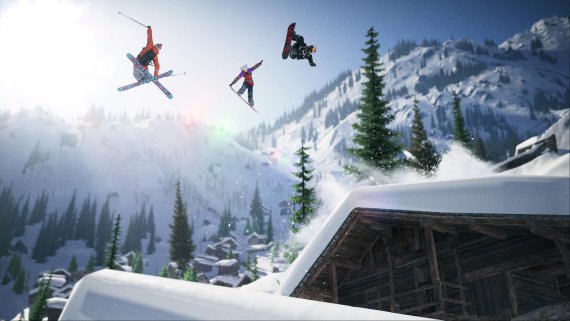 Jeremy de Maillard has a similar opinion: "We believe this platform can fuel and increase the number of snow sport participants in the long run, which is key to The North Face and our industry in general."
Will players really be putting down their video-game controllers and getting up off the sofa to go and buy a new jacket from the nearest outdoor shop? Sure! It will be Ubisoft's first priority if Steep sells well. 
The jury for the ISPO AWARD honors the year's best sports products – see who the 2016 winners in the ski segment were here >>>
For participating companies from the sports industry, the partnership could be a model for the future: Try to reach future customers where they are right now – in front of a screen, not out in the snow.
Steep is available on Playstation 4, Xbox One and PC and it can be bought on digital platforms as well as in physical stores and retailers.