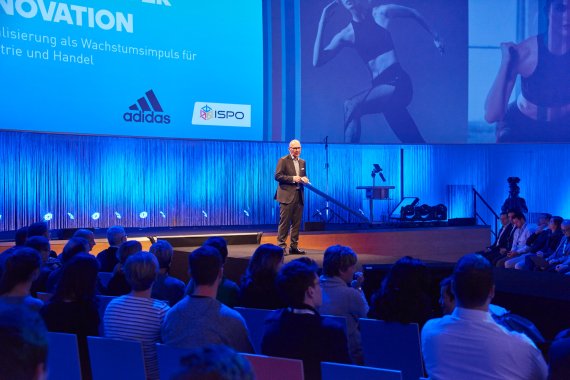 "It is important to respond to each other," said Klaus Dittrich, "the fresh new starters must learn about established business and the established businesses must be open to new ideas and innovations from the fresh starters." With this statement, the Chairman and CEO of Messe München GmbH aptly described the stimuli that are necessary in times of change – thus also announcing the keynote speakers still to come.

For no matter how different Roland Auschel (board member at Adidas), David Schneider (co-founder of Zalando) and Frank Geisler (head of Ochsner Sport) may at first seem, they all agreed in their core assessment of the current situation. "Out with the old, in with the new. And in all honesty: That's a good thing too," said Auschel on digitization during the symposium at ISPO MUNICH.

Adidas is Seeking out Trends

Adidas is big, Adidas thinks even bigger. "We are already very close to the customers with our e-commerce service," said Auschel. "However, it is crucial that we be able to use this digital connection to immediately detect even the smallest changes in our target group and react to them accordingly."

That means: when a new trend develops in those Generation Zs born after 1998, Adidas wants to know about it straight away – and be the first to react. "Our core target group is comprised of the 14 to 19 year olds. This group renews itself every five to ten years," said Auschel. "We need to be where they are and where they communicate."

ISPO is Active 365 Days a Year

These days, that focus is predominantly on the digital world, on social networks. But not just there. Trade fair boss Klaus Dittrich is convinced that "personal communication has not gone out of style." A glance into the halls of ISPO MUNICH 2017 confirms this.

"However," Dittrich emphasizes,"ISPO is not just around for four days a year. With our digital products, we are active 365 days, 24 hours, across the globe. ISPO is best placed to support entire product cycles."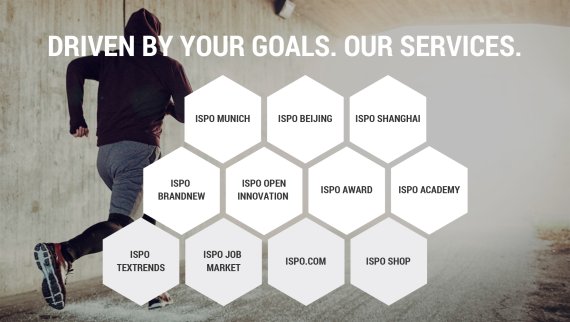 How Zalando Became a Trade Fair Host

A trade fair has become more than just a trade fair; a sports retailer has become more than just a sports retailer; a retailer has become more than just a retailer. And even online retailers have become more than just online retailers.

Best example: Zalando. The online shopping giant has positioned itself more broadly and has even taken the leap into the trade fair business as host of "Bread and Butter" in Berlin. "That gives me hope," Klaus Dittrich joked.
David Schneider, co-founder of Zalando, explained the concept: "We won't win if we simply rest on our laurels." Fashion start-up Zalando has transformed into a huge company within nine years, now counting 12,000 employees and more than five million customers.
However, this success hasn't made life any easier: "We broke a few rules at the beginning, and as an outsider we were able to approach matters very differently," said Schneider. "It is much easier when you have nothing to lose. Meanwhile, we really do have something to lose."

Ochsner Sport as a Modern Retailer

Frank Geisler, head of the largest omni channel retailer in Switzerland, joked that he is no stranger to losing, given his support for soccer team Schalke. In contrast, his business Ochsner Sport is enjoying great success: sales of 400 million Euros, 100 stores, 12 of which are in Germany. He has had many a discussion with store owners who feel that online retail will be the death of stationary trading. "But that is nonsense!" Geisler says decisively.
He even aimed a slight dig at the sports industry in his entertaining keynote speech. "There seems to be some slacking with regards to innovation in comparison with the past," said Geisler. "Avalanche airbags are fair enough. However I need new products that I can sell not 2000, but 200,000 times."

"Industry Lives on Passion for Sports"

The keynote speakers agreed on one point in particular: "If we have the courage to seize the opportunities digitization offers us, it will fuel the market" – these were the words of trade fair boss Klaus Dittrich. He continued that he was very pleased that, after 11 years' abstinence, Adidas had returned to ISPO.

Roland Auschel returned the thanks: "ISPO can be an incredible platform for the sports industry," the Adidas board member said. "This industry lives on passion for sports – and we must build on that. That is the deciding factor."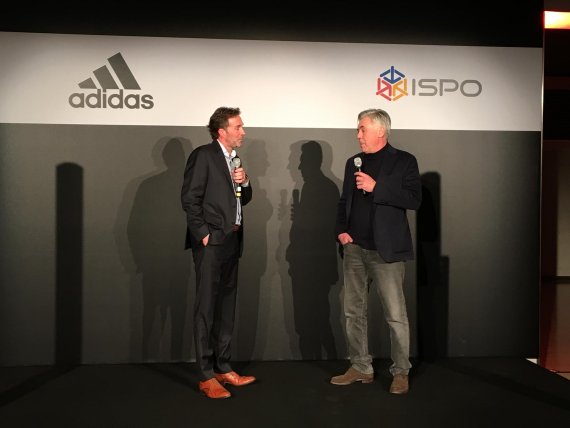 Carlo Ancelotti Pays a Visit
Following the keynotes, Klaus Dittrich, Kim Roether (Intersport), Winand Krawinkel (Adidas AG), Andreas Rudolf (Sport 2000 GmbH), Ron Berger (Outfitter GmbH) and Fabian Engelhorn (Engelhorn KGaA) once again addressed the topic of digitization in a podium discussion.
As a special guest, Bayern München's coach Carlo Ancelotti entered the stage one day before Bayern's important match in the Round of 16 of the German Football Cup. "I am a bit cautious", the Italian said about his own digital activities.