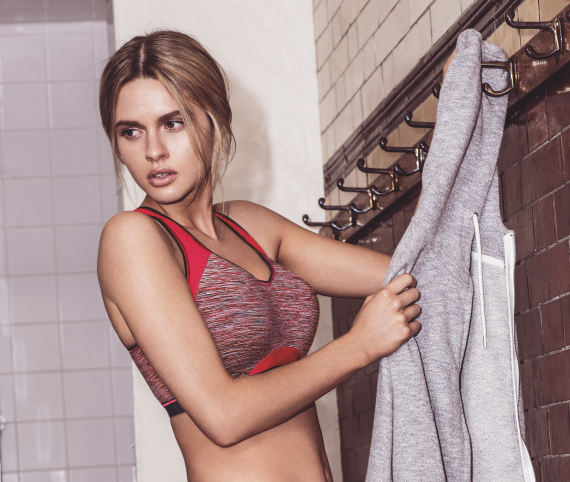 Today's lingerie isn't just supportive, it is performing too as brands see the potential of the fabrics we all know in the sports sector. Sports bras are no longer just for sports, but all part of the crossover trend ISPO TEXTRENDS has been monitoring for the last two seasons, as the more glamorous look for 'livingwear' embraces a host of applications. The appeal for the consumer is two fold, intimate apparel that will suit their specific sport combined with the fact it can cross over into other areas of their lives. There has been an injection of fashion and functionality marrying in creating high performance, good quality products that are of added value.
"Invista believes that the athleisure market will grow 30 per cent by the year 2020," said Arnaud Ruffin, strategy and business development director at Invista with reference to Lycra. "It will enable fabric specialists to design fabrics that are both technical and comfortable. Sports bras have now been adopted by Generation Y, which represents 20 per cent of the market. Designed to be revealed rather than concealed, sports bras feature exceptional properties and performance, moisture management and odor control."
Peak Performance
Performance fibers traditionally used in the activewear market have made their way across to the intimate apparel market, not just in knits but also in more elaborate lace too, which suggests a more feminine feel set to emerge in sports intimate apparel. From moisture management to quick dry, cool touch and featherweights, multi functional aspects have come to the foray. What is key is that they have found a new home and have been welcomed with open arms.
NILIT offered superb garment samples of their performance nylon yarns, including a beautiful sophisticated basic for shape wear, as both matte and shine aspects featured incorporating NILIT Softex, teamed with coordinating shorts with a silky touch from the inclusion of NILIT Supermicrofiber. The cooling fibre NILIT Breeze had also been developed, a favorite in the activewear sector since its launch for its high function, the development in intimates worked incredibly well in featherweight knits that embraced the body.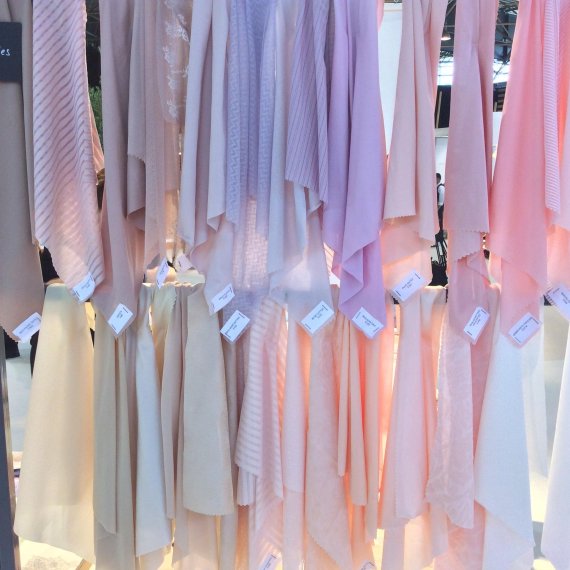 With moisture management being a regular aspect that has crossed over from activewear to intimate apparel it has always been achieved through the adapted nylon and polyester yarns or through performance fabric finishes. Hyosung, the largest global spandex/elastane manufacturer has recently launched creora Fresh, an anti-odor spandex/elastane. Using the proprietary technology to chemically bond to substances that cause body odor and neutralize them. This new offering means that much more solid barrier effects are achieved when using performance nylon and polyester fibers through to finishes.
"Globally sports participation is on the rise as consumers continue to be concerned about wellness," said Ria Stern, Hyosung Textiles Global Marketing Director. "As a result we see growth in demand for sports bras and underwear. creora Fresh adds comfort, fit, and confidence for consumers. We have a number of brands interested as they want to move away from antimicrobial chemicals next to the skin."
Light and Clean 
Italian mill, Brugnoli have enhanced their know-how to include a new range of micro fine knits including Microclima and Meteo. These functional knits offer superior moisture management and cooling technology developed with Lycra Beauty. Lightweight fabrics with performance continue, especially from Willy Hermann with the Superfine range, that also has climatic effects and moisture management. New for the season is a super fine gage microfibre single jersey weighing 80 g/m2 with high elastane content for fit and smoothing. 
The vibrancy of tones is also important, with Maglificio Ripa developing Deep, a a new technology that maintains vibrant tones, applying it to Onova and Eco, two new recycled polyamides that preserves the color intensity.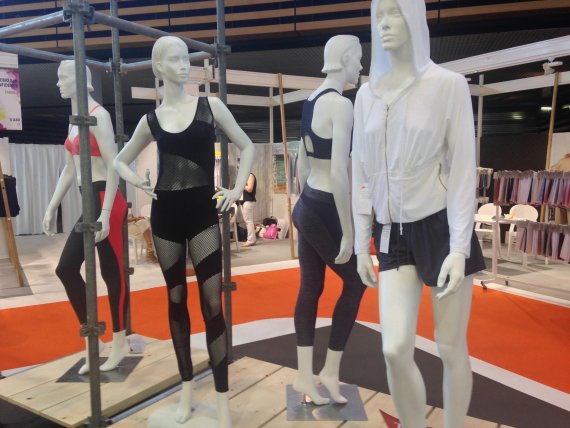 Color isn't just confined to fabrics, trims and components took on a more racy approach with Prym Intimates Group new SoftSeal fastening that is ultra flat available in shocking tones. Another component was shoulder straps, with soft padded silicon bonded between fabrics to create a high level of performance and comfort as seen at Bras Limited, perfect for the sports bra sector.
For companies dedicated to pushing the performance in the intimate apparel sector, they aren't keeping their eggs in one basket. The potential for companies to cross over their technology from intimate layers to base and second layer continues, driven by the need to diversify as well as the demand from designers of different sectors to source new developments. SITIP is one mill that applies its technology across a wide range of end sectors, and has developed Aqua Zero, a PFOA-free water repellant treatments developed from a hyper branched polymer suitable for the outdoor market.
Natural Connection
A natural touch and composition features for intimate apparel. Bebe Cotton has developed a free cut reversible fabric with the proprietary fibre being cotton companioned with nylon and spandex/elastane. The touch is exquisite and the use of Senseco, an evolutionary range of polyreactive dyes that saves water and energy, it embraced the sustainable mega trend that is sweeping the industry.
Penn Textile Solutions, a pioneer in high compression fabrics, had also embraced a more natural direction by incorporating cotton and modal into their high modulus fabrics, that still delivered the engineered quality but with the inherent touch of natural fibers, and this we expect to see to grow from intimates through to base layers for the sportswear market that require body mapped compression combined with a natural fiber.